Touma Medical Museum
Introduction
Author-Uploaded Audio
The Touma Medical Museum, once the private collection of Dr. Joseph Touma, was gifted to the Joan C. Edwards School of Medicine at Marshall University. The Museum features a large collection of historic medical books, tools and devices from the early days of medical practice. The 4,000 square-foot museum also includes a 1926 Model-T Ford and a buggy used by a physician in the early 1900s. The museum is best known for its historic pharmacy exhibit, collection of ear trumpets, and devices such as a foot-driven dental drill. The museum is located on the third floor of the historic Wright and Walker building, now called the Century Building, which was built in 1915 and was home to the Wright and Walker Clothier Company.
Images
The museum is presently open by appointment only. Please call or email for information. 304-696-5787 dzierzak@marshall.edu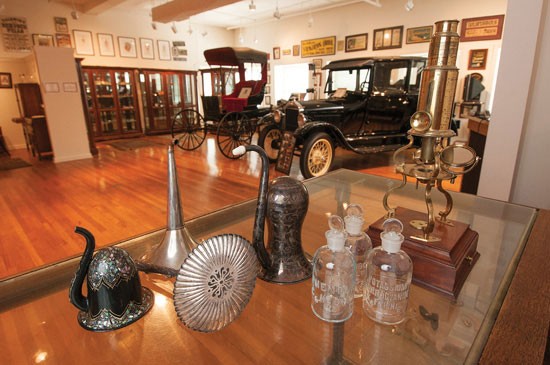 To the right are the galleries of microscopy, ophthalmology, cardiovascular, etc. To the left is the physician's examining room, dentistry and wheelchairs, etc. The car is a completely restored 1926 Ford Model T known as the Doctor's Coupe.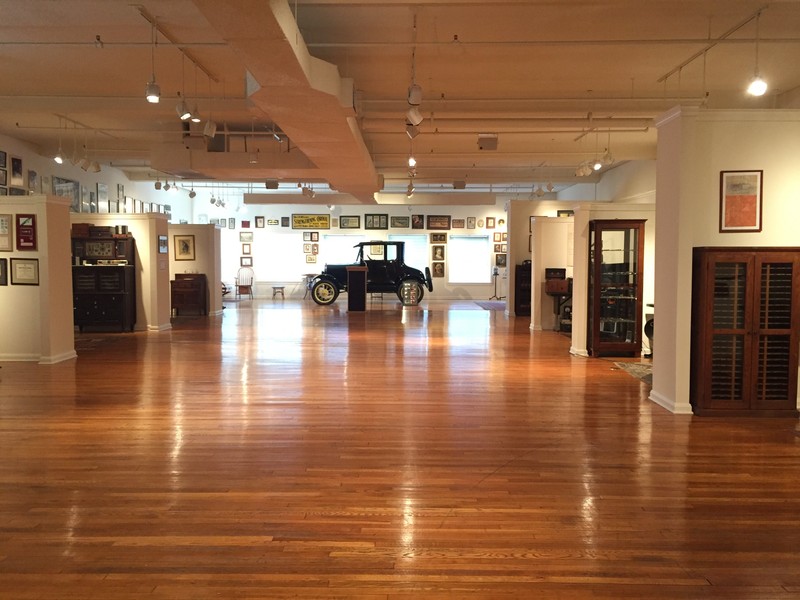 Floor plan of the museum (not to scale). Credit: Hannah Swartz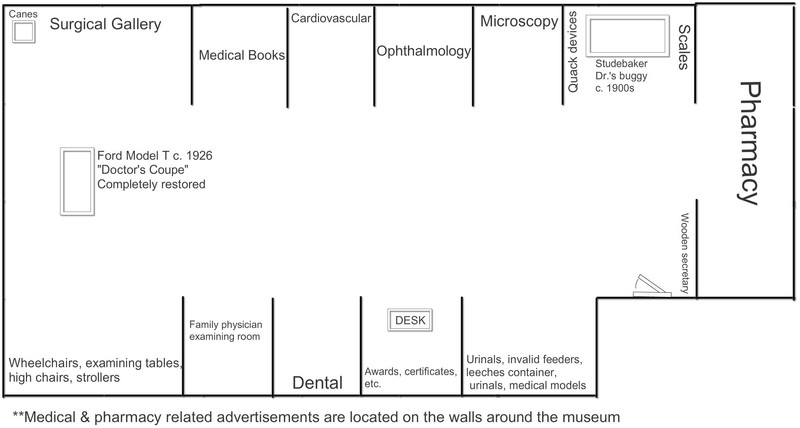 Dr. Touma and museum curator, Ed Dzierzak. Credit: Hannah Swartz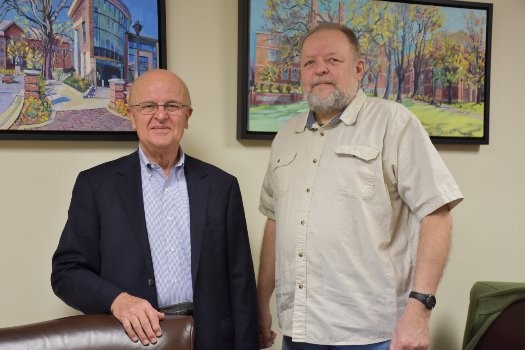 Backstory and Context
Dr. Joseph Touma is an internationally known ear, nose and throat specialist, and an avid collector of medical antiques. Touma and his family moved to Huntington in the early 1970s, and was impressed by the architecture from the time of Huntington's industrial growth. After establishing his ENT practice, Touma focused on historic preservation in Downtown Huntington. Over 20 years ago, Dr. Touma created Touma Real Estate Holdings, a company that is dedicated to purchasing, restoring, and utilizing Huntington's historic buildings for economic success. The first success story of Touma Real Estate Holdings is the Gideon Building located on the corners of 10th Street and 3rd Avenue; the company historically restored the outside of the building, and completely renovated the interior so that it could hold multiple offices. Today, the Gideon Building still holds multiple successful small businesses that help Huntington's local economy thrive. This success story allowed Touma Real Estate Holdings to continue to restore Downtown Huntington, with a total of seven buildings under their belt today. 
Dr. Touma's medical antique collection began to take up too much space in his home, so he dedicated the third floor of a historic Downtown Huntington building to display these artifacts. Originally the home of a local successful clothing company, the Century Building is one of the historic properties that Touma Real Estate Holdings has invested in. Wright's Clothiers has been a staple in Downtown Huntington for nearly a decade, and it is believed that the Century Building was where the store was originally located. Wright's opened for business on the corner of 10th Street and 4th Avenue in 1930 due to the popularity of local shops along 4th Avenue, and left that location in 2016 to move closer to Pullman Square. Wright's is known for being located on 4th Avenue under The Frederick, however it was not the clothing store's first location. The Century Building was originally named Wright and Walker building.
The Touma Medical Museum has multiple exhibits on the 4,000 square foot open floor plan on the third floor of the Century Building. This museum houses artifacts collected by Dr. Touma over the past 40 years, and is available by appointment only. 
The museum was gifted to Marshall University's Joan C. Edwards School of Medicine in 2017.
Sources
Casto, James E.. Museums and More. Huntington Quarterly. Accessed November 14, 2016. http://www.huntingtonquarterly.com/articles/issue86/museums-and-more.php. 
History | Huntington, WV. Touma Real Estate Holdings, LLC. Accessed November 14, 2016. http://www.pullmancenter.com/about/history/.
Stuck, Taylor. Toumas gift medical museum to med school. Herald-Dispatch. December 14, 2017. Accessed May 06, 2018. http://www.herald-dispatch.com/news/marshall_university/toumas-gift-medical-museum-to-med-school/art....
Tamara Endicot, "Like Father Like Son: Joseph B. Touma, MD and his son Joe Share a love of medicine and the Huntington community." Huntington Quarterly, Winter 2012. http://www.huntingtonquarterly.com/articles/issue43/like_father_like_son.html
Additional Information