Baum's Bazaars
Introduction
L. Frank Baum, who would later be famous for his tales of Oz, came to Aberdeen South Dakota 1888 with his small family from their home in New York. While living here for 3 years, Baum opened this bazaar. The purpose of his store was to offer luxury goods to the people during the Dakotas economic boom that took place due to gold being discovered in the 1870s and land available for those seeking to start anew. However, Baum's Bazaar failed a year later as the boom ended; and for his knack of being too generous with giving people credit. A new building replaced the bazaar years later. He would edit a local newspaper until 1891 when economic circumstances forced the family to move, this time to Chicago.
Images
Baum's Bazaar building taken sometime in 1888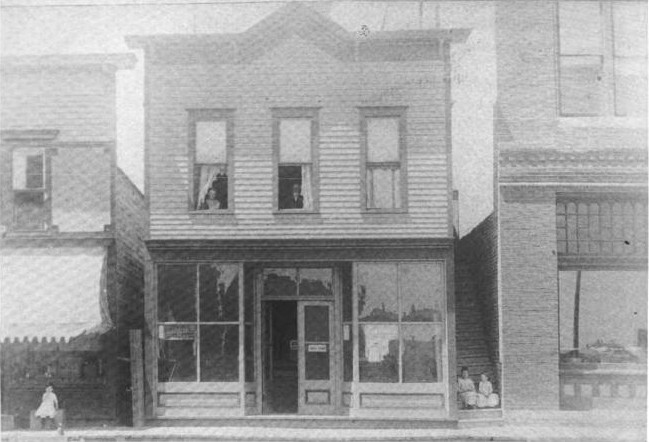 Baum in left corner, with his Bazaar in operation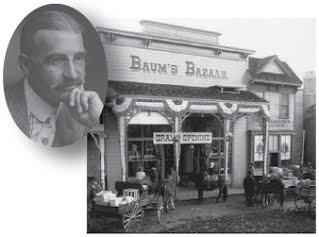 Where the Bazaar once stood. Now some local health offices stand on the lot.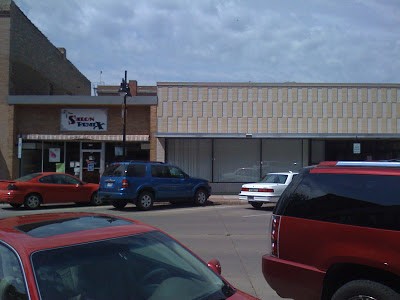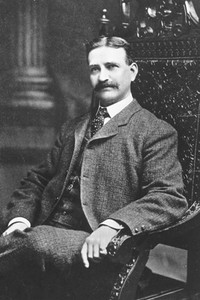 Backstory and Context
Growing up in New York, L. Frank Baum aspired to be a writer and actor. Achieving these dreams after many menial jobs, Baum was known from the 1880s for his short plays and acting abilities. However, while on tour, the theater he worked for burned down in 1882. For the next 6 years He and his new bride sought out a meager living. Hearing about the success and riches of the Dakota Territory boom ushered in by the discovery of gold in the late 1870s, the clearing out of the Sioux and for the available land for people seeking out new beginnings, the Baums moved to Aberdeen in July of 1888, one of the largest towns of the territory at the time.

Baum's solution to the financial woes of his family was to open a store, a bazaar, that offered the people of Aberdeen and travelers coming through, luxury items. The store opened in late 1888. Despite initial success, the store went broke the next year. The reason for this sudden failure was Baum's generosity in issuing credit to his shoppers, with terms that favored the shopper, not the store. Going broke and closing shop, the Baums once again struggled to make a living. Just a few buildings south of the store, Baum edited for a local newspaper, The Saturday Aberdeen Pioneer. However, after a year of this work, the Baums were were forced to move again. They settled in Chicago in 1891. It is in Chicago that The Wonderful Wizard of Oz would be published. It is believed that Baum's description of Kansas was based on his time in South Dakota.

The original store building does not exist today. Aberdeen's Storybook Land offers guides on "L. Frank Baum's Aberdeen" and the park has a section on Oz dedicated to Baum.


Sources
Koupal, Nancy Tystad. Baum's Road to Oz: The Dakota Years. Pierre, SD, South Dakota State Historical Society, 2000.
Koupal, Nancy Tystad. Our Landlady. Lawrence, KS, University of Nebraska Press, 1986.
Rogers, Katharine M. L. Frank Baum, Creator of Oz: A Biography. New York, St. Martin's Press, 2002.

Additional Information