Stony Landing Plantation House
Introduction
Originally known as Stone Landing, Stony Landing Plantation is "named for the high grade of marl found near the surface of the soil" ("Stony Landing Plantation"). This plantation is located on the banks of Biggen Creek, which flows into the Cooper River, an extremely important route for South Carolina's early settlers as supplies were brought to the area from the river.
Images
Stony Landing Plantation House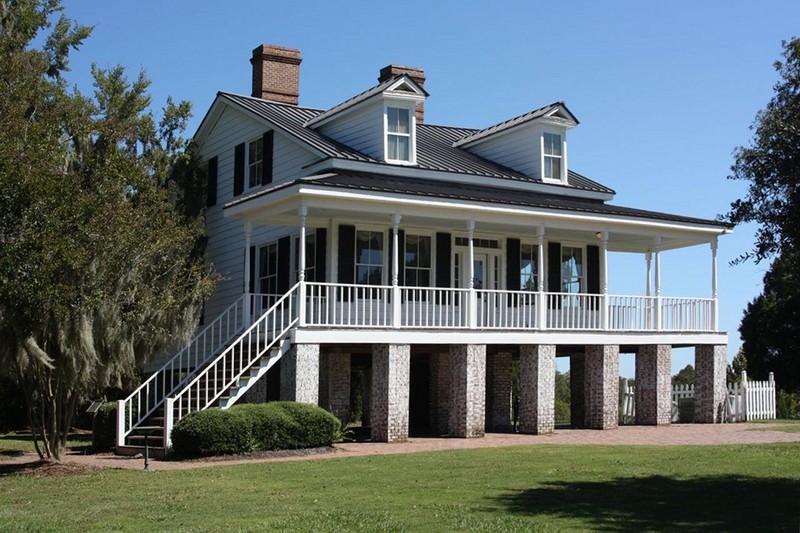 Backstory and Context
In addition to incoming supplies, the river served the area's rice planters who brought their rice crop to Biggen Creek to sell and ship it to Charleston. However, business slowed and river traffic stopped when the canal opened and other roads were built. In 1800, the land belonged to Dr. St. Julien Ravenel, who founded Colleton Lime Works with General C.H. Stevels after finding cement under the limestone layers of the property. "During the Civil War, in extreme secrecy, the Little David was constructed at the landing site claiming title as the first successful semisubmersible torpedo boat attack in the history of naval warfare" ("Stony Landing Plantation").


The plantation home was built in 1843 by John H. Dawson, a local merchant, who purchased the 2,319 acres of land in 1839. The home went back into the hands of Dr. Julien Ravenel during the Civil War in 1861, and Ravenel devoted his time fully to chemical and plant research; "This led him to the discovery of limestone application in soil, a discovery far in advance of its time" ("Stony Landing House"). The home still has its "original hand-hewn timbers" and "8 ft. brick pillars" that were used in the house's original construction. In addition to these original features, the home has period reproduction furniture to capture 19th century South Carolina.
Sources
"About." Old Santee Park: Stony Landing Plantation. Accessed August 11, 2015. http://www.oldsanteecanalpark.org/About/index.aspx
Additional Information