Florence National Cemetery
Introduction
The land that was used to create Florence National Cemetery was appropriated, and later purchased, from the estate of a local resident who lived in the vicinity of a prisoner of war camp operated by the Confederate military. Original interments were made in two separate burial grounds, one containing 416 Union veterans. The second contained the remains of approximately 2,322 soldiers who perished in the Confederate prisoner of war camp. Interments at the larger site were made in 16 trenches. In 1865, this site was designated as a national cemetery and the remains from the smaller burial ground were reinterred withing the boundaries of the present location. Remains were also disinterred and moved to the cemetery from the surrounding region. The original wooden headboards marking the trench graves were replaced by 2,167 marble "unknown" head blocks measuring 6 x 6 inches square and set approximately six inches apart. In 1955, all but five of these markers were replaced with 32 upright marble headstones at each end of the trenches.
Images
Florence National Cemetery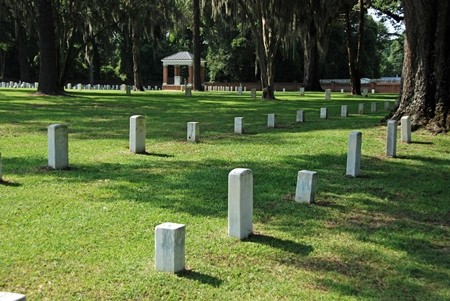 Backstory and Context
Florena Budwin was the bride of a captain from Pennsylvania. After Captain Budwin joined the federal forces, his bride disguised herself as a man and donned a uniform, hoping to find her husband. She was captured near Charleston, S.C., in 1864 and sent to Florence in the autumn of that year. After arriving at the stockade with thousands of other Union troops, she took sick as the rations were meager and medical supplies scarce. While the camp physician was making a routine examination, he found that one of his patients was a woman. She was moved to separate quarters and given food and clothing by the sympathetic women of Florence. When she recovered, she told a most remarkable story of how she had donned a federal uniform so as to serve by the side of her husband, that her husband has been killed, and that she was captured. After Florena grew strong, she stayed on at the prison as a nurse, and her devotion for her husband was bestowed on the hundreds of soldiers who were suffering from lack of food and medicine. A few months later, she fell sick a second time and did not recover. She died on Jan. 25, 1865 (Section D, Grave 2480).

Sources
"Florence National Cemetery." National Cemetery Administration. Accessed January 20, 2016. http://www.cem.va.gov/cems/nchp/florence.asp.

Sammartino, Therese. "Florence National Cemetery." National Park Service - National Register of Historic Places. January 05, 1998. http://focus.nps.gov/GetAsset?assetID=05f2f85c-9758-4b8a-8519-34bc74e11932.


Additional Information