A Public Execution at Four Pole Creek (Ritter Park), Nov 21, 1892
Introduction
On November 21, 1892, 26-year-old Allan Harrison was publicly executed at Four Pole Creek, known today as Ritter Park. Harrison was sentenced to hang for the murder of 16-year-old Bettie Adams of Barboursville. The night before the execution, the city was buzzing, hotels sold out, and special trains brought area residents to town to witness the event. An estimated crowd of five thousand witnessed the hanging of Allen Harrison, Cabell County's first and only public execution.
Images
Although this section of Huntington now features a municipal park, it was once an area that was notorious for vice and was the site of a public execution.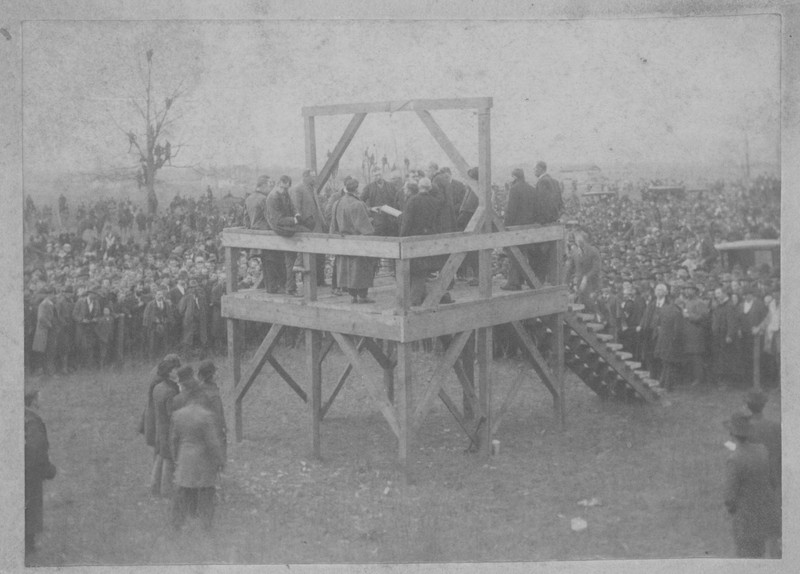 Newspaper article (Wheeling Intelligencer) offering details of back-story and execution event.

Backstory and Context
After the death of Bettie Adams, Harrison was quickly apprehended and taken to Cabell County Jail. The Huntington Advertiser describes Harrison as deeply remorseful and quotes the accused as saying that he believed that he deserved to die for his crime. The Cincinnati Enquirer painted Harrison as a stone-cold killer, unremorseful, and quoted him saying that he would murder Bettie Adams again if he had the chance. 
Allen Harrison was found guilty of murder and sentenced to hang on November 17, 1892. The event took place at Four Pole, an area on the outskirts of town that was known for criminal elements. Newspaper accounts estimated 5,000 people witnessed the execution, close to half the city's population, along with people from Ohio and Kentucky. 
Prior to 1899, executions in West Virginia were public and were carried out at the county level with minimal state involvement. Starting in 1899, all executions were carried out privately in the West Virginia Penitentiary, and all executions carried out before 1950 were hangings. This changed with the introduction of the electric chair, which became the new method of execution in 1951. Ninety-four executions occurred between 1899, when executions were made a state responsibility, and 1959, the year of the last execution in West Virginia. West Virginia never executed a female, all were male. West Virginia abolished the death penalty in 1965.
Ritter Park is consistently mentioned as one of the most impressive municipal parks among small cities. Given its previous reputation, however, it may not be surprising to find that the city purchased most of the land in 1908 and intended to operate a municipal incinerator at this location. However, as some of the more wealthy residents of the city were living adjacent to the park, influential citizens proposed an alternative — the development of a large municipal park. The plan attracted the support of Charles Lloyd Ritter, who donated 20 adjacent acres.
The park opened in 1913, but at least some of the land might still have been sold to private developers, as the city had no funds to develop the park. In the midst of the Great Depression, however, community residents secured funds from the federal Works Progress Administration and began constructing the stonework and other features of the park. Given the previous reputation of this area and the pressure to use this land to support commercial development or a municipal waste facility, one may gain a deeper appreciation for the park and those who worked to preserve this land for future generations.  
Sources
Banner, Stuart. The Death Penalty: an American History, Cambridge: Harvard University Press, 2009.
Brown, Richard D. Knowledge Is Power: The Diffusion of Information in Early America, 1700- 1865. New York: Oxford University Press, 1993.
Bulla, David W. and David B. Sachsman. Sensationalism: Murder, Mayhem, Mudslinging, Scandals, and Disasters in 19th-Century Reporting. Edison: New Jersey, Transaction, 2013.
Garland, David. Randall McGowen, and Michael Meranze. America's Death Penalty: Between Past and Present, New York: New York University Press, 2011.
Newcomb, William B. Accession 1981/03.0327. Marshall University Archives and Manuscripts. Miller, Tom D. "Ritter Park." e-WV: The West Virginia Encyclopedia. 11 February 2013. Web. 22 February 2015.
Trotti, Michael Ayers. Body in the Reservoir: Murder and Sensationalism in the South: Murder and Sensationalism in the South. University of North Carolina Press, 2010.
Additional Information