Old Tampa Free Public Library
Introduction
One of nearly three thousand library buildings made possible through assistance of the Carnegie Corporation, this historic library was constructed by local architect Fred James and opened on New Year's Day in 1914. This public library was multicultural and multilingual from the very beginning, hiring librarians that spoke English, Spanish, and/or Italian so that they could serve the diverse community. During the influx of Cuban refugees that began in the late 1950s, the library doubled its efforts to offer services for non-English speakers. The building served as the main library for the city of Tampa until 1968. Since that time, it has been used as a building for city offices and is now home to the city's code enforcement division.
Images
Built through a matching grant of $50,000, this was the first public library building in Tampa. Now over a century old, this former library is now home to city offices.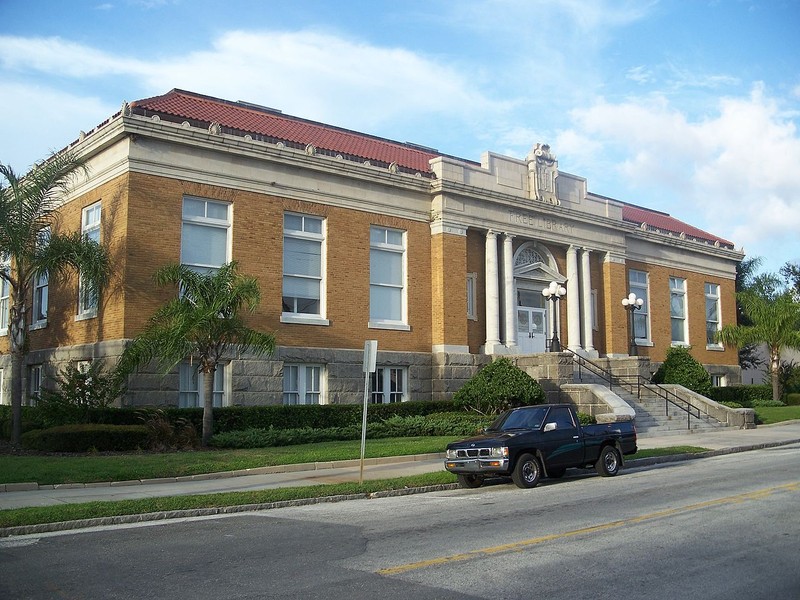 Backstory and Context
By 1900, Tampa had become a thriving city and was continuing to grow. As Tampa developed, new schools were built to accommodate the growing population. However, some in the community thought libraries should be built to support the schools. The first attempt was made by a leader in Tampa's women's community, Mrs. Wille M. Lowry. In 1900, Lowry wrote to philanthropist and one of the world's richest people, Andrew Carnegie, asking for money to build a public library (by then he had provided funds for libraries across the country as well as abroad). He agreed to pay $25,000 on the condition that the city would pay $2,500 annually for maintenance. The city approved the deal but could not agree on a location for the library and as a result, Carnegie withdrew the offer.
In 1912, the West Tampa Civic Association and the Tampa Board of Trade tried again. This time they wanted to build a two libraries, one in Tampa and the other in West Tampa. Carnegie agreed to provide funds for both and sent $50,000 to Tampa and $17,500 to West Tampa, which was a smaller community. Although the Tampa library was built in 1915, it was not fully furnished until two years later. This is why the formal opening was held on April 27, 1917.
The Old Tampa Library was added to the National Register of Historic Places in 1991 for its contribution to education and its Classical Revival architecture. Designed by noted local architect Fred J. James, interesting features of the building include a grand entrance with brick pilasters, Tuscan columns, and an entablature topped by a stepped parapet.
Sources
Kathy Steele, "County's oldest library a West Tampa treasure," Tampa Tribune April 22, 2011. http://www.tbo.com/central-tampa/countys-oldest-library-a-west-tampa-treasure-198016.
Shiver, W. Carl. "Old Tampa Free Public Library." National Park Service - National Register of Historic Places Nomination Form. May 16, 1991. https://npgallery.nps.gov/AssetDetail/NRIS/91000618.
Image Sources
Wikimedia Commons: https://commons.wikimedia.org/wiki/File:Tampa_Free_Public_Library01.jpg

Additional Information