Log Cabin at Ritter Park
Introduction
Uphill from Ritter Park's tennis courts, across the street from its dog park and near the entrance to the Ritter Park Amphitheater, sits an eighteenth century log cabin that was rebuilt in the 1920s to be used as a meeting house for the Daughters of the American Revolution (DAR). A Revolutionary War cannon sits outside the cabin. Originally, it was a vineyard-keeper's house at Beuhring Farm, which was located between the Ohio River and Fourpole Creek in the early 1800s, before the city of Huntington was founded in 1871. The home was at one time also a place where sick townspeople were quarantined when they came down with the flu.
Images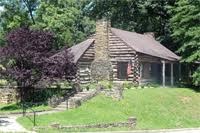 Backstory and Context
Major Nathaniel Scales was a relative by marriage to the early settlers of the Guyandotte region, and earned The Savage Land Grant for serving as an officer in the French and Indian War. The Savage Land Grant was given to soldiers of the French and Indian War by the state of Virginia. Scales allotment from the grant included the land that is now Huntington, and on it he created a plantation. George Lewis Beuhring was a German immigrant who moved to America when he was 14 in 1805, and later served in the War of 1812. The Beuhring family purchased Scales' plantation in 1837. The plantation property extended from 7th Street to 11th Street along the Ohio River, and past the hills of what is now Ritter Park.The log cabin in Ritter Park was once home to the keeper of the Beuhring Vineyards.
Following the Beuhring's occupation of the building, the structure was used a pest house — somewhere where individuals suffering from an infectious disease could be quarantined. The cabin was likely used for this purpose during the influenza epidemic that directly followed World War I. Today, the cabin is headquarters for the Daughters of the American Revolution: Buford Chapter. When the DAR acquired the cabin in the 1920s, it was badly deteriorated, so the organization decided to begin preservation and restoration efforts to save the cabin. Architect Sydney Day designed the cabin's remodel in the Early Colonial style. Alterations were completed in 1922 with materials that could be salvaged from the original cabin. The location of the original cabin was closer to Gobbler's Knob than the current cabin. The surviving cabin is currently furnished with antiques, and the DAR still hold meetings in the cabin today. 
Sources
Buford Chapter of the Daughters of the American Revolution, website accessed June 2016
Hager, Beth and Austin St. Clair. "Ritter Park Historic District." National Register of Historic Places. Accessed February 10, 2021. http://www.wvculture.org/shpo/nr/pdf/cabell/90001774.pdf. 
McMillian, Don. "Huntington Sits on Old Beuhring Plantation." October 17, 2015. Accessed October 29, 2016. http://www.herald-dispatch.com/features_entertainment/don-mcmillian-huntington-sits-on-old-beuhring-plantation/article_046be25b-d55f-585d-b427-22795e30c52c.html. 
Additional Information