Manistee Ranch/Manistee Ranch Park
Introduction
Manistee Ranch was founded in 1897 by Herbert W. Hamilton, a native of Wisconsin. The ranch, located in the town of Glendale, Arizona, was rich in citrus fruits and dates. The ranch has all of its historical structures restored. It is administered by the Parks and Recreation Department of Glendale. The Glendale Historical Society uses the building for meetings. Tours are available by appointment.
Images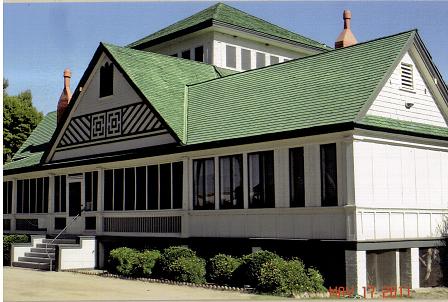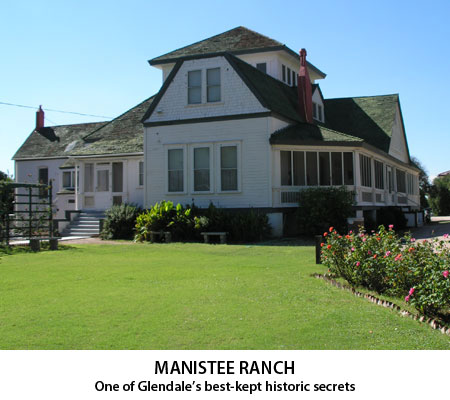 Over 11 different species of palm trees were planted. Some of the trees on the property are over 100 years old.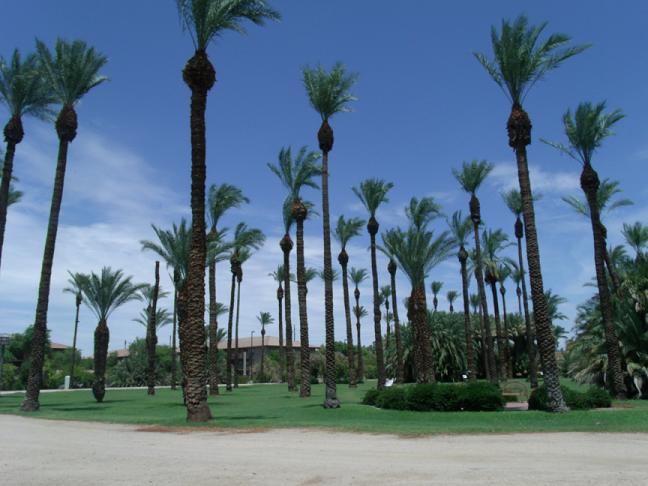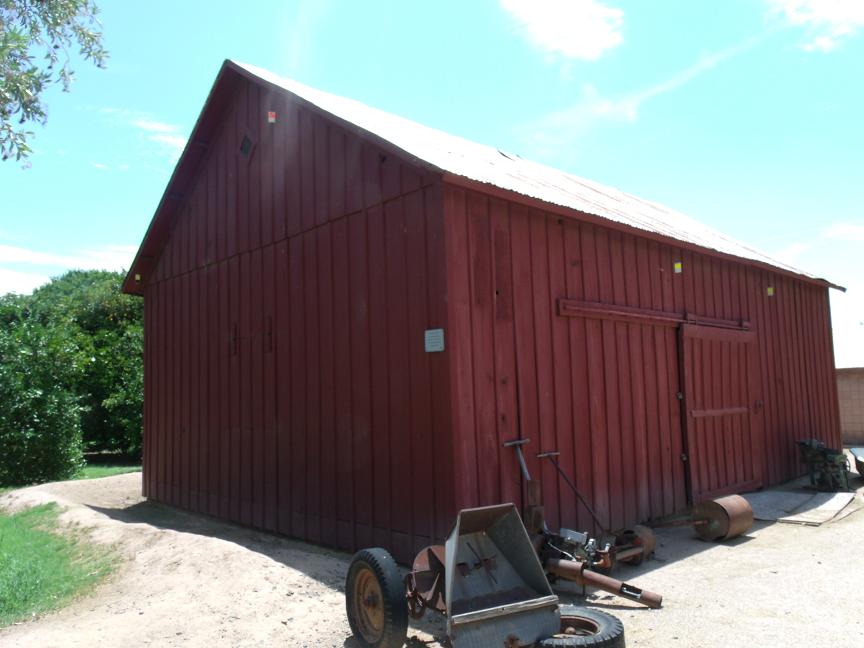 Historic Designation sign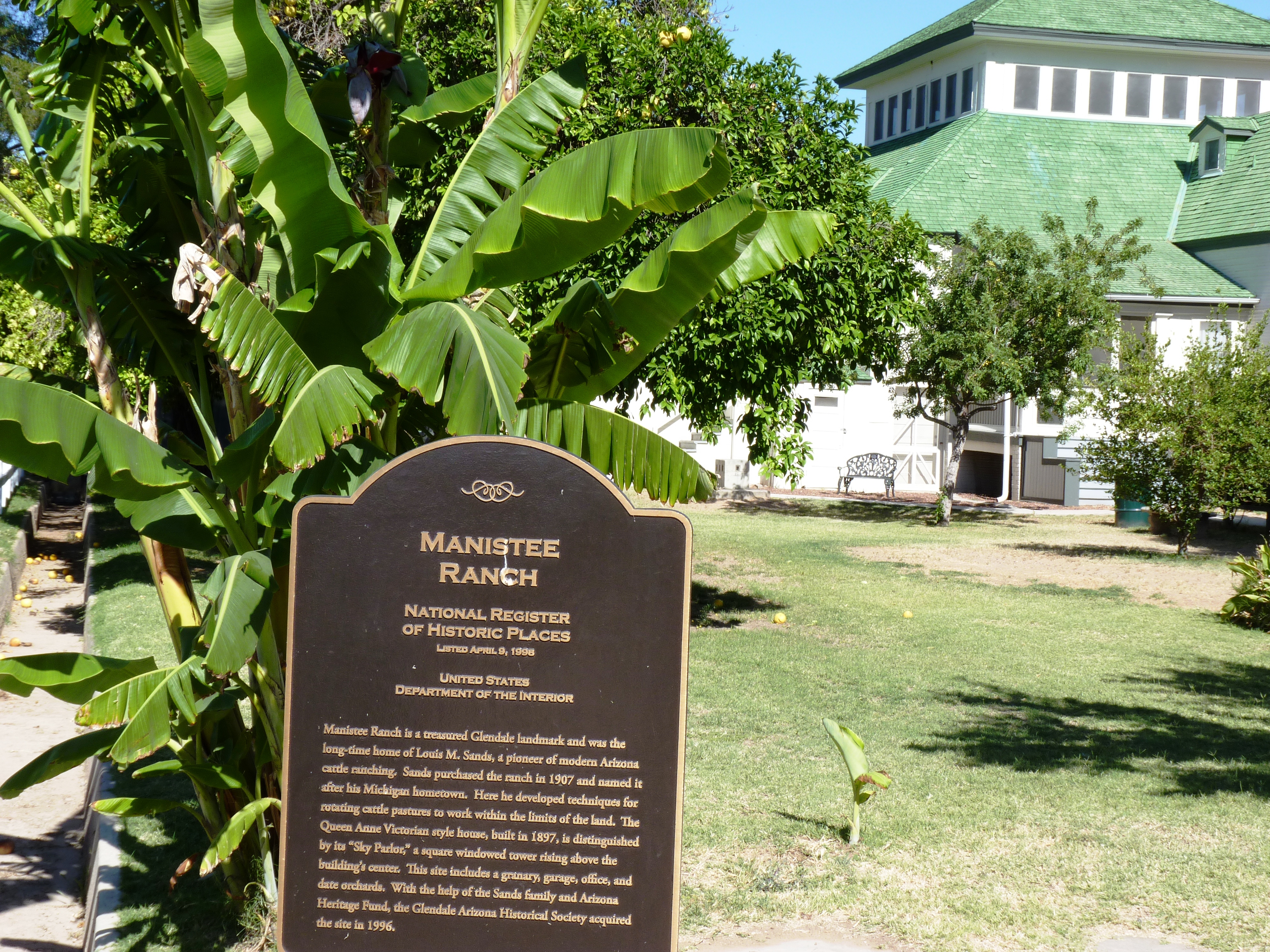 Backstory and Context
Herbert W. Hamilton was a wealthy lumber baron from Wisconsin who homesteaded lands in what was to become the future the City of Glendale, founded by William John Murphy. What made investment attractive was the completion of the Arizona Canal in 1885. The canal allowed 100,000 acres of desert land to be opened up to homesteading and irrigation farming. The Homestead Act was a United States federal law that gave an applicant ownership at no cost of farmland called a "homestead."
By 1897, Hamilton had under his control 320 acres of farmland in Glendale. He established a farm where he planted large citrus orchards and dates. Hamilton built a home for his family, unlike any of the typical Arizona farm houses of the time. It was a Queen Anne Victorian style house with a "Sky Parlor," a square windowed tower rising above the building's center.
In 1907, Hamilton sold the farm to Louis M. Sands, a native of Manistee, Michigan. Sands, a prominent Arizona businessman and rancher, named the farm "Manistee Ranch" after his hometown. Sands developed techniques in his ranch for rotating cattle pastures to work within the limits of the land. Besides harvesting feed for the livestock, which included cattle, sheep, horses, ducks and chickens, the farm workers also harvested dates which at the time were sold for 25¢ a pound. Over 11 different species of palm trees were planted. Currently there are some palm trees on the property which are over 100 years old.
Eventually most of the farm land, with the exception of four acres, was sold to land developers. The four acres of the farm land continued under the ownership of the Sands family until 1996, when the family decided to sell the land to the Glendale Historical Society
The Glendale Historical Society restored the historical buildings in the property which consists of a garage, office, barn and the main house. The basement of the main house has a collection of photographs and Glendale grammar school items. On the main grounds there is an exhibit of old farm equipment that was used on the ranch.
Sources
1. "Manistee Ranch Park," City of Glendale Parks and Recreation website, includes photos, accessed October 27, 2016. https://www.glendaleaz.com/parksandrecreation/ManisteeRanchPark.cfm 2. "National Register of Historic Places- Registration Form," Manistee Ranch, 36 pages, accessed October 27, 2016. http://npgallery.nps.gov/pdfhost/docs/NRHP/Text/98000322.pdf 3. "Manistee Ranch," National Park Service digital historic property information (thumbnail), accessed October 27, 2016. http://focus.nps.gov/AssetDetail/NRIS/98000322 4. "Facebook Page," Manistee Ranch, accessed October 26, 2016. https://www.facebook.com/pages/Manistee-Ranch/398502346877693?rf=400798893264290 5. "Wikipedia Entry," Manistee Ranch, accessed October 26, 2016. https://en.m.wikipedia.org/wiki/Manistee_Ranch 6. "YouTube video," aerial footage, without narration, of Manistee Ranch Park, (3:03 mins.) http://www.youtube.com/watch?v=Tgnxezexz5I
Additional Information