Mingo Indian
Introduction
The Mingo statue was built in 1928 to honor the Mingos, a group of Native Americans who inhabited the Ohio River Valley in the Wheeling area until the early 1800s. The statue welcomes visitors traveling over Wheeling Hill and represents the Native American history of the area. The Native American figure in the statue stretches his right hand out to greet travelers.
Images
The plaque on the base of the Mingo Statue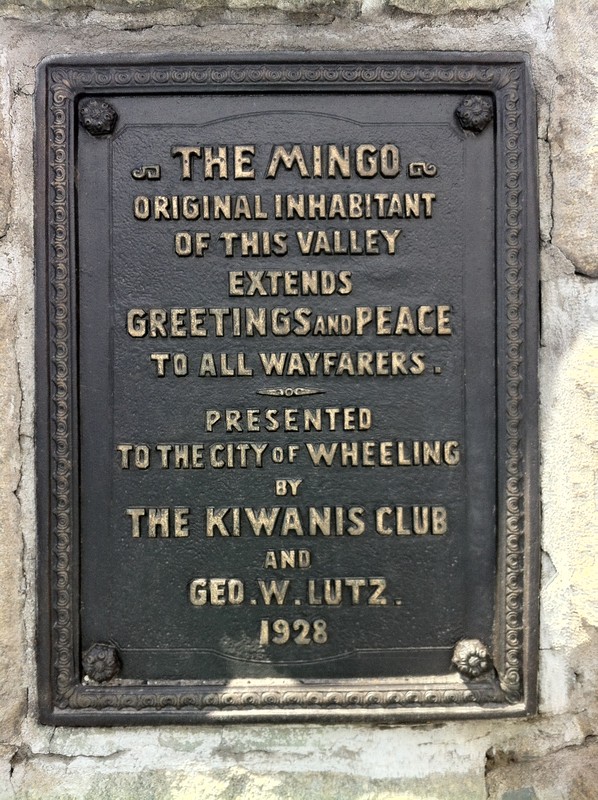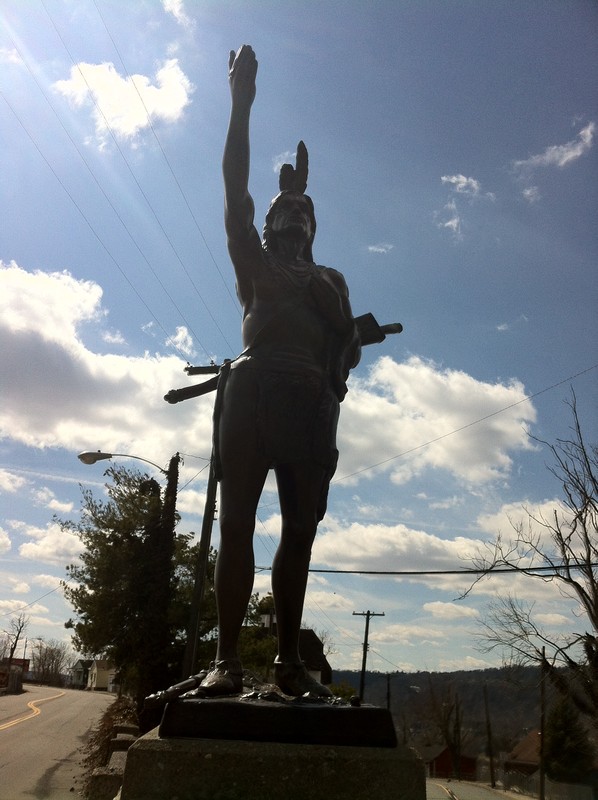 Backstory and Context
The Mingo statue was revealed in 1928, prior to the construction of I-70. At the time, National Road was the only major road going through the area, and the statue was a welcoming figure. The Wheeling Chapter of the Kiwanis Club and George W. Lutz commissioned the statue. Artist Henry Beu of North Wheeling Pottery cast the statue out of bronze, and it was dedicated on January 21, 1928. The statue is of a Native American man with his right arm stretched out to greet visitors. A group of vandals broke the statue at the ankles and removed it from the pedestal in 1982. After it was recovered, the statue was mended by the Mull Foundry and was rededicated in April of 1983.
The Mingos were an independent group in the Six Nations of the Iroquois Confederacy. The group was largely made of Senecas and Cayugas. The Mingos migrated to the Ohio Country in the mid-eighteenth century, as part of a movement of multiple Native American tribes to the region which had been an unpopulated Iroquois hunting ground for decades. The Mingos were not technically considered a tribe, as there was no official Mingo language or culture. Mingos were heavily involved in battles against white settlers during the late 1700s. Like their Shawnee and Delaware neighbors, and most Mingos relocated west after the collapse of native resistance in the 1790s. Today, the descendants of the Mingos can be found in Oklahoma and are known as Seneca-Cayugas. 
Sources
1. "Share Mingo." E-WV. Accessed October 25, 2016. http://www.wvencyclopedia.org/articles/1830.
Mingo Statue. Ohio County Public Library. Accessed February 17, 2019. http://www.ohiocountylibrary.org/wheeling-history/the-mingo-statue/5158.
Additional Information