Cowpens Depot
Introduction
Cowpens Depot is a historic train station built in 1896 by the Atlantic and Charlote Air Line Railway. Added to the National Register of Historic Places in 1997, it is a museum emphasizing naval World War II history. It features personal items that once belonged to crew members of the U.S.S. Cowpens, including clothing, letters, photos and medals. The building itself is a very good example of late 19th century depot architecture.
Images
The Cowpens Depot features this rail car next to it.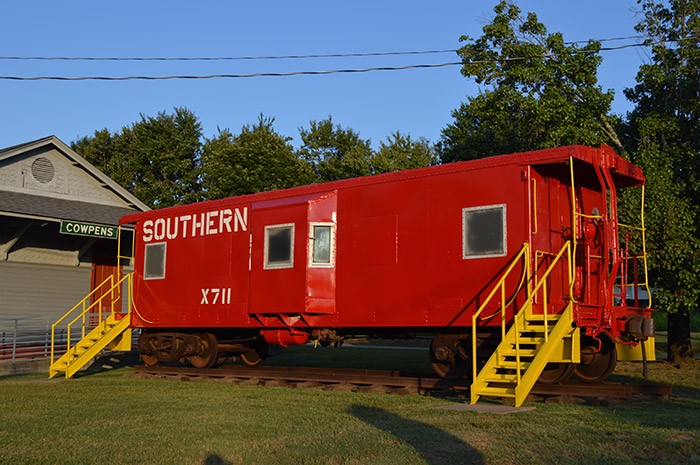 Backstory and Context
The Atlantic line was leased by the Richmond and Danville Railroad in the 1880s and early 1890s, before becoming part of the Southern Railway in 1894. Passenger service ended in the 1950s and freight service in 1967. From that year until 1980 the station was furniture warehouse. The railroad wanted to demolish the building in 1980 but the town wanted to save it. The company agreed but with the condition that the depot be moved one block away, which occurred in 1982. Renovations began in 1985 and the museum opened shortly after.
Sources
"Visitors." Town of Cowpens. Accessed October 25, 2016. https://www.townofcowpens.com/visitors.
Additional Information