Manitowoc County Courthouse
Introduction
Today's courthouse was designed by architect Christian H. Tegen in 1902-1904. Several delays occurred before the actual building of the courthouse could begin, including a cement mixer strike and waiting for building materials to arrive. On Sept. 30, 1905, the cornerstone for the building was laid during a gala celebration that attracted 3,000 people. The year 1906 was inscribed as its completion date, although it was actually completed in 1907 by contractors George Rickman and Sons. The final cost for the building was approximately $238,000 — nearly $90,000 over budget. The courthouse features a Beaux Arts architectural style, which was popular from 1893 to 1929, between the Chicago Columbian Exposition and the Great Depression.
Images
Manitowoc Co.Courthouse under construction at corner of South 8 St. and Hancock Street, in Manitowoc, looking north. Almost completed. Date:1906 - 1907.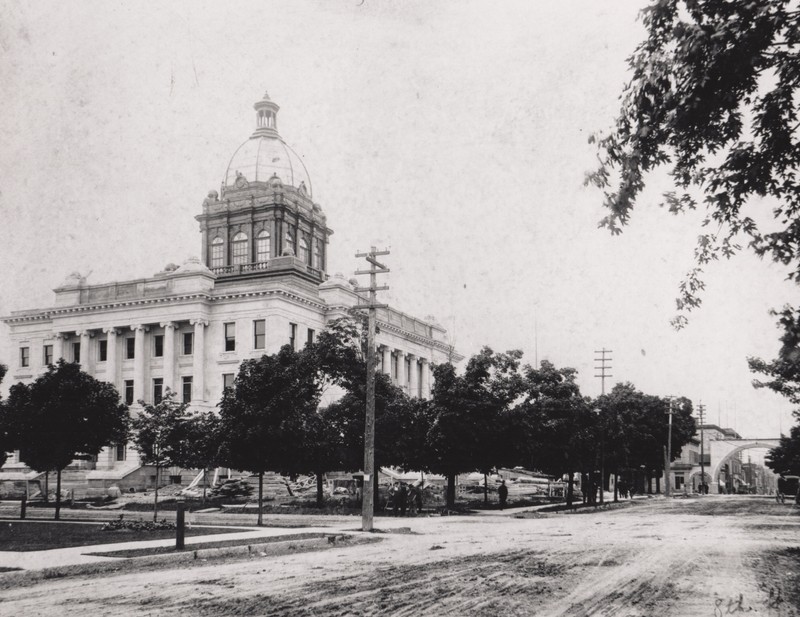 Manitowoc County Courthouse having maintenance done on it in early 1950s. Looking east side from Hancock & S 8th St.