Corbly Hall, Marshall University
Introduction
Author-Uploaded Audio
Corbly Hall is the home of Marshall University's internationally accredited Lewis College of Business as well as the English and Economics Departments. When the four story building was dedicated in November 1980, it was the largest academic building in the West Virginia state system of higher education. It includes some of the largest lecture halls on campus, one of which holds up to 150 people. The facility is named after Lawrence J. Corbly (1862-1935) who served as the last principal and first president of Marshall College from 1896 until 1915. Corbly made significant improvements to Marshall during his tenure, including growing the student body and increasing the quality of the school's curriculum.
Images
Corbly Hall is home to the Lewis College of Business. At the time of its construction, it was the largest classroom building in West Virginia.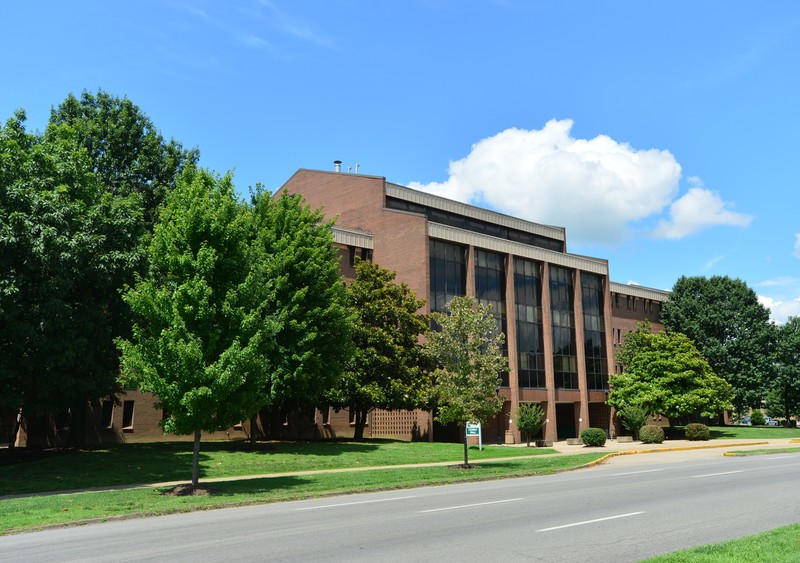 Lawrence Jugurtha Corbly (1862-1915) oversaw tremendous growth at Marshall as its last principal and first president.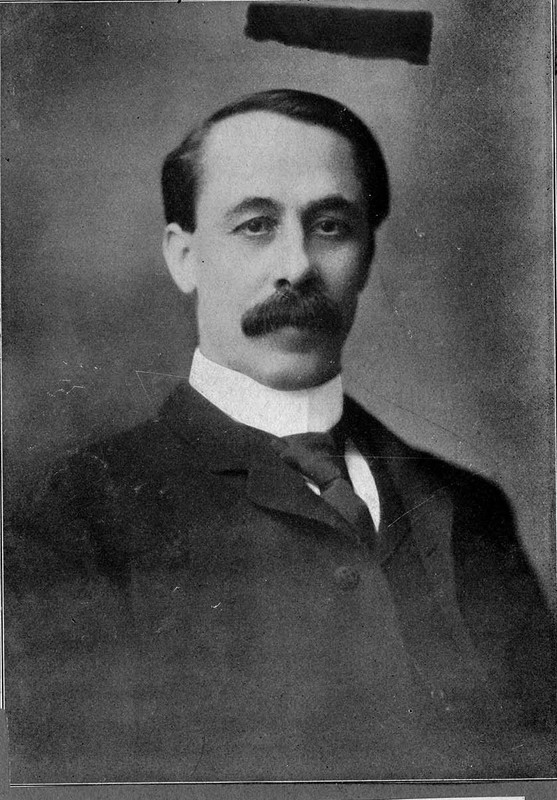 Backstory and Context
Author-Uploaded Audio
Marshall University experienced a new period of significant growth in the 1970s and early 1980s. Under the administration of President Robert B. Hayes, multiple building and renovation projects were initiated around campus. This included the construction of the Cam Henderson Center, an expansion of the Science Building, and the establishment of the Joan C. Edwards School of Medicine. On November 12, 1977, a groundbreaking ceremony was held for the construction of a large, new classroom building at the corner of Fifth Avenue and Hal Greer Boulevard. Initially referred to as Academic Building B, this facility was intended to be the new home of Marshall's College of Business.
In early 1980 Marshall announced that the building would be named in honor of Lawrence J. Corbly for his historic contributions to the development of the school. Corbly was born in 1862 and grew up in Tyler County, West Virginia. He graduated from Fairmont State Normal School and West Virginia University before pursuing a career as a school administrator. In 1895 he traveled to Germany to work on earning a Ph.D.; the following year, he halted his studies and returned to West Virginia after being asked to serve as principal of Marshall College. At the beginning of Corbly's administration, Marshall was small, had an inadequate curriculum, and did not offer baccalaureate degrees. During his nineteen-year tenure, he worked to improve Marshall and make it a degree-conferring college.
Marshall College flourished under Corbly. Enrollment jumped from a little over 200 students to more than 1,000; the faculty grew exponentially; the library increased from 1,200 to 7,000 books; and Old Main expanded three times. The Parthenon student newspaper and the school yearbook began publication while the first intercollegiate athletic teams were established. In 1907 a reorganization plan changed Corbly's title from Principal to President. He resigned in 1915 and took up a job in local real estate. Marshall College finally began offering degrees in 1920, mainly due to his improvements. In 1925 Corbly returned to serve as a professor, teaching German and astronomy courses. He was so popular amongst the community that when Corbly died in 1935, his funeral was held in the Old Main auditorium.
The decision to name the new building after Corbly decades after his death was attributed in large part to the persistent efforts of Mamie Spangler, a retired teacher and 1908 graduate of Marshall College. Spangler wrote a biography of the popular administrator in 1968, and in 1969 she began a campaign to create some sort of memorial to Corbly at Marshall. For the next decade she petitioned the administration to raise awareness of Corbly, writing letters and having meetings with multiple Marshall Presidents. Her work paid off in 1980 when President Hayes supported naming the new academic building Lawrence J. Corbly Hall.
Corbly Hall was dedicated on October 4, 1980, in a public ceremony presided over by Gov. Jay Rockefeller. The $6 million, four-story, 93,000-foot structure was the largest classroom building in West Virginia at the time of its opening. It was designed by the Huntington firm of Dean, Dean, and Kieffer and intended to complement the style of the adjacent Memorial Student Center. Since its creation, Corbly Hall has housed the College of Business, the Department of Economics, and the Department of English.
The first floor of Corbly Hall contains the Lewis College of Business Hall of Fame, which was established around 1995. The display honors meritorious graduates of Marshall who have achieved outstanding success in the business field. The dozens of members listed in the Hall of Fame include Gov. Jim Justice, Brad D. Smith, Joseph Touma, James and Joan Edwards, John Hall, Marshall Reynolds, and Lynne Morrow Fruth.
Also located in Corbly Hall is the Marshall University Center for Innovation and Entrepreneurship(MU iCenter), which offers a range of programs for student entrepreneurs — including the MU iCenter's Brad D. Smith Student Incubator. Marshall President and alum Brad D. Smith established the incubator in 2019 to help students get their startups off the ground and into the market. Created through a partnership between the Brad D. Smith Schools of Business and the Robert C. Byrd Institute, the incubator provides accepted students with guidance and support from tenured local entrepreneurs.
Apart from the Brad D. Smith Student Incubator, the MU iCenter is also home to two other programs whose mission is to support students in their entrepreneurial endeavors. Podcasters in Residence encourages students to spread new ideas through podcasts and the Simulated Workplace Entrepreneurship Education Pathway Program (SWEEP) offers entrepreneurial experience to West Virginia Community and Technical Education (CTE) students. The Center also offers Design for Delight (D4D) workshops, which educate students on design thinking methodology. The institution of design thinking as a technique for approaching challenges across campus was an initiative brought to Marshall by President Brad D. Smith.
Sources
Brown, Lisle. "Lawrence Jugurtha Corbly – Seventeenth Principal, 1886-1907 and First President, 1907-1915." Marshall Principals & Presidents. Accessed January 6, 2020. http://www.marshall.edu/special-collections/presidents/corbly.asp.
"Corbly Hall Dedicated." Marshall University News Letter. October 10, 1980.
"Corbly Hall: Gov. Jay Rockefeller to speak at building dedication Oct. 4." Marshall University News Letter. September 26, 1980.
"Corbly's relatives to attend dedication." Marshall University News Letter. October 5, 1980.
"Hall of Fame." Marshall University Lewis College of Business. Accessed January 6, 2020. http://www.marshall.edu/cob/hall-of-fame/.
MarshallU. "Corbly Hall." Posted July 24, 2019. Accesed January 6, 2020. https://m.youtube.com/watch?v=fvANTdmzm28.
"Marshall University Official History." Marshall University. Accessed December 18, 2019. http://www.marshall.edu/muhistory/. 
Mitchell, C. T. "Green Hardhat Succeeds Green Beanie on Campus." Marshall Alumnus 18, no. 1 (April 1977): 14-16.
Mitchell, C. T. "Lawrence Corbly: The man behind the building." Marshall Alumnus 21, no. 1 (April 1980): 9-13.
Moffat, Charles Hill. Marshall University: An Institution Comes of Age, 1837-1980. Marshall University Alumni Association, 1981. Accessed January 1, 2020. https://www.mds.marshall.edu/cgi/viewcontent.cgi?article=1008&context=lib_manu. 
"MU to recognize figures prominent in history of school." Marshall University News Letter. January 18, 1980.
Spangler, Mamie. "Lawrence Jugurtha Corbly, 1858-1935: President of Marshall College (now Marshall University), Huntington, West Virginia, 1896-1915: A Memorial Biography." 1968.
Teel, Cora P. "Marshall University." e-WV: The West Virginia Encyclopedia. December 5, 2017. Accessed December 18, 2019. https://www.wvencyclopedia.org/articles/1529. 
Image Sources
Marshall University

Marshall University Special Collections

Additional Information