Blue and Gray Museum
Introduction
The Blue and Gray museum is the largest privately owned collection of Civil War artifacts in the United States. Owned and operated by Robert Sackheim, an ardent student and collector of American Civil War memorabilia. The museum features a large collection of Civil War relics such as swords, revolvers, muskets, photographs and many other historical items. The museum is entirely made up of Sackheim's private collection, and for those interested in learning more firsthand about the deadliest American War in history will learn a great deal when paying a visit to Decatur, Alabama.
Images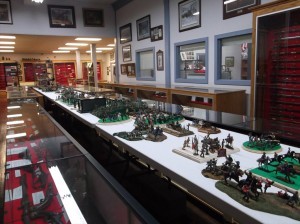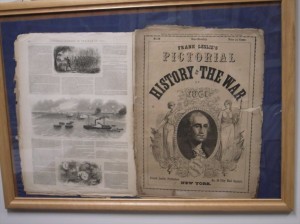 Backstory and Context

The museum is located in the old historic section of Decatur, and was the hand picked location Sackheim wanted to share his collection with the public. According to Sackheim the Civil War was just the conclusion to the American Revolutionary War, thus the Civil War completed the molding of our current nation. Sackheim said "After all, we have learned that the soldiers on both sides, who fought in this long and terrible struggle, came from every immigrant group and every cultural background." In addtion to the Civil War, the museum offers historical items from Decatur's past. For example, and unexploded 3.8 inch Hotchkiss artillery shell was found in a local womens yard in Decatur. Drums from both the Civil War and Mexican War are displayed, as well as two bullets that collided in mid-air. A pistol identical to the one carried by "Fighten' Joe" Wheeler, the sword used by Lt. Charles E. Warren, and items dating back to the Revolutionary War such as shako military hats are all on display in the museum. The Blue and Gray museum also offers many interesting facts upon visitation. Such as, Confederate artifacts are more valuable than Union relics. Strange itmes on display include peices of wood taken from the location of the Battle of Chickamauga that are imbedded with slugs of lead fired from both opposing sides. Along with a section of a tree embedded with shrapnel from an exploded parrot shell, there are also Enfield rifles on display that were made in London which are extremely rare. The museum is open to the general public from 10-5 Mondays through Saturdays throughout the year, except for holidays. To schedule a tour, please contact Robert through email at robert@alabamacivilwarmuseum.com.
Sources
http://www.alabamacivilwarmuseum.com/
Additional Information