The Mercer Williams House Museum
Introduction
This handsome home was built between 1860-1868 (construction was halted during the Civil War) for General Hugh Mercer, the great-grandfather of singer Johnny Mercer. Mercer never got a chance to live in the house, as it was completed by a man named John Wilder. By 1969 the house was vacant and in need of restoration. Local preservationist Jim Williams bought the house that year and renovated it for two years. The house has been owned by his sister Dorothy Kingery since 1990. It is open for private tours by making an appointment. It features art from William's private collection: 18th and 19th-century furniture, 18th-century portraits, drawings from the 17th century, and Chinese export porcelain.
Images
The Mercer Williams House Museum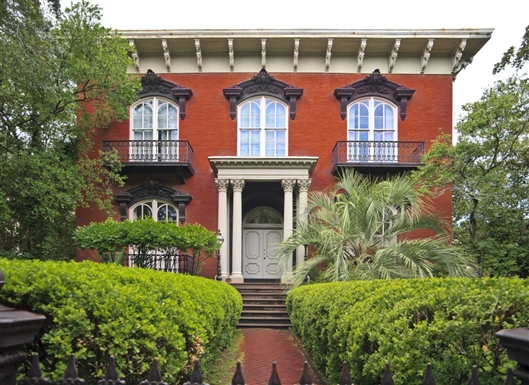 The Mercer Williams House Hall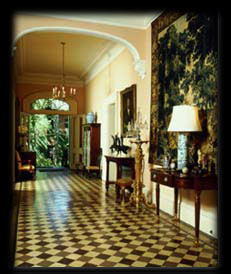 The Mercer Williams House den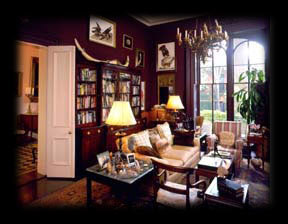 Backstory and Context
The Mercer House was designed by New York architect John S. Norris. Norris built houses, churches, and lighthouses during his time in New York. Construction began in 1860 but was interrupted by the Civil War. It was completed around 1868 by the new owner, John Wilder. No member of the Mercer family had a chance to live in the home. In 1969, Jim Williams, one of Savannah's earliest and most dedicated private restorationists, bought the then-vacant house and began a two-year restoration. This house is one of the more than 50 houses Mr. Williams saved during his thirty-year career in historic restoration in Savannah and the Lowcountry.
In 1981 Danny Hansford, Williams' assistant and partner, was killed in the study and Williams was charged with the murder. In the first trial, he was found guilty, but it was speculated this result was only because he was a gay man. The second trial resulted in the initial ruling being overturned due to contradicting police reports. The third trial resulted in an undecided jury. After four trials he was found not guilty, but he died of pneumonia six months later in the home. The incident was depicted in the movie "Midnight in Garden of Good & Evil" starring John Cusack and Kevin Spacey, who played Williams. The movie was based on a non-fiction book written by John Berendt.
The house is rumored to be haunted, because of the home's dark history. Along with the deaths of Hansford and Williams, an eleven-year-old boy named Tommy Downs died after falling from the roof or second story balcony while chasing birds in 1969. It is thought he may have been pushed to his death. The house is now owned by Jim Williams' sister Dorothy Kingery, and it operates as a museum open for daily public tours.
Sources
"Historic Mercer-Williams House." Visit Historic Savannah. Accessed September 28, 2016. http://www.visit-historic-savannah.com/mercer-williams-house.html.
"Our History." Mercer Williams House Museum. Accessed September 28, 2016. http://www.mercerhouse.com/history.htm.
The Haunted Mercer-Williams House, Ghost City Tours. January 1st 2019. Accessed November 20th 2019. https://ghostcitytours.com/savannah/haunted-places/haunted-houses/mercer-williams-house/.
The Mercer Williams House Museum, Explore Georgia. Accessed November 20th 2019. https://www.exploregeorgia.org/savannah/general/historic-sites-trails-tours/the-mercer-williams-house-museum.
Image Sources
http://mercerhouse.com/history.htm

http://mercerhouse.com/history.htm

Additional Information