Fort Morris Historic Site
Introduction
Fort Morris Historic Site played an important role from colonial conflicts like the French and Indian War, to the War of 1812 and the Civil War. The historic site includes seventy acres of earthworks and reconstructed fort walls, as well as interpretive exhibits and occasional special programs.
Images
Sign at the entrance to the site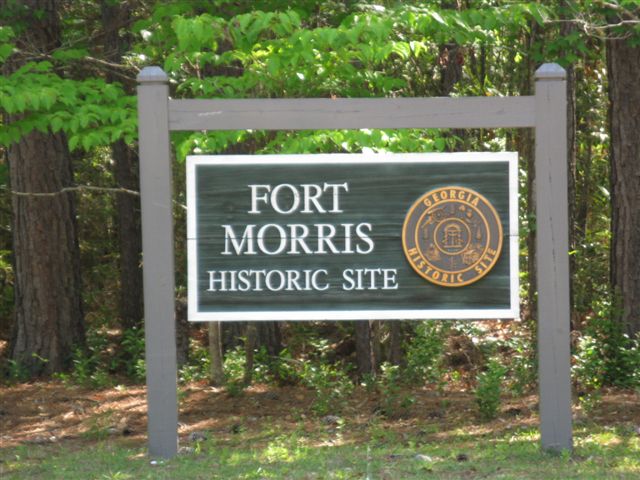 The earthworks at the site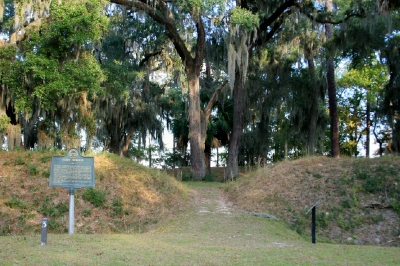 Backstory and Context
The first known fortifications at this site were built in 1741 to protect a plantation owned by Mark Carr, a British army captain, from 1732 to 1751. His plantation came under attack by Native tribes who allied themselves with the Spanish on March 18, 1741. During the colonial conflicts of the 1750s and 1760s, the area was home to a square fort that extended over one hundred yards. Governor Henry Ellis noted that the fort had a battery of eight guns. By the end of the French and Indian War, the fort was once again abandoned. That would change when British and rebel forces clashed in the American Revolution and the War of 1812.
The historic site and its earthworks are maintained by the state of Georgia. This state historical park offers different types of events throughout the year. For example, during Labor Day weekend the park hosts reenactments that include cannon and musket firings. In November, there is a re-enactment of a stand made by Colonel McIntosh during the American Revolution. The re-enactment includes a skirmish and a firing of weapons. They also have an event during Christmas time and it includes colonial area teats, music, and a bonfire.
Fort Morris Historic Site has a visitor center, a gift shop, seven picnic sites, and a one-mile nature trail.
Sources
Homepage. Georgia State Parks. Accessed October 15, 2015. www.gastateparks.org/info/ftmorris.

Royster, Charles. "The Destructive War: William Tecumseh Sherman, Stonewall Jackson, and the Americans." New York, NY: Vintage Books, 1991.
Additional Information