James W. Curry Public Library and Park
Introduction
This picturesque log building is nestled in the woods of southern Upshur County and serves the community as a library with a 200-acre park. The library was dedicated in 1980 and is largely the result of the work of James William Curry and his relatives. Nearby Brooks Hill was named in honor of Mr. Curry's grandfather, Rev. Richard Lock Brooks. Mr. Curry loved Brooks Hill and it's people, and greatly valued education. It was for these reasons that efforts were made to fulfill his dream of creating an public library and park after his death in 1977.
Images
James W. Curry Public Library was dedicated on October 12, 1980.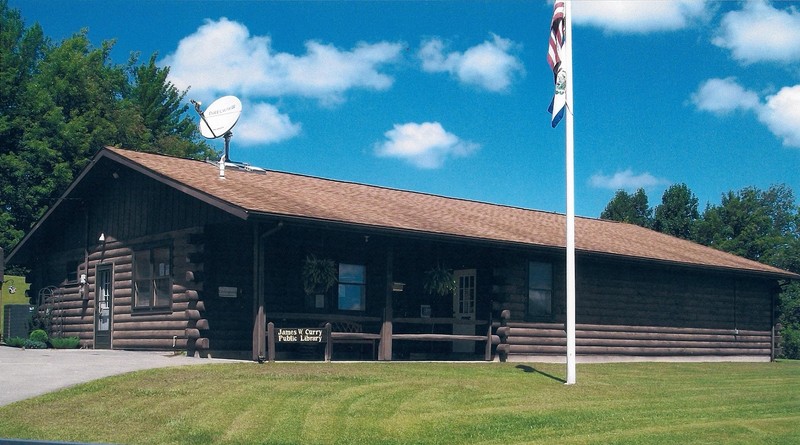 Directions to library and park.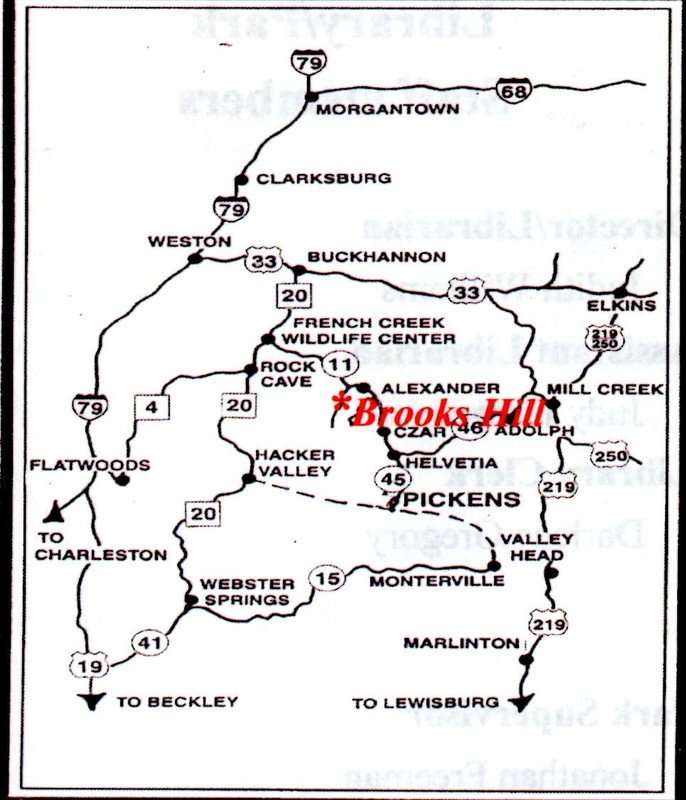 Backstory and Context
Mr. Curry was born on January 11, 1913, the son of Luke Tamblyn Curry and Frances Amelia Gladwell Curry and grandson of the Brooks Hill's first settler, Rev. Richard Lock Brooks. The first schoolhouse was built in 1874 but has since been rebuilt twice. The third building is now the Brooks Hill Community Building was built in 1928 and still stands to this day. James Curry attended the Brooks Hill schoolhouse and was the first student from Brooks Hill to graduate from Buckhannon Upshur High School. After graduating from Glenville State College in 1935, Mr. Brooks began his teaching career at the Brooks Hill schoolhouse, teaching from 1935 to 1943.
James Curry's other grandfather, Hamilton Curry donated land for the first church building and for a burial ground and James, his father, and his grandfather are all buried at this cemetery. The first church was built in 1893 and James mother gave the Bible to be placed in the cornerstone. This church was used until 1953, when it was rebuilt.
James later obtained a Master's Degree from West Virginia University, where he met and married Helen Evans. Eventually they moved to Hagerstown, MD where he continued his teaching career and also served on the Washington County, MD Board of Education and principal of Leitersburg and Keedysville Elementary Schools.
Shortly after the death of his wife in 1977, James conceived the idea of a library and park at Brooks Hill. His dream came to fruition on October 12, 1980 with the dedication of the James W. Curry Public Library and Park. The land the library and park sits on was donated by Mr. Curry along with approximately 30,000 books from his personal library collection.
This dream was based on Mr. Curry's intent that his home community, Brooks Hill, would have a place where local residents could gather and have access to library resources. He was especially interested in providing a place where the youth of the community could further their education. Mr. and Mrs. Curry had no children, so upon the death of James Curry on November 24, 1997 the bulk of his estate was placed in a trust which generated income to provide perpetual care of the James W. Curry Public Library and Park.
James W. Curry Public Library and Park is still cared for by the trust fund set up by Mr. Curry and provides the community with bevy of services. The Brooks Hill Community Building sponsors a Spring and Fall Festival along with a weekend Summer Fair. The library provides free Wi-Fi, programs for children and adults and a story trail. The park offers a number of campsites.
Sources
Tenney, Noel, W. (2008). A Tribute to James W. Curry, Brooks Hill's Favorite Son, Upshur County Historical Society, Volume 21 (Spring 2008).
Additional Information