Crandall Canyon Mine Memorial
Introduction
The Crandall Canyon Mine Memorial, honors six miners and three rescue workers who were killed in the Crandall Canyon coal mine of 2007. The tragic event occurred in Huntington, Utah. This section of central Utah is known as Utah's "coal country."
Images
The memorial at the cemetery.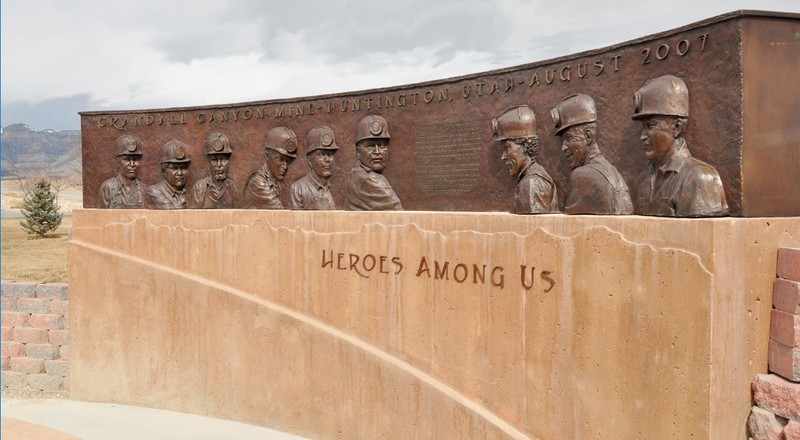 Head stones at the mine site in honor of the miners that were lost.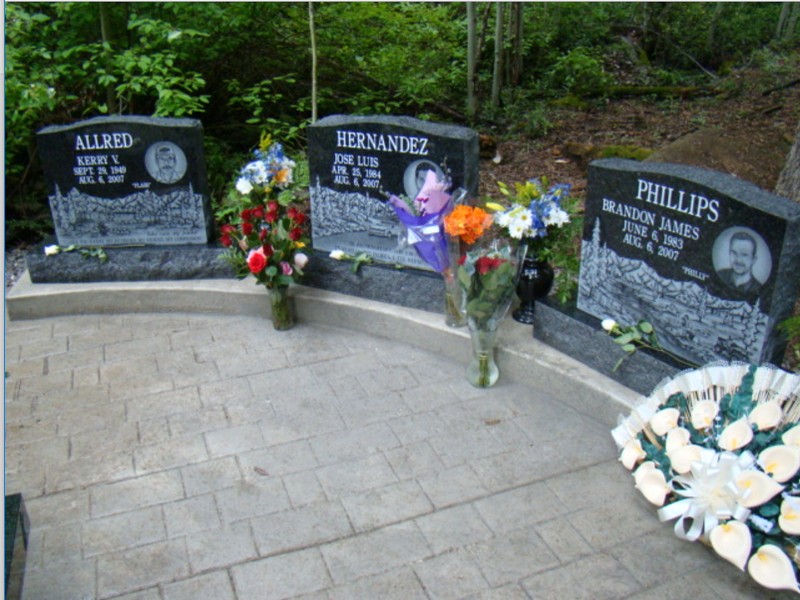 Three benches in honor of the rescue workers that were killed during rescue efforts.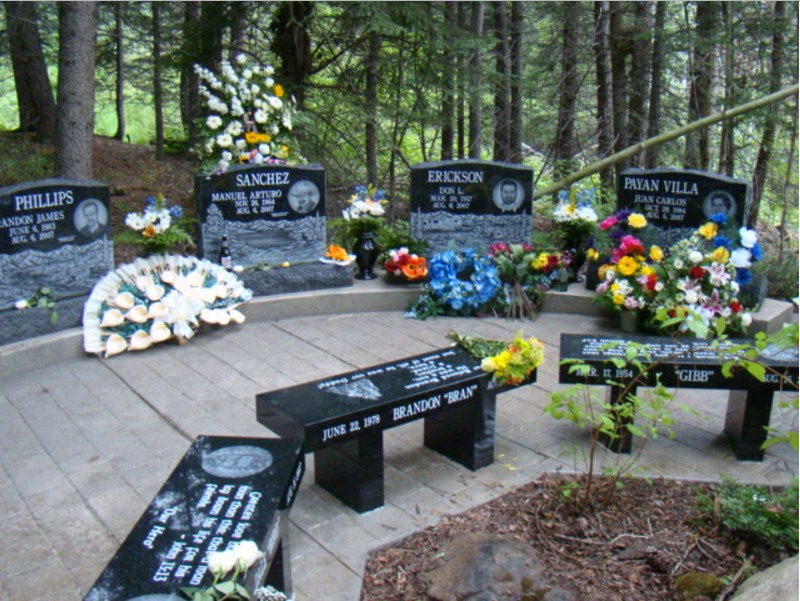 Backstory and Context
On August 6, 2007, in the early morning hours, a mine collapse at the Crandall Canyon Mine was reported to Emery County authorities. Upon arrival, the emergency responders learned that there were six miners missing, and believed to be trapped 1,800 feet underground. On top of the mountain, workers drilled an 1,868-foot hole into a chamber where the trapped men were believed to be. A microphone lowered down the hole failed to pick up any human noise. A second larger hole was drilled into a "survivable space", and a camera was lowered down, but there was no trace of the miners. A third and fourth hole were drilled with still no sign of the miners. On day eleven of the rescue efforts another "bump" inside of the mine caused a cave-in, taking the lives of three rescue team members, and severely injuring six others. Subsequent rescue operations were suspended. The Crandall Canyon Mine remains closed. Several lawsuits have been brought against owner Bob Murray, in relation to wrongful deaths, attributed to known unsafe working conditions in the mine.
The communities in Utah's coal country rallied around the families of the Crandall Canyon mining victims. Residents held a concert in honor of the missing miners. Candle light vigils and prayer circles were also assembled in support of the miner's and their families.
The six trapped coal miners who remain entombed in the mine are: Kerry Allred, Luis Hernandez, Carlos Payan, Don Erickson, Manuel Sanchez, and Brandon Phillips. The three rescuers who were killed are: Gary Jensen, Brandon Kimber, and Dale Black.
Hundreds gathered as the Crandall Canyon Mine Memorial was unveiled on September 14, 2008, in Huntington Utah. There are nine bronze deep relief portraits that were sculpted by Karen Jobe Templeton. There are also six individual monuments honoring the six miners killed inside the mine, and three benches to honor the three men who died in the rescue efforts. Templeton stated that she deliberately placed the faces of the miners six feet high so that people can look in the eyes of the men once again. Family members were moved to tears as they touched the familiar faces of their immortalized loved ones. A song was dedicated to the miners by a musical group that traveled from Washington State to Utah for the unveiling. The monument has provided a place for the families and community members to grieve and heal.
There are two different memorials to honor the miners. The location provided will take you to the memorial at the mine site. The other memorial can be found at the Huntington cemetery. The cemetery is located on 400 west highway 31, Huntington, UT.
Sources
Hollenhorst, John. "Crandall Canyon Mine Memorial Unvieled."ksl.com www.ksl.com/?nid=148&sid=4261649(accessed Oct. 23, 2016) Desert Digital Media. "Victims of Crandall Canyon Mine Disaster."deseretnews.com www.deseretnews.com/article/695206530/victims-of-Crandall-Canyon-Mine-Disaster.html?pg=all (accessed oct. 23, 2016) Templeton, Karen Jobe. "Crandall Canyon Mine Memorial."templetonsculpture.com www.templetonsculpture.com/Crandall-Canyon-Mine-Disaster-Memorial. (accessed oct. 23, 2016)
Additional Information