Addison Blockhouse Historic State Park
Introduction
Addison Blockhouse Historic State Park is the site of a 19th-century plantation named after its owner, John Addison. Addison built a few structures, including a small coquina rock blockhouse which was originally used as an outside kitchen. All that remains are the blockhouse and partial walls and foundations of a sugar mill built in 1832. The site is hard to reach but interpretive hikes and historical society outings are offered to those interested in seeing the ruins.
Images
These and other ruins are all that remain of the Addison Plantation.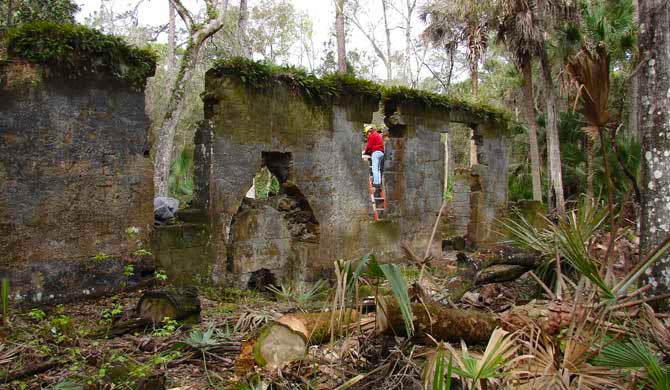 Backstory and Context
After John Addison sold the property, it was converted by the next owners, the McRaes, to grow sugar cane. But the plantation and its sugar mill were destroyed by a Seminole raiding party despite a garrison of the Carolina Militia on the property. Abandoned by its owners, the remains of the oyster and lime shell buildings vanished beneath the leafy green understory, but the blockhouse was added to in the 1920s. Officials are trying to preserve the remaining buildings and ruins for public viewing. Addison was buried on the property after his death, but due to vandalism, his tombstone was moved near the visitor center in Tomoka State Park in the 1970s.

Sources
"Welcome to the Addison Blockhouse Historic State Park." Accessed September 19, 2016. https://www.floridastateparks.org/park-history/addison-blockhouse.