Thomas "Stonewall" Jackson Statue
Introduction
Born in Clarksburg, (West) Virginia in 1824, Thomas Jonathan Jackson emerged as one of the most prominent Confederate generals of the American Civil War. A graduate of West Point, Jackson served in the Mexican and Seminole Wars. He accepted a professorship at the Virginia Military Institute, where he taught until the outbreak of the Civil War in 1861. Accepting a commission in the Confederate army, Jackson rose through the ranks as an aggressive, confident military commander. He commanded a Confederate corps under Robert E. Lee in the Army of Northern Virginia. In 1863, he was wounded by his own men at the Battle of Chancellorsville and developed pneumonia, to which he succumbed on May 10, 1863. In 1953, amidst the Civil Rights movement, the United Daughters of the Confederacy erected a statue to Jackson on the courthouse square in Clarksburg. In recent years, there have been calls for the statue's removal, but the Harrison County Commission has refused to take any action.
Images
Statue of Stonewall Jackson.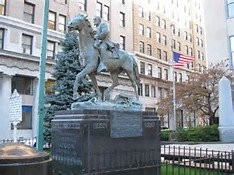 The plaque offers basic biographic information on General Jackson. The monument of Jackson in Charlottesville has been removed but as of January 2018, there is little support for removing this monument in Clarksburg.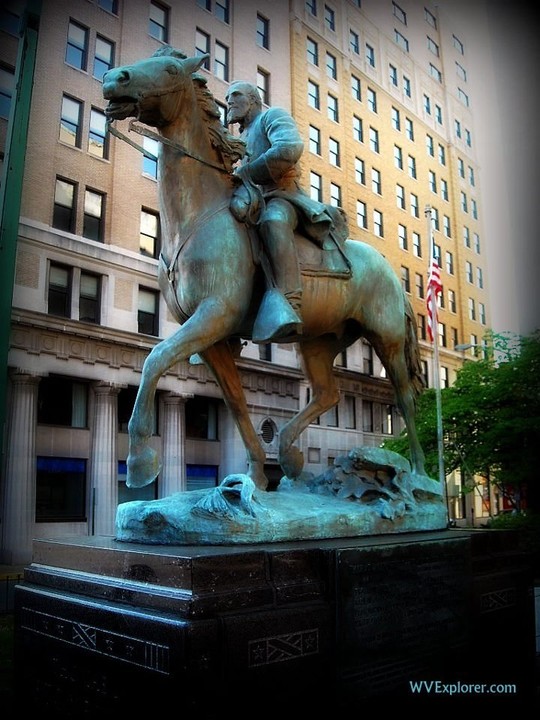 General Thomas "Stonewall" Jackson, 1863.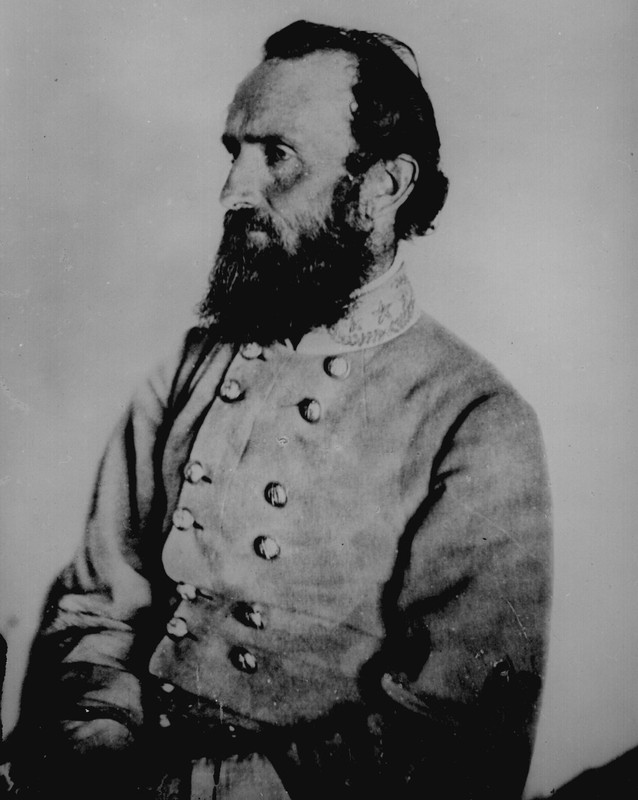 Stonewall Jackson Statue in Clarksburg, 1954.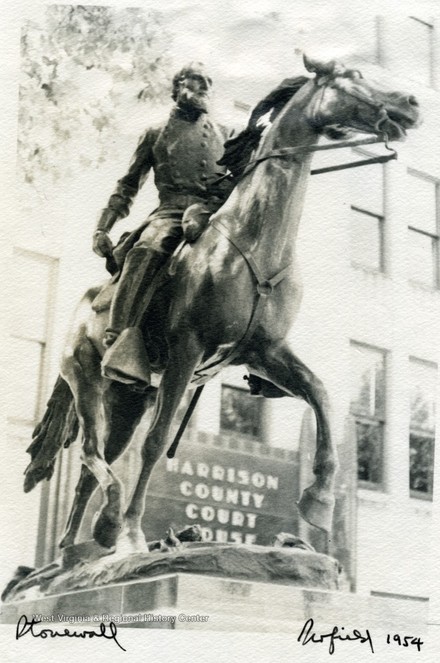 Backstory and Context
Thomas Jonathan "Stonewall" Jackson, a well-known Confederate general, was born in Clarksburg (then Virginia) on January 21, 1824 and died May 10, 1863. Jackson began his United States Army career as a second lieutenant in the 1st U.S. Artillery Regiment and was sent to fight in the Mexican–American War from 1846 to 1848. He served at the Siege of Veracruz and the battles of Contreras, Chapultepec, and Mexico City, eventually earning two brevet promotions, and the regular army rank of first lieutenant.
During the assault on Chapultepec Castle on September 13, 1847, he refused what he felt was a "bad order" to withdraw his troops. Confronted by his superior, he explained his rationale, claiming withdrawal was more hazardous than continuing his overmatched artillery duel. His judgment proved correct, and a relieving brigade was able to exploit the advantage Jackson had broached. In contrast to this display of strength of character, he obeyed what he also felt was a "bad order" when he raked a civilian throng with artillery fire after the Mexican authorities failed to surrender Mexico City at the hour demanded by the U.S. forces. The former episode, and later aggressive action against the retreating Mexican army, earned him field promotion to the brevet rank of major.
After the war, Jackson was briefly assigned to forts in New York, and then to Florida during the Second Seminole War, during which the Americans were attempting to force the remaining Seminoles to move West. He was stationed briefly at Fort Casey before being named second-in-command at Fort Meade, a small fort about thirty miles south of Tampa. His commanding officer was Major William H. French. Jackson and French disagreed often, and filed numerous complaints against each other. Jackson stayed in Florida less than a year.
In the spring of 1851 Jackson accepted a newly created teaching position at the Virginia Military Institute (VMI), in Lexington, Virginia. He became Professor of Natural and Experimental Philosophy and Instructor of Artillery. Parts of Jackson's curriculum are still taught at VMI, regarded as timeless military essentials: discipline, mobility, assessing the enemy's strength and intentions while attempting to conceal your own, and the efficiency of artillery combined with an infantry assault.
When Virginia seceded from the Union in 1861 after the attack on Fort Sumter, Jackson followed it and joined the Confederate Army. He distinguished himself commanding a brigade at the First Battle of Bull Run the following month, providing crucial reinforcements and beating back a fierce Union assault. It was there that Barnard Elliott Bee Jr., allegedly for Jackson's courage and tenacity, compared him to a "stone wall," which became his enduring nickname. Jackson played a prominent role in nearly all military engagements in the Eastern Theater of the war until his death and played an important part in winning many significant battles.
Unfortunately, during the Battle of Chancellorsville on May 2, 1863, General Lee divided his troops sending Stonewall Jackson's entire corps on a flanking march that routed the Union Forces. However, while performing a personal reconnaissance in advance of his line, Jackson was wounded by fire after dark from his own men. Later, during the week Jackson died of complications from pneumonia on May 10, 1863, eight days after he was shot.  
In 1953, the local chapter of the United Daughters of the Confederacy erected a monument to Jackson on the courthouse square in downtown Clarksburg, West Virginia, later donating the statue to the city. The statue was sculpted by New York sculptor Charles Keck and is a duplicate of the statue that was located in a park in Charlottesville, Virginia. At the time this monument was created, UDC members hoped to erect monuments and shape the curriculum of area schools to vindicate the antebellum South. Key to this message was suggesting that slavery was a benign institution that "civilized" enslaved persons.
In recent years, amid a nationwide reckoning over Confederate monuments and iconography, there have been several calls for the removal of Clarksburg's Jackson monument. In 2017, several citizens criticized the statue as divisive. In 2020, the Harrison County Commission formally considered a motion to remove the statue, but rejected the proposal in a 2-1 vote. During deliberations, local citizens spoke both for and against the proposal. As Ryan DeBarr noted, "What does it say that a statue of a slave owner went up in 1953 at the height of the desegregation conflict? It says it's not really about history."[3]
Despite the council's decision, calls for the monument's removal continued. As local resident Faith Dickson argued, "I questioned there was a statue of a Confederate soldier on the front of a courthouse in a Union state, I didn't understand it then and I don't understand it now. The soldiers in his army shot and killed the soldiers in the army of the United States of America." The Clarksburg History Museum offered several possible locations for a relocation of the statue (including at the museum itself) and asked to be "involved in making this work for everybody" as discussions continued.[4]
Sources
1. Cox, Karen. Dixie's Daughters: The United Daughters of the Confederacy and the Preservation of Confederate Culture. Gainesville: University of Florida Press, 2003. 
2. Valente, Mike. "ICYMI: 'Stonewall' Jackson statue: Keep or remove?" May 11, 2017. WDTV. Web. Accessed July 5, 2020. https://www.wdtv.com/content/news/Stonewall-Jackson-statue-Keep-or-remove-422048993.html
3. Associated Press. "Birthplace of Stonewall Jackson will not remove his statue." June 18, 2020. WHSV. Web. Accessed July 5, 2020. https://www.whsv.com/content/news/Birthplace-of-Stonewall-Jackson-will-not-remove-his-statue-571345431.html
4. Nolting, Mike. "Harrison County Commission hears from public again on Stonewall Jackson statue but takes no action." July 1, 2020. MetroNews. Web. Accessed July 5, 2020. https://wvmetronews.com/2020/07/01/harrison-county-commission-hears-from-public-again-on-stonewall-jackson-statue-but-takes-no-action/
5. Mistich, Dave. "West Virginia, Born Out of the Civil War, Grapples with Confederate Monuments." June 20, 2020. WV Public Broadcasting. Web. Accessed July 5, 2020. https://www.npr.org/2020/06/20/881017611/west-virginia-born-out-of-the-civil-war-grapples-with-confederate-monuments
Image Sources
U.S. National Archives, https://www.archives.gov/research/military/civil-war/photos

West Virginia & Regional History Center, https://wvhistoryonview.org/catalog/031152

Additional Information