Anchorage Museum
Introduction
The Anchorage Museum is the largest museum in Alaska and as of 2014 is a Smithsonian affiliate. It celebrates Alaskan and circumpolar (i.e., the "North") history, culture, art and science through its exhibits and public programs. It offers 20 exhibits each year. The collection is large: the museum holds 26,000 cultural objects from all Alaskan cultures, artifacts dating to the Russian period, artwork from the 18th century, and more recent landscape, photography, and sculpture artwork. Additionally, the museum houses 575,000 photographs from the Gold Rush period. The museum is also known for its collection of contemporary Native Alaskan art. Much of the collection comes from the Smithsonian Museum of Natural History and the National Museum of the American Indian. The Discovery Center at the museum features interactive exhibits on the science of Alaska and the North and a planetarium that explores earth science, the solar system, and space exploration.
Images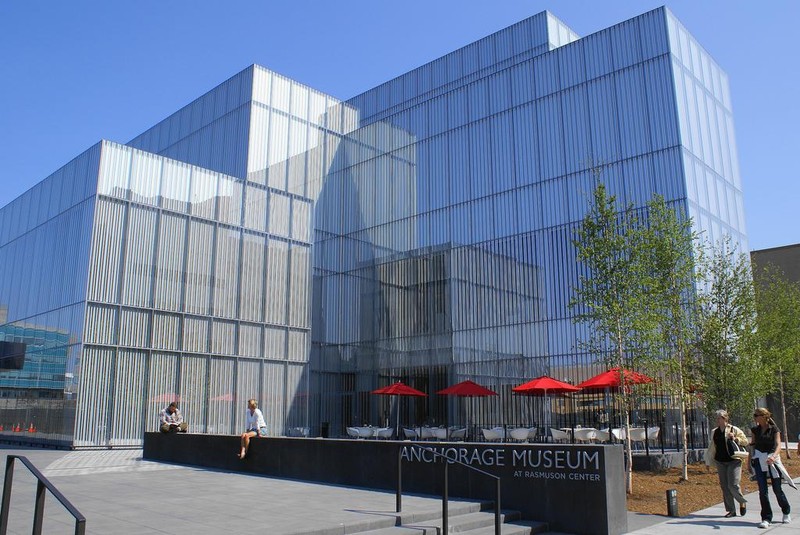 Backstory and Context
The museum opened in 1968 thanks for the efforts of Mayor Elmer Rasmuson and his wife Louise. The museum became the first regional office of the Smithsonian Institution's
National Museum of Natural History Arctic Studies Center in 1994.
Sources
"Museum Info." Anchorage Museum. Accessed September 10, 2016. https://www.anchoragemuseum.org/about-us/museum-info.
Additional Information