Moloka'i Light
Introduction
Built in 1909, the Moloka'i Light is Hawaii's tallest lighthouse at 138 feet. It is constructed out of concrete and replaced an earlier, temporary light that was installed on a 34 foot mast in 1906. The light was designed to work in conjunction with another one directly across the water on Oahu, guiding ships between the islands. The Moloka'i Light is also known for its association with the Kalaupapa Leprosy Colony, which was established in 1865 as a place to segregate Hawaiians afflicted with the disease. The light still functions today and features an automated, rotating light, which can be seen 28 miles away.
Images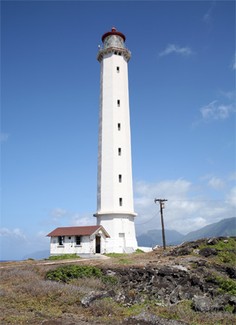 The light as seen from the water. The cliffs in the background rise 3,000ft high. Photo by: Mahalo Michael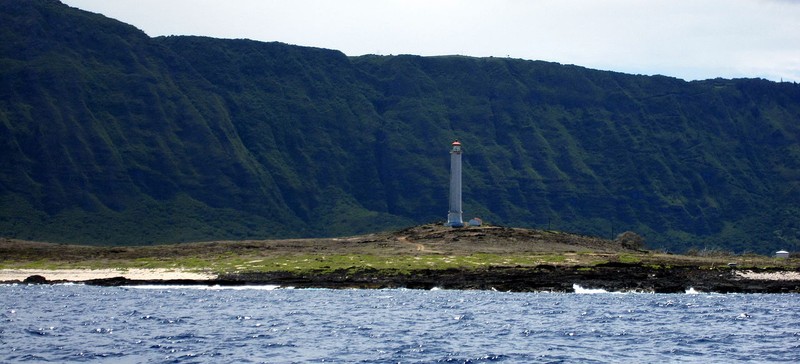 Backstory and Context
Initially, the federal government was hesitant to build a lighthouse so close to the leprosy settlement. But by that time, the channel between Oahu and Molaka'i was heavily used by commercial ships from the West Coast and those that past through the Panama Canal, so lights were definitely needed. Those living in the settlement became attached to the light and were sad to see the original light (which rotated on a pool of mercury) be removed and replaced with a new light in 1985. The light had been automated in 1966. It was managed by several keepers including Fred "Robbie" Robbins, who worked at the light for four decades.
Sources
Lindgren, J.D. "U. S. Coast Guard Molokai Light." National Park Service, National Register of Historic Places. March 25, 1982. http://focus.nps.gov/GetAsset?assetID=5f03f6f5-b531-4fac-9351-62e4f82b9163. "Moloka`i (Kalaupapa), HI." Lighthouse Friends. Accessed September 5, 2016. http://www.lighthousefriends.com/light.asp?ID=137.
Additional Information