Gilbert Historical Museum
Introduction
The building that is home to Gilbert Historical Museum, and our exhibits, chronicle Gilbert's rich 120 year history. A visit to the only building in Gilbert to sit on the National Register of Historic Places--the old Gilbert Elementary School--is well worth the small entrance fee and an hour or two of your time.
Images
Gilbert Historical Museum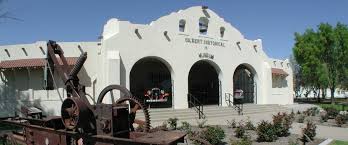 Backstory and Context
The Gilbert Historical Society is responsible for the museum, and the society was first organized in the 1960s and incorporated in the late 1970s.Initially, a group of like-minded Gilbert residents began gathering artifacts that were lying around their homes and farms, with an eye toward preserving them. Their prayer was to eventually have a building and yard area to show those artifacts to future citizens, so they might enjoy our historical past. A great deal of farm machinery was gathered: tractors, cultivators, cotton-pickers, hay bailers, just to name a few. Today, those items are still seen in the yard area that once was the playground of the Gilbert Elementary School.
In addition to the farm equipment, you can see ice boxes, early refrigerators, pianos, washing machines, sewing machines, milk separators, and a 12-foot cotton sack for gathering cotton by hand. Everything that was used during the early half of the 20th century was gathered to be displayed at some future day when a facility was available.I
Among those pioneers with the desire to create a museum were John and Ola Sawyer, Morris and Gertrude Mortensen Cooper, Elizabeth Heagren, Rose Divelbess, the Neelys, John and Delia Allen, John and Zelda Freestone and many others who were a generation ahead of my time, as I observed their personal efforts to gather the remnants of their families heritage and donated them for you and me to enjoy and treasure. Among the friends of these artifacts-gathering-people was Otto Neely, one of the many Neelys in and around Gilbert who have contributed so much to both the town and to the museum. Otto was known as a successful farmer, civic leader and philanthropist in Gilbert.
When Otto Neely was contacted by the museum builders, he told them that if they found a place or a building he would help them acquire it. In 1982, the Historical Society originally leased the old Gilbert Elementary School building that had closed as a school in 1977, but in 1985, the Gilbert School Board agreed to sell the building and five acres to the Gilbert Historical Society. A couple of the society members went to Otto and said, "We now have a building we can buy from the school district, they want $255,000." Uncle Otto, as he was known to all of us, said, "Well it is a little difficult to write $255,000." so he just wrote a check for $300,000 and that is how we now have the Gilbert Historical Museum.
Sources
1. "Gilbert Historical Museum," Official Website, accessed September 4, 2016. http://gilberthistoricalmuseum.org 2. "Visit/Contact Us," Gilbert Historical Museum website, accessed September 4, 2016. http://gilberthistoricalmuseum.org/contact/ 3. "Our Exhibits," Gilbert Historical Museum website, accessed September 4, 2016. http://gilberthistoricalmuseum.org/exhibits/ 4. Dale Hallock, "The evolution of the Gilbert Historical Museum," special for THE REPUBLIC, June 10, 2015, accessed September 4, 2016. http://www.azcentral.com/story/news/local/gilbert/2015/06/11/evolution-gilbert-historical-museum-cbt/28719103/ 5. "Town of Gilbert, Arizona: History," Town of Gilbert Official website, thumbnail history of the town, accessed September 4, 2016. https://www.gilbertaz.gov/about-us/history 6. "Spotlight On: Gilbert Historical Society and Museum," Gilbert Chamber of Commerce blog, ca. 2014, accessed September 4, 2016. http://www.gilbertaz.com/blog/article/spotlight_on_gilbert_historical_society_and_museum 7. "Gilbert Historical Museum," Facebook page, accessed September 4, 2016. https://www.facebook.com/GilbertMuseum
Additional Information