The Exploratorium at Pier 15
Introduction
The Exploratorium is a 300,000 sq ft public learning laboratory founded in 1969 by renowned nuclear physicist Frank Oppenheimer. After 44 years at the Palace of Fine Arts, the Exploratorium relocated in 2013 to an expansive facility at Pier 15 on San Francisco's Embarcadero. The current site boasts 3.5 acres of publicly accessible space, over 600 interactive exhibits, as well as a "collection of online experiences" that brings interactive learning to virtual visitors through apps and web sites. (See links below.) The design for the renovation of Pier 15 was created by EHDD Architects. It houses galleries of Light and Sound, Human Behavior, Living Systems, Electricity and Magnetism, the Outdoor Gallery, and the Bay Observatory Gallery. The highlight of the outdoor exhibits is a fog bridge by Fujiko Nakaya that honors San Francisco's famous foggy weather.
Images
The Entrance to the Exploratorium at Pier 15.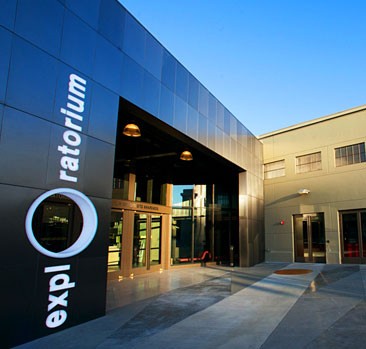 Backstory and Context
In the 1960s, Frank Oppenheimer and his wife, Jackie Quann, a graduate of UC Berkeley, traveled through Europe studying interactive science museums in London, Paris, and Munich.1,2 They brought these ideas back to America and resolved in 1967 to open an interactive museum in San Francisco. With funding from local businesses and the San Francisco Foundation, the Exploratorium opened at the Palace of Fine Arts in August 1969.3 Above its door was a sign hung by Barbara Gamow, wife of physicist George Gamow and friend of the Oppenheimers: "Here Is Being Created the Exploratorium a Community Museum Dedicated to Awareness."4
Oppenheimer was the director of the museum until his death in 1985. Under Oppenheimer and three subsequent directors, the museum flourished and grew, educating both local and international visitors. Children were especially entertained by "static generators that made your hair stand on end; Alice-in-Wonderland-esque rooms that seemed to grow smaller; and cow-eye dissections carried out for groups of slightly horrified kids every few hours."5
The Exploratorium began to outgrow the Palace of Fine Arts as early as 1991, and the museum sought a brighter, larger space for its outreach and teacher training programs.6 In 2004, San Francisco offered derelict Piers 15 and 17 to the Exploratorium and its architects, EHDD, for an urban revitalization project that would see the museum gain a nine-acre campus and the equivalent of three football fields worth of indoor and outdoor exhibition space.7
In addition to its interactive galleries, outdoor exhibits, and online apps, the Exploratorium hosts the Cinema Arts program, a Tinkering workshop series, and the Resonance program for new music exploration. Every Thursday evening is 'adults only' night from 6:00 p.m. to 10:00 p.m.
Visitors with disabilities can visit the museum at a reduced rate. All the galleries, restaurants, and washrooms at Pier 15 are wheelchair accessible. There is disabled permit parking near Pier 15. Wheelchairs and tactile maps for blind and partially sighted individuals are available at the Information Desk.
Sources
1. K.C. Cole, Something Incredibly Wonderful Happens: Frank Oppenheimer and the World he Made Up, (Chicago: University of Chicago Press, 2009), Google Books edition, p. 46, accessed December 31, 2016.
2. "Dr. Frank Oppenheimer," The Exploratorium, accessed December 31, 2016.
3. "Foundation Donors," The Exploratorium, accessed December 31, 2016.
4. Cole, p. 157.
5. Katie Gerfen, "Exploratorium, Designed by EHDD," The Journal of the American Association of Architects, June 24, 2013, accessed December 31, 2016.
6. Gerfen, "Exploratorium."
7. Gerfen, "Exploratorium."
Additional Information