Arizona Military Museum
Introduction
The Arizona Military Museum is operated by the Arizona National Guard Historical Society, a private non-profit corporation. The officers and directors serve as docents, and they perform other necessary functions in conjunction with National Guard support to operate and maintain the museum. On September 30, 2006, the Arizona Military Museum celebrated its 25th anniversary. This museum contains exhibits for everyone- children to seniors. The military history of Arizona begins with the Spanish Conquistadors and continues today. Visitors can view over 25 exhibits of uniforms, weapons, and armored vehicles.
Images
The front door of the Arizona Military Museum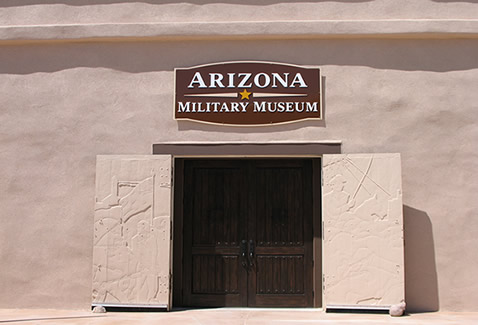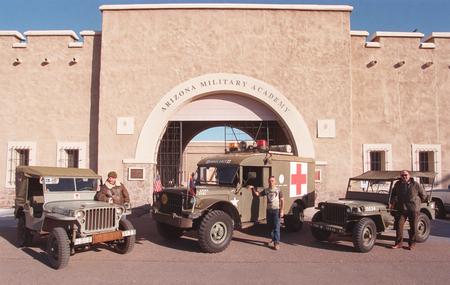 Backstory and Context
The museums' 25 exhibits contain all varieties of artifacts including uniforms, weapons, newspapers, maps and vehicles that showcase the history of the armed forces in the state. There are displays about prisoners of war, World War I and the Arizona National Guard.
The Arizona Military Museum Library has an extensive assortment of periodicals, historical records, official military histories, and copies of military orders and maps. The museums military exhibits include a large weapons display and an actual UH-1M Army Combat Helicopter flown in Vietnam.

The museum and The Arizona Regional Training Institute On Papago Military reservation share a building. The museum is themed "Lest We Forget," to honor military men and women who have served their country and lost their lives.


The museum was founded in 1975 and is maintained by officers and directors who serve as docents, working with National Guard support to direct and upkeep the museum. The building itself is a piece of Arizona history, constructed in 1936 as a Depression-era public works project. The raw adobe building served as a National Guard arsenal until World War II at which time it was converted into a maintenance shop for German prisoners of war who were held at a nearby POW camp.
Location Information
Located at: Papago Park Military Reservation
5636 E. McDowell Rd., Phoenix, Arizona 85008-3495 (Entry at Main Guard Gate) Driving directions: From McDowell turn north on to Bushmaster Blvd (which is about 1/4 mile east of 52nd Street). Enter the Reservation via the Guard Gate. At the gate you will be asked to show your driver's license. The guard on duty will give directions to the Museum. The library is located on the second floor of the Museum.
Sources
1. "Arizona Military Museum," Official Website: is part of the overall Dept. of Emergency and Military Affairs website, accessed September 4, 2016. https://dema.az.gov/army-national-guard/papago-park/arizona-military-museum 2. "History," Recap of the history of the Arizona military in Arizona, accessed September 4, 2016. https://dema.az.gov/army-national-guard/papago-park/history 3. "Arizona Military Museum Library," Arizona Libraries website accessed September 4, 2016. http://www.azlibrary.gov/location/arizona-military-museum-library 4. "Arizona Military Museum," PHOENIX NEW TIMES "Things to do" section, n.d., Accessed September 4, 2016. http://www.phoenixnewtimes.com/location/arizona-military-museum-6475759 5. "YouTube video," "Arizona Military Museum," 5:23 minutes, April 12, 2016, by Wanderlust, accessed September 4, 2016. http://www.youtube.com/watch?v=wuXtDSL_P9M
Additional Information