Historic Goldsboro
Introduction
Goldsboro is a community and former town in Seminole County, Florida. Founded in 1891, only a few years after Eatonville, it is one of the oldest African-American founded communities in the United States. In 1911, the community was annexed into Sanford, Florida.
Images
Historic Goldsboro Neighborhood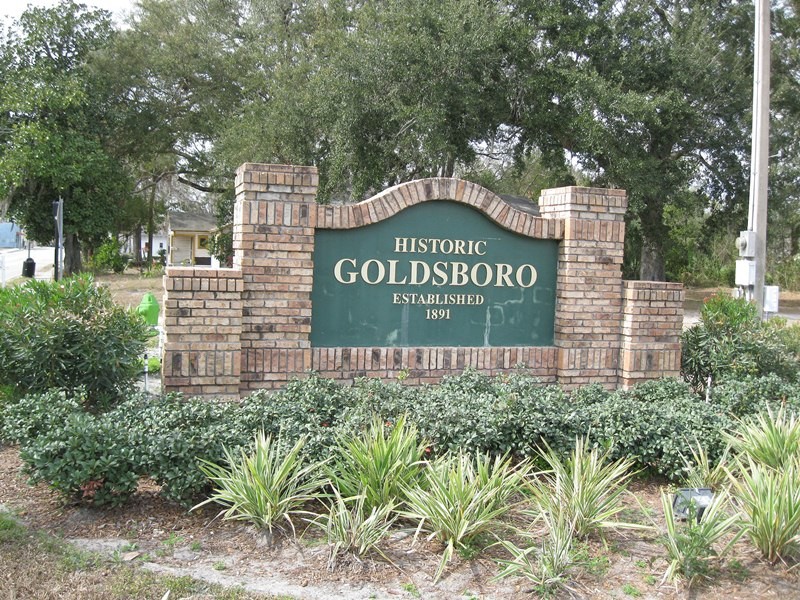 Picture of one of the founders of Goldsboro, William B Boykins, along with his Wife Rosa Boykins and son Raleigh.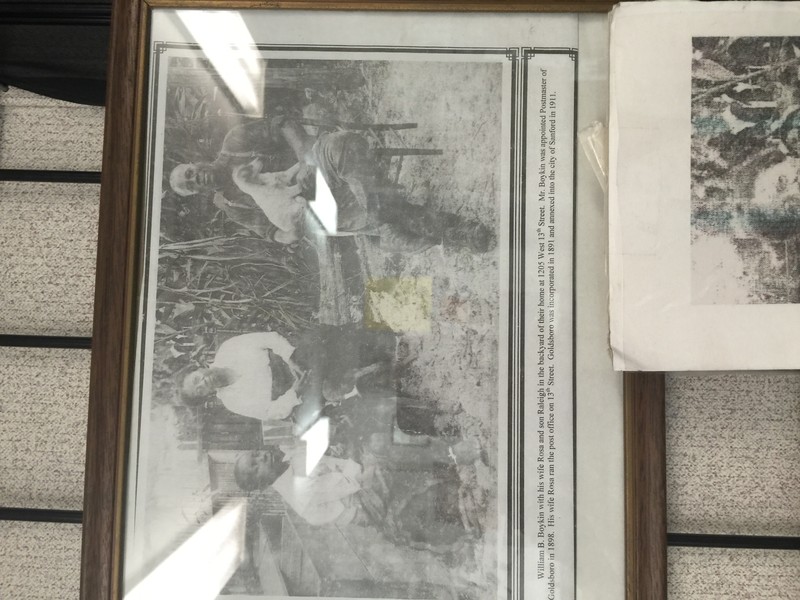 Historic Goldsboro Museum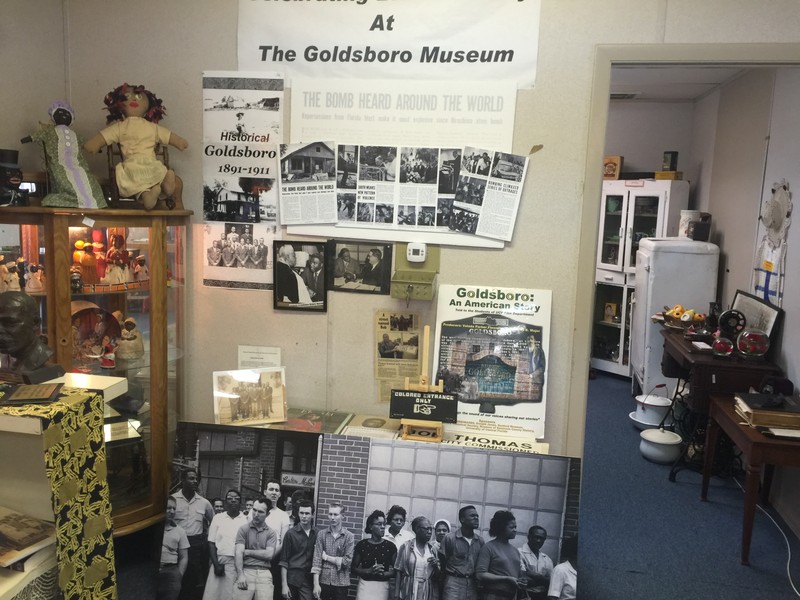 Picture of the water fountains that "Coloreds" and "Whites" used.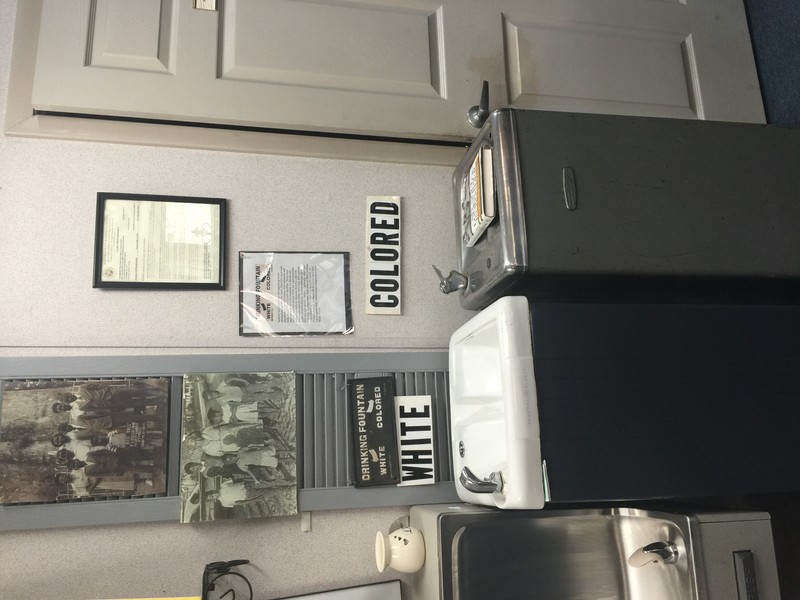 "Colored Entrance Only" Sign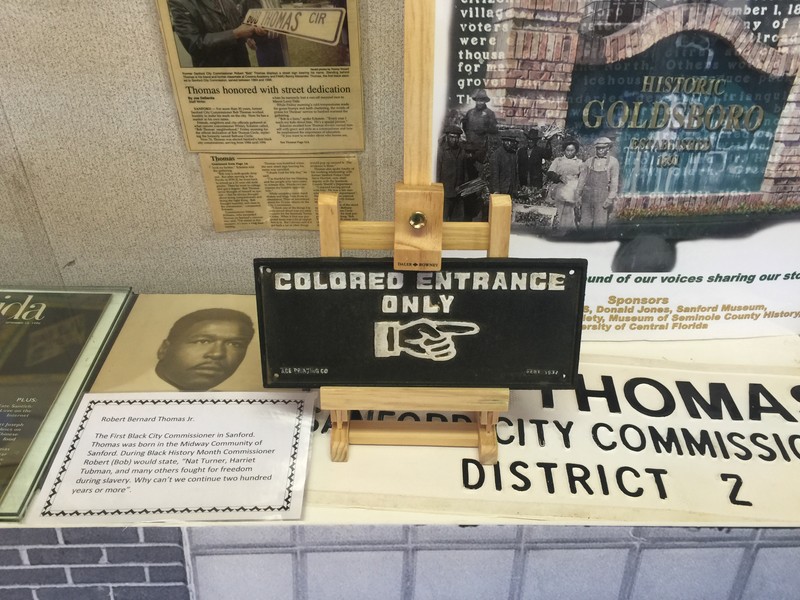 Historic Goldsboro Museum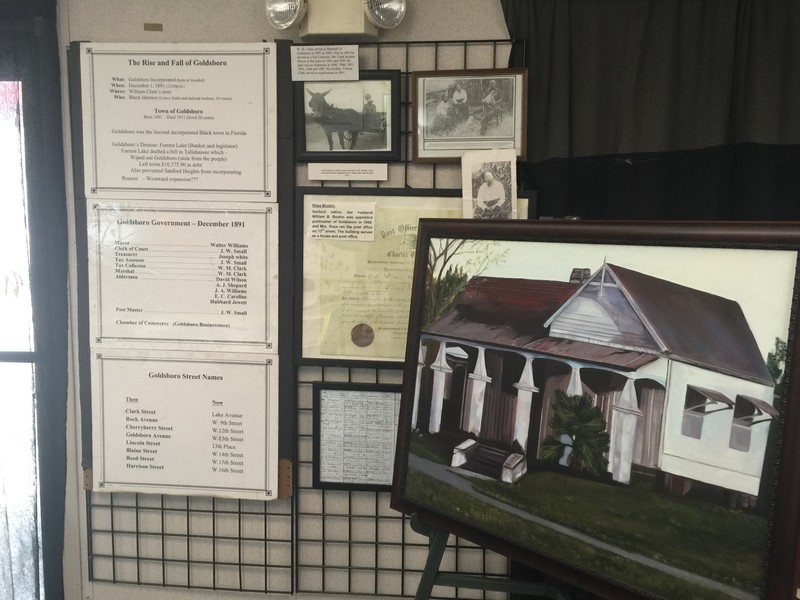 Pictures of Historic Goldsboro Blvd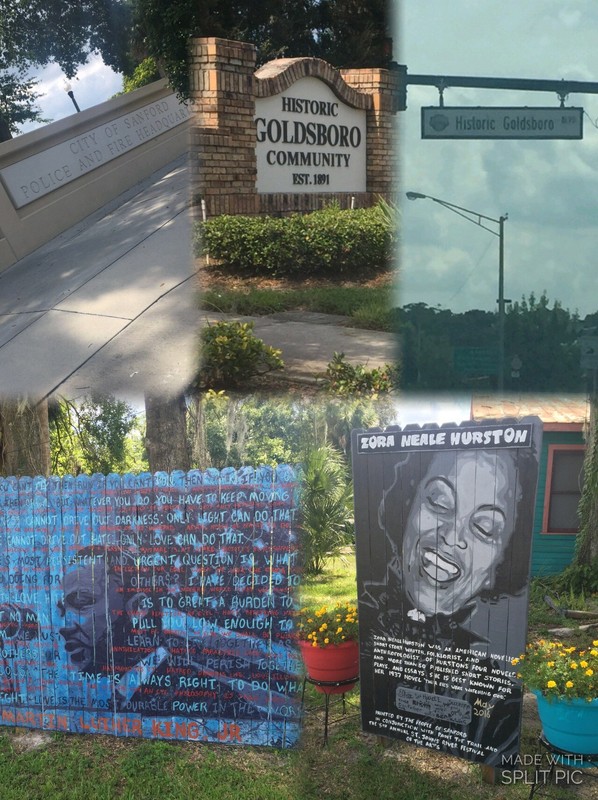 Backstory and Context
Henry Shelton Sanford, was a former union general and powerful member of the Republican party. He founded the town of Sanford, Florida was founded on Lake Monroe South Shore in 1870. Sanford established a plantation on Lake Monroe in central Florida to grow winter vegetables (Gannon). He planned a new city "The Gate City of South Florida" which he believed would become a transportation hub. Sanford was a prosperous town with wharves, a railroad station and a hotel. Although the railroad was succeeding and citrus was booming, Sanford was hit hard with a devastating fire, a freeze and a statewide epidemic, yellow fever. Sanford purchased 23 archers of land in the Sanford area and later sold the land to different people. In 1891, William Clark was one of the recipients of buying land and the land was Goldsboro.
The Freedmen's Bureau established Goldsboro during the Reconstruction Era for African Americans who worked at local railroad yards, farms produce houses (Goldsboro). Freedmen's Bureau provided food, housing and medical aid, established schools and offered legal assistance (History). Goldsboro was founded in 1891 by William Clark, Frank Siplin, George Benton, George Cook, and John Gold. Goldsboro was named after the founder John Gold. This town was established with its own post office, bakeries, drug stores, city council, garbage and sewer collector Goldsboro the second most prosperous African American towns in the country at this time. Eatonville, Florida was the first successful African American town. Each of the five men owned a part of the town which was called estates. To name a few: Boykin Estates and Clark Estates. Present day the housing projects were torn down.
Just as these men worked hard to get their town up and established, then everything came crashing down due to a powerful banker and state lawmaker by the name Forrest Lake. The goal was trying to make Goldsboro become a part of Sanford. Goldsboro was beginning to lose its identity. Lake's plan worked less than a month later, Goldsboro was now a part of Sanford. Lake was sent to prison for fraud and embezzlement. In 1897, six years after the founding of the town, the City of Sanford had the five men sign papers to sell the land and later would be reimbursed. Sources at the Historic Goldsboro museum say the men were never paid their money. This left families distraught. They felt cheated.
What is now Seminole County was originally Orange County. Citizens would travel to present Orange County to pay their taxes. The state legislature decided to divide the counties. On April 25,1913, Seminole County was officially established. Present day Goldsboro is still home to more than 2000 people.
This local history project is significant because Goldsboro is a part of African American history as well as Florida History. Learning about history right outside of your door is very interesting. It really opens your eyes and show you that you have it 100 times better than your ancestors did. Historic Goldsboro Museum opened in October 2011, curator Francis Oliver. For instance, when touring the Historic Goldsboro Museum, I noticed a pistol on top of a Holy bible. The story that I was told at the museum was that, the pistol was used as protection from a group called the "Night Riders" which is similar to the KKK. The group would ride by the African American peoples' houses to kill, intimidate, or scare them. The Bible was used to pray and submit to their Lord and Savior. So, if the Blacks ever had to kill the intruders then God would know that they were just protecting their families.
Goldsboro is one of the toughest communities I have learned about thus far. Everything that Goldsboro has been through it remains and history is being told. Crooms Academy of Information and Technology and Goldsboro Elementary School are both excelling in math, science and technology. I am proud to say I enjoyed learning about Goldsboro history and African American heritage. Goldsboro is located on the West side of Sanford, Florida. 1211 Historic Goldsboro Blvd, Sanford, Florida 32771 is where the Historic Goldsboro museum is located. The street was formerly named 13th Street. Lastly, I want to give a special thanks to the Historic Goldsboro Muesum.
Sources
"Goldsboro Museum." Goldsboro Museum, goldsboromuseum.com/bo-key/.
Gonzalez, Eloísa Ruano. "Goldsboro History Museum: New Museum Preserves Forgotten History of Goldsboro." Tribunedigital-Orlandosentinel, 12 Nov. 2011, articles.orlandosentinel.com/2011-11-12/news/os-goldsboro-history-museum-20111112_1_goldsboro-avenue-novelist-zora-neale-hurston-museum-documents.
History.com Staff. "Freedmen's Bureau." History.com. A&E Television Networks, 2010. Web. 17 Nov. 2016.
Sanford Trying to Rebound from Bad Feelings, Shattered Trust." Daytona Times. N.p., n.d. Web. 04 Nov. 2016.
"Pathways to History - Goldsboro and Historic Goldsboro Boulevard." City of Sanford : www.sanfordfl.gov/index.aspx?page=484.
Additional Information