Orlando Executive Airport
Introduction
Orlando Executive Airport located at 365 Rickenbacker Drive, Orlando, FL 32803 with coordinates 28°32'44"N 081°19'59"W is small two runway general aviation and corporate aviation airport located approximately 3 miles northeast of downtown Orlando, FL. It's aiport code is ORL. The airport opened in 1928 as Orlando Municipal Airport and was the first commercial airport in central Florida. The United States Postal Service started airmail service to Orlando the next year after the airport opened. The majority of Orlando Executive Airport is military in nature up until the late 1940's, but even still military presence was present until the 1990's. The airport played a significant role in bringing local aviators who would later work with NASA.
Images
Entrance to Orlando Air Base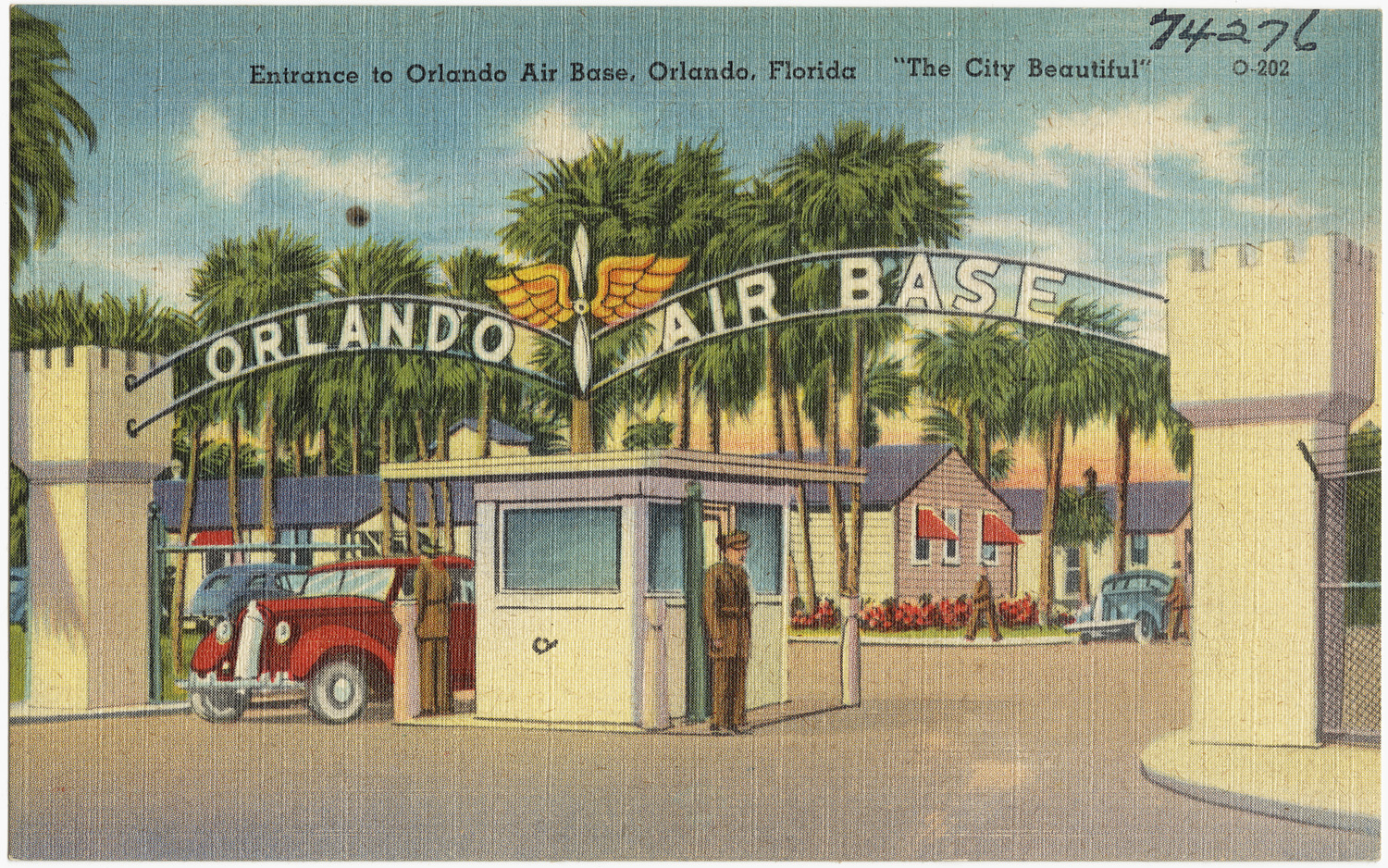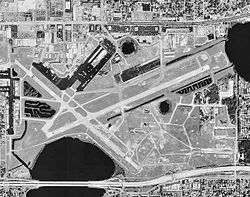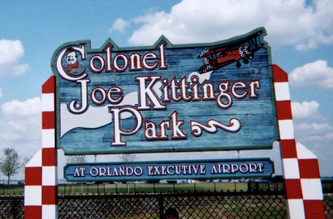 Backstory and Context
History of Military Use
In 1940 in anticipation of the impending war The United States Army Air Corps took control of the airport as a training facility and renamed it the Orlando Army Air Base. In 1941 the Army Air Corps became the United States Army Air Forces and until 1943 the Orlando Army Air Base was used by Bomber Command and Antisubmarine Command to fly anti submarine patrols along the coast of FL. As the threat of U-boats decreased the Orlando Army Air Base transitioned in the Air Forces School of Applied Tactics and subsequently the Army Air Forces Tactical Center. In 1943 the Army Air Forces School started night fighter training operations. The following Night Fighter Squadrons were sent overseas to either the Pacific or European theaters for combat: 348th, 349th, 420th, 423rd, 425th, 426th, and 427th.
In 1946 the airport was released to the City of Orlando but the military support facilities around the airport remained under US Army Air Forces as a non-flying administrative and training installation still under the name Orlando Army Air Base. When the United States Air Force was established the following year in 1947 as a separate service the name was changed to the Orlando Air Force Base and served as a training facility for Air Training Command as well as headquarters for the Military Air Transport Service and Air Rescue Service.
In 1968 the base was transferred to the United States Navy was renamed the Naval Training Center Orlando. This installation served as one of three new training recruitment centers and other various training schools, including the Navy Nuclear Power School. In 1993 a commision to close and realign schools called for the naval training center to close operations by 1999. The land of the training center was given to The City of Orlando who sold it to private developers who turned it into what is now known as Baldwin Park consisting of a planned community of residential homes and commercial properties just North of the airport. Upon the closure all military operations seized at the airport.
The 94th Aero Squadron Restaurant and Bar was the last of the military presence to leave the airport. It was a popular spot off the main entrance on Rickenbacker Drive where diners had a great view of the tarmac and could listen to the air traffic control and pilots in real time through real pilots headphones while enjoying the ever popular Beer Cheese Soup. The restaurant had a fire, closed for a while and came back with a World War II theme but eventually closed in the early 2000's and was demolished. The military presence increased the economy in Orlando along with the population. The higher ranking officers made Orlando their home and much of the housing around that area still has military personnel and families. The military presence not only affected Orlando but it also was a big help to the war efforts. The special training and facilities helped a great deal in war efforts. One might speculate that some of the air force personnel went on to work at Kennedy Space Center with space exploration.
Airline Use
In 1946 passenger flights began at the airport which was then called The Orlando Municipal Airport. National Airlines and Eastern Air Lines were the airlines operating out of the airport at that time. ooIn 1951 the airport built it's main terminal which was a two story building with a built in control tower attached. The original terminal and control tower stood until 1999. The airport had 5 runways during that time ranging in length from 4,480 ft long to 5,568 ft long. Records indicate that main runway in 1960 was approximately 6,000 feet long but historical records do not indicate when that took place.
By the early 1960's any further expansion of the airport was unlikely due to the development around the airport. This posed a problem as the main the runway of 6,000 feet would not be able to accommodate the landing of the bigger jetliners like the Boeing 707, Douglas DC-8, and Convair 880. As a result the city and Orange County governments lobbied the US Air Force to convert McCoy Air Force Base which was a Strategic Air Command B-52 base to a civil/military airport that could accommodate the bigger planes and had plenty of undeveloped land around it that could be used to expand. The base would be able to keep military operations on the west side while the civilian terminal would be on the east. The airport was renamed Herndon Airport in 1961 after former Orlando city engineer "Pat" Herndon in preparation for the move of the jetliners to the new Orlando Jetport at McCoy airport now known as Orlando International Airport (MCO). Airlines still continued to service Herndon Airport, in 1965 three airlines serviced the airport. Delta flew Douglas DC-7s while Eastern and National used Lockheed L-188 Electras. All three airlines has larger planes servicing Orlando Jetport at McCoy. By 1968 airlines no longer utilized Herndon and all commercial flights were now operating out of what is now Orlando International Airport.
Property Change and Developments
In 1976 the City of Orlando turned over control to the newly established Greater Orlando Aviation Authority (GOAA). GOAA renamed the airport Orlando Executive Airport in 1982 and in 1998 to its present name of Executive Airport.
Local Hero
In 1992 Colonel Kittinger Park was constructed in the southwest corner of the airport. The park was named in honor of Colonel Joe Kittinger USAF (Ret) who was a local aviator who achieved amazing accomplishments during his aviation career. He was a fighter pilot in the Vietnam war, recognized for shooting down a Mig-21 during one of his many combat missions. He was later shot down during another mission and became a POW which he survived. He set records for the highest free fall parachute jump in 1960 and held that record for 52 years. He has many more accomplishments and is showcased at the National Aviation Hall of Fame. The park was closed and partially demolished for expansion of highway 408 but was reopened in 2011. In 2014 a F-4D Phantom II was installed in the park on display on loan from the National Museum of the US Air Force. That particular jet was flown by Colonel Kittinger multiple times. The park has a playground and benches where the community can enjoy watching airplanes come and go from the Executive Airport and encourage children to pursue their love of flight like the airport did for Colonel Kittinger.
Sources
*, N. (2013) Orlando Executive airport marks 85 years of aviation history. Available at: http://www.travelandtourworld.com/news/article/orlando-executive-airport-marks-85-years-aviation-history/ (Accessed: 18 November 2016).

AirNav (no date) AirNav: KORL - executive airport. Available at: https://www.airnav.com/airport/KORL (Accessed: 18 November 2016).
Col. Joe Kittinger 'come up and get me' (1961) Available at: http://www.joekittinger.com/index.html (Accessed: 18 November 2016).
Former Orlando Army air base honored with historical marker (2010) Available at: http://articles.orlandosentinel.com/2010-01-25/news/os-historic-marker-ceremony-20100125_1_historical-marker-fighter-plane-tart (Accessed: 18 November 2016).
GOAA (1928) Orlando Executive airport - Orlando international Aiport (MCO). Available at: https://www.orlandoairports.net/orlando-executive-airport/ (Accessed: 18 November 2016).
History.com (1993) Florida in WWII -- objectives @ Florida OCHP. Available at: http://www.museumoffloridahistory.com/exhibits/permanent/wwii/bibliography.cfm (Accessed: 18 November 2016).
Joseph Kittinger (2016) in Wikipedia. Available at: https://en.wikipedia.org/wiki/Joseph_Kittinger (Accessed: 18 November 2016).
Orlando Executive airport (2016) in Wikipedia. Available at: https://en.wikipedia.org/wiki/Orlando_Executive_Airport (Accessed: 18 November 2016).
Orlando Executive airport (no date) Available at: http://www.wikiwand.com/en/Orlando_Executive_Airport#/Overview (Accessed: 18 November 2016).
(No Date) Available at: https://www.yelp.com/topic/orlando-weird-fun-places-in-the-orlando-area-that-are-extinct (Accessed: 18 November 2016).