Bailey House Museum
Introduction
Listed on the National Register of Historic Places, the Bailey House Museum is one of the earliest Western-style structures in Wailuku. It was first built in 1833 by missionary Reverend Jonathan Green as his parsonage (mission house). It eventually became the home of its namesake, Edward Bailey, and his wife. Today it is owned operated as a local art and history museum by the Maui Historical Society. The house is also significant in that it is one of the few structures from the missionary period that has remained mostly unaltered. Many interesting items are on display in the house including pre-contact artifacts, a wooden statue of a demi-god created before the 1819 purge, and a model of a Polynesian sailing vessel.
Images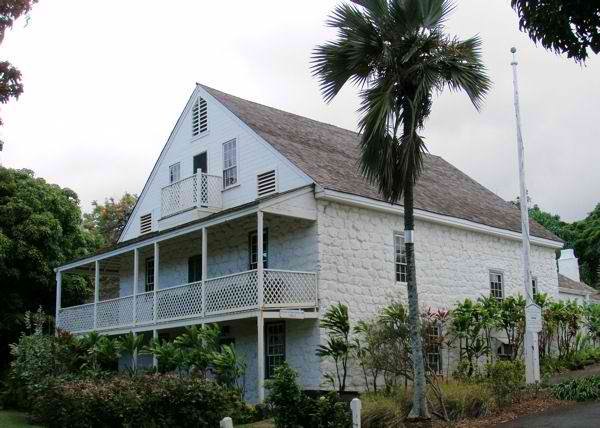 Backstory and Context
The house was built on the compound of the last Maui chief, Kahekili. It was intended to be a mission to teach adults and children but it became a boarding school for girls, teaching them not only about Christianity but also domestic skills. It operated as such from 1837-1849. Edward Bailey and his wife took over from Jonathan Green some time after 1840. After it closed, the house and surrounding property became part of an adjoining plantation. The house was donated to the society, which was founded in 1951, in 1991.
Sources
"All About Hale Ho'ike'ike." Maui Historical Society. Accessed August 31, 2016. http://www.mauimuseum.org/content/4bb132511225a/About_Us.html. Riconda, Dorothy. "Old Bailey House." National Park Service, National Register of Historic Places. March 20, 1973. http://focus.nps.gov/GetAsset?assetID=c8bfcf27-1560-441c-9307-53475382fdd1
Additional Information