Lake Eola Park
Introduction
Lake Eola is a popular public park located in the heart of Orlando, Florida. The park was officially established in 1892 thanks to donations of land surrounding the lake. It is made up of over forty acres -including the twenty-three acre lake- and is surrounded by Rosalind Avenue, East Central Boulevard, North Eola Drive, and East Robinson Street. Lake Eola is well-known for its plethora of events year-round, ranging from concerts and festivals to ceremonies and farmers' markets. The park is home to many monuments and public art, the most famous of which is the Linton E. Allen Memorial Fountain. Constructed in 1957 for Orlando's centennial, the fountain has become a symbol of Orlando and is popular for its nightly light shows. Another popular site is the Walt Disney Amphitheatre, which hosts many lakeside concerts and performances.
Images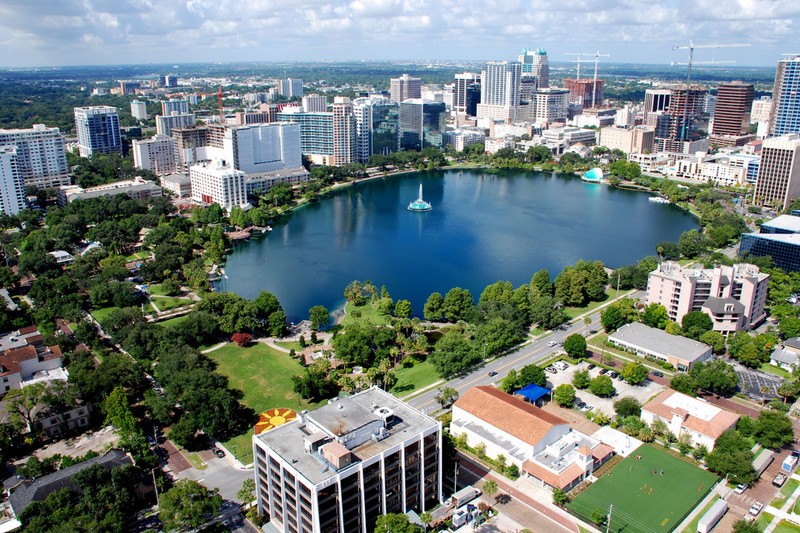 The Linton E. Allen Memorial Fountain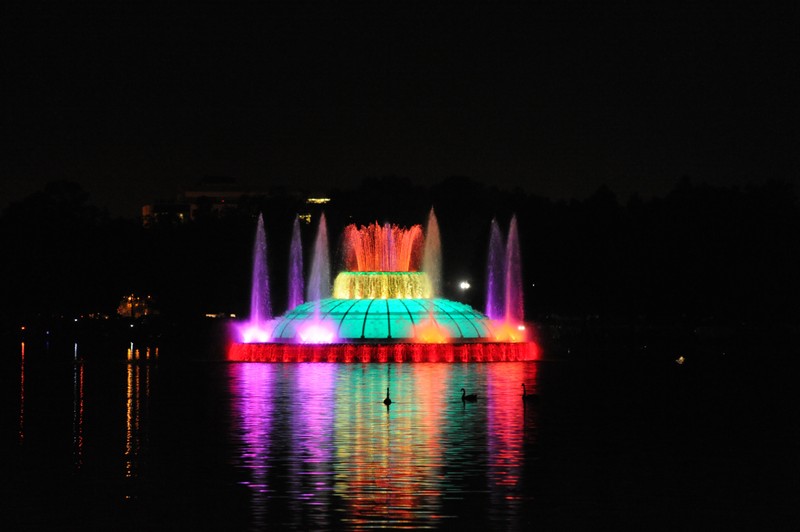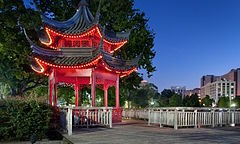 The Walt Disney Amphitheatre hosts concerts year-round. Image obtained from https://s-media-cache-ak0.pinimg.com/originals/e1/31/49/e1314959db260e5edbd4787b2246a3b5.jpg.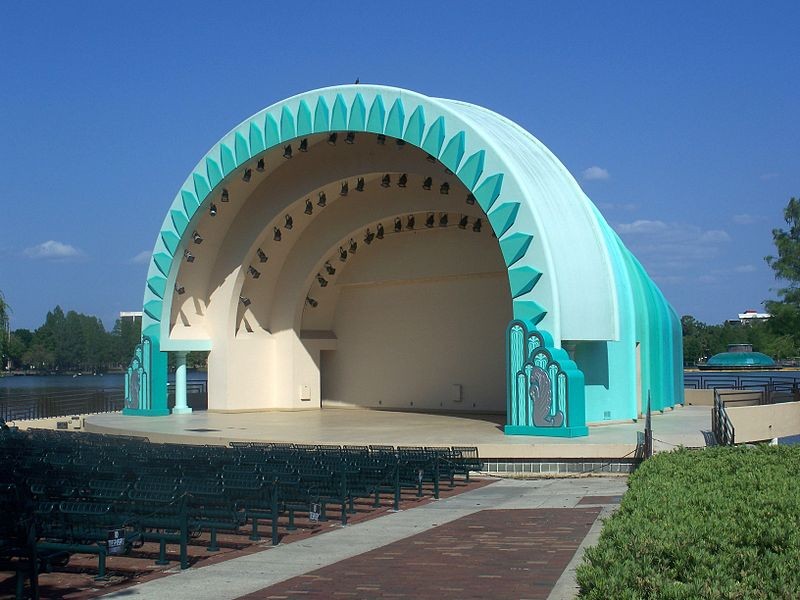 Backstory and Context
Lake Eola was formed by a large sinkhole, combined with an underground aquifer and storm water runoff. It was often referred to by locals as Sandy Beach. In 1883 a prominent Orlando resident named Jacob Summerlin offered to donate a portion of land at the lake to the city. He stipulated that the land had to preserved, beautified, and turned into a park. To guarantee this, Summerlin added a clause allowing his heirs to reclaim the property if the city ever failed to use it as a park. The city accepted the offer, and Sandy Beach was soon renamed Lake Eola, allegedly after a woman that Summerlin's sons knew. Lake Eola was officially established as a city part in 1892; gradually more families donated land until the park grew to surround the entire lake. In its early days Lake Eola was the site of fairgrounds and even the city's first zoo at one point.
The park is known to many for the bevy of swans living at the lake. The first swans were transplanted here in 1922 from Lake Lucerne. An Englishman had been raising various breeds of swans at the lake; some of them got into a territorial conflict, resulting in them needing to be separated. Today there are several different breeds of swans at the lake including Black Neck, Whooper, Royal Mute, Trumpeter, and Australian Black Swans. Lake Eola now also offers rides on swan paddle boats inspired by the birds.
In 1957 a new fountain was built in Lake Eola for the one-hundredth anniversary of the founding of Orlando. Originally called the Centennial Fountain, it was later renamed the Linton E. Allen Memorial Fountain in honor of a prominent Orlando banker. Shaped like a green, flying saucer and boasting water jets and colorful lights, the fountain quickly became popular. Today it is regarded as one of the symbols of Orlando.
By the 1980s Lake Eola had become an eyesore for the city. The lake was polluted, the fountain was in poor condition, and drifters and prostitutes frequented the area. In 1988 Orlando began a project to renovate and beautify the park to make it more attractive to families. The landscape was altered, the fountain was restored, and more police patrols were added. A Japanese rock garden was created, which included a large granite rock from Taipei, Taiwan. A red Chinese pavilion, called a ting, was donated by Nelson Ying as a symbol of friendship between the United States and China. Finally in 1989 the Walt Disney Amphitheatre was built on the west side of the lake for concerts; it replaced a previous amphitheatre that had been built on the south side in 1886.
Throughout Lake Eola Park are a large number of monuments ranging from simple plaques to statues. In 1917 a monument honoring Confederate soldiers was placed on the east side of the lake. It has become highly controversial in recent years, and plans are now being made for it to be removed. Other war monuments include a Battle of the Bulge Monument and a plaque honoring WWI veterans. There is another plaque honoring Orlando Reeves, the alleged namesake of Orlando. The International Plaza and Bridge contains the busts of several figures including South American liberator Simon Bolivar, Cuban revolutionary Jose Marti, Mexican independence leader Miguel Hidalgo y Costilla, and Indian independence leader Mahatma Gandhi. In addition to memorials, the park also holds some public art; six sculptures were installed in 2013 by See Art Orlando.
Today the Lake Eola Park headquarters are located in the historic Eola House. The home was built in 1924 by George Marsh, and was designed in the Mediterranean Revival style common among houses during the Florida Land Boom of the 1920s. In addition to serving as headquarters, the house can also be rented for meetings, parties, and weddings.
Sources
Benedick, Robin. "Eola Park Shaping Up As City Centerpiece Again." Orlando Sentinel. May 16, 1988. Accessed May 21, 2017. http://articles.orlandosentinel.com/1988-05-16/news/0040130210_1_lake-eola-eola-park-downtown-orlando.
"Lake Eola." City of Orlando. Accessed May 21, 2017. http://www.cityoforlando.net/about/.
"Lake Eola – Linton E Allen Memorial Fountain – Instant Download – Print the Photo Yourself on Any Medium (paper, canvas, metal, fabric, etc)." Etsy. N.p.,n.d. Web. 31 Oct. 2016.
"Lake Eola Park." The Trust for Public Land. N.p., n.d. Web. 31 Oct. 2016.
"Orlando Farmer's Market (2016) – Orlando, Fl." Nfmd.org. N.p., n.d. Web. 31 Oct. 2016.
"Top 5 Ways to Enjoy Orlando's Lake Eola Park." I VisitFlorida.com. N.p., n.d. Web. 31 Oct. 2016.
Additional Information