Trinity Episcopal Church
Introduction
Trinity Episcopal in historic St. Augustine, Florida, is the oldest Protestant Church in the state. The original building opened for services in 1831 and was constructed of coquina. Damage incurred during the Civil War resulted in the construction of a new building in 1903. Neo-gothic in appearance, Trinity is well-known for its stained glass windows, including one by Louis Comfort Tiffany.
Images
Trinity Episcopal Church was founded in 1821, which coincided with the city's establishment.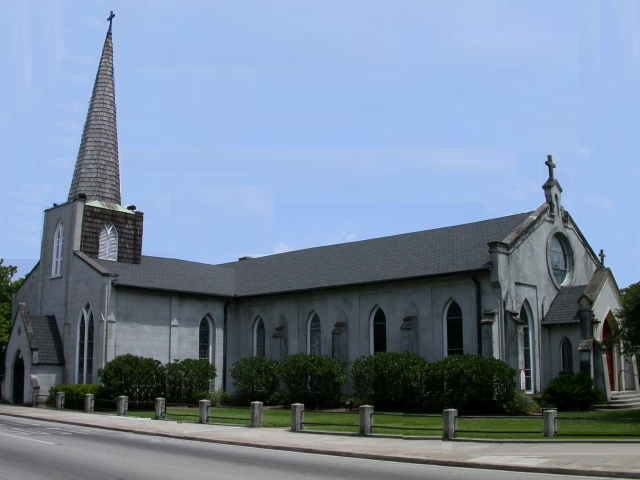 Backstory and Context
The history of Trinity Episcopal Parish history dates back to the founding of the St. Augustine parish in 1821, following Florida's entry to the United States as a territory. In 1938, the Episcopal Diocese of Florida was accepted into the union during the General Convention. At this time, there were seven parishes; Trinity was amongst them.

In 1830, construction began on the first church building. The 36-ft wide x 50-ft long structure was made of coquina, a local shell stone that served as a building material for many historic sites in the area. Trinity Church opened the next year, holding its first service on June 30. It was formally consecrated on June 5, 1834, by Nathaniel Bowen of South Carolina.

Though only one major Civil War battle occurred in Florida (the Battle of Olustee in Baker's County), the war negatively affected the diocese. This led to the deterioration of the original structure. As a result, in 1895, Reverend C.M. Sturges directed the effort to enlarge and repair the church. Construction on a cruciform, neo-gothic building began in 1902. The new building could seat over 500 people, and services began anew in January 1903.

In 1955, Trinity was expanded to include an education facility and Parish Hall. Over the next few years, a kitchen, administrative offices, and a nursery were added to the complex. The adjacent structure, Trinity Hall, was purchased in the early 2000s to serve as a meeting place and gathering spot. The 6,000 sq ft hall is located near the Bridge of Lions and across the street from the Plaza de la Constitución.

Significant features of Trinity Episcopal include a modified Opus 1482 hybrid pipe and digital organ, originally built by the Æeolian-Skinner Organ Company. The church also has several carillons, donated in 1971, 2001, and 2003. Trinity is, however, perhaps most notable for its stained glass windows, including one by Louis Comfort Tiffany. Ten, including the Triptych above the altar, are the work of Franz Mayer & Co. There are twenty-eight stained glass windows in total.

Today, Trinity Episcopal Parish continues to hold services. Trinity Hall still functions as a venue for meetings, receptions, weddings, and other events.

Sources
"Trinity's History." Trinity Episcopal Parish. Accessed August 25, 2016. http://www.trinityepiscopalparish.org/history.

Additional Information