Approximate Site Reached by the Espinosa-Olivares-Aguirre Expedition
Introduction
This marker indicates the approximate site of the Espinosa-Olivares-Aguirre expedition. This expedition was officially a "good will" trip made in 1709. At the time, Spain had held a claim on Texas for 190 years; however, following the closing of East Texas missions, the Spanish learned of a trading trip made by the French to Texas.
Images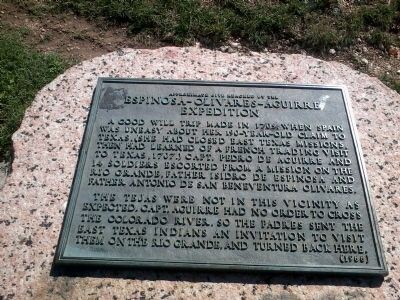 Map of Spanish colonial expansion in Texas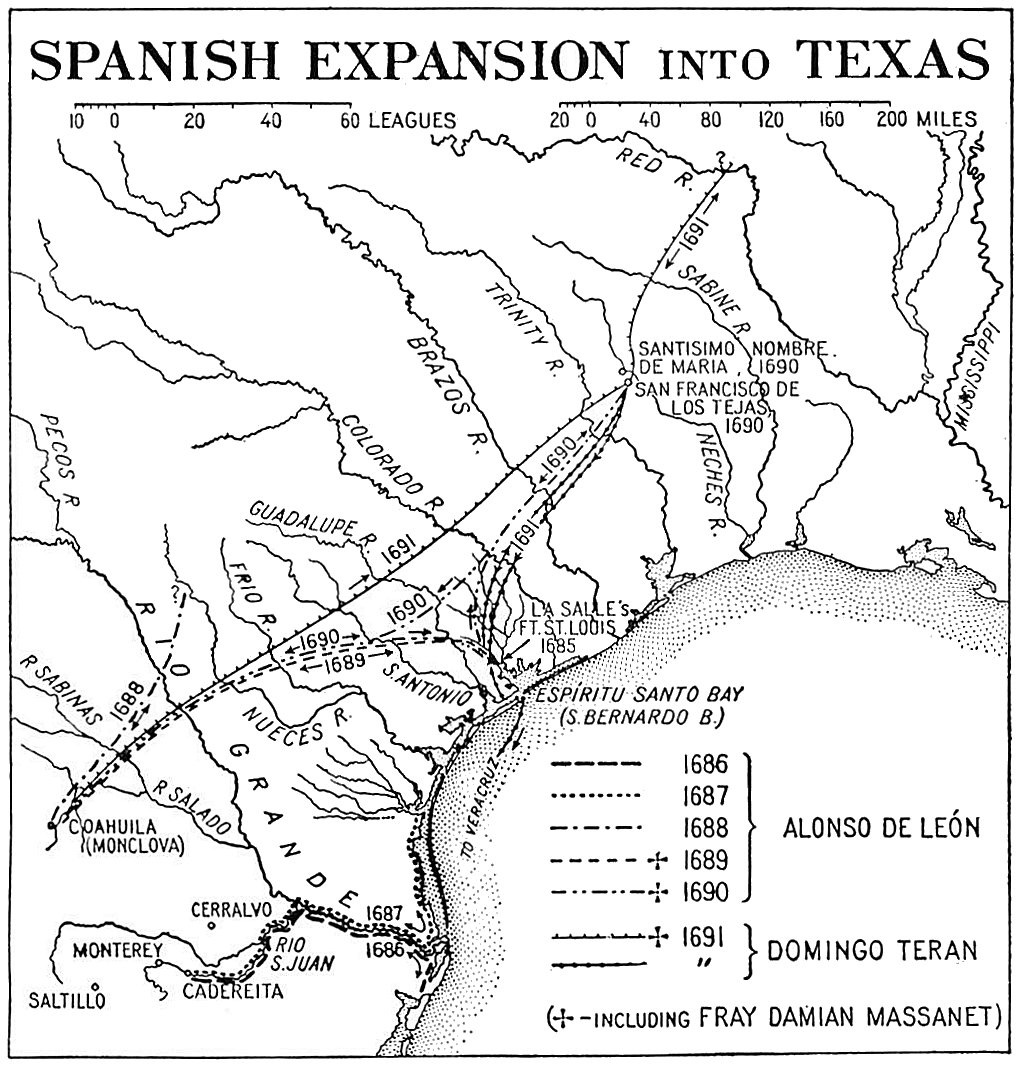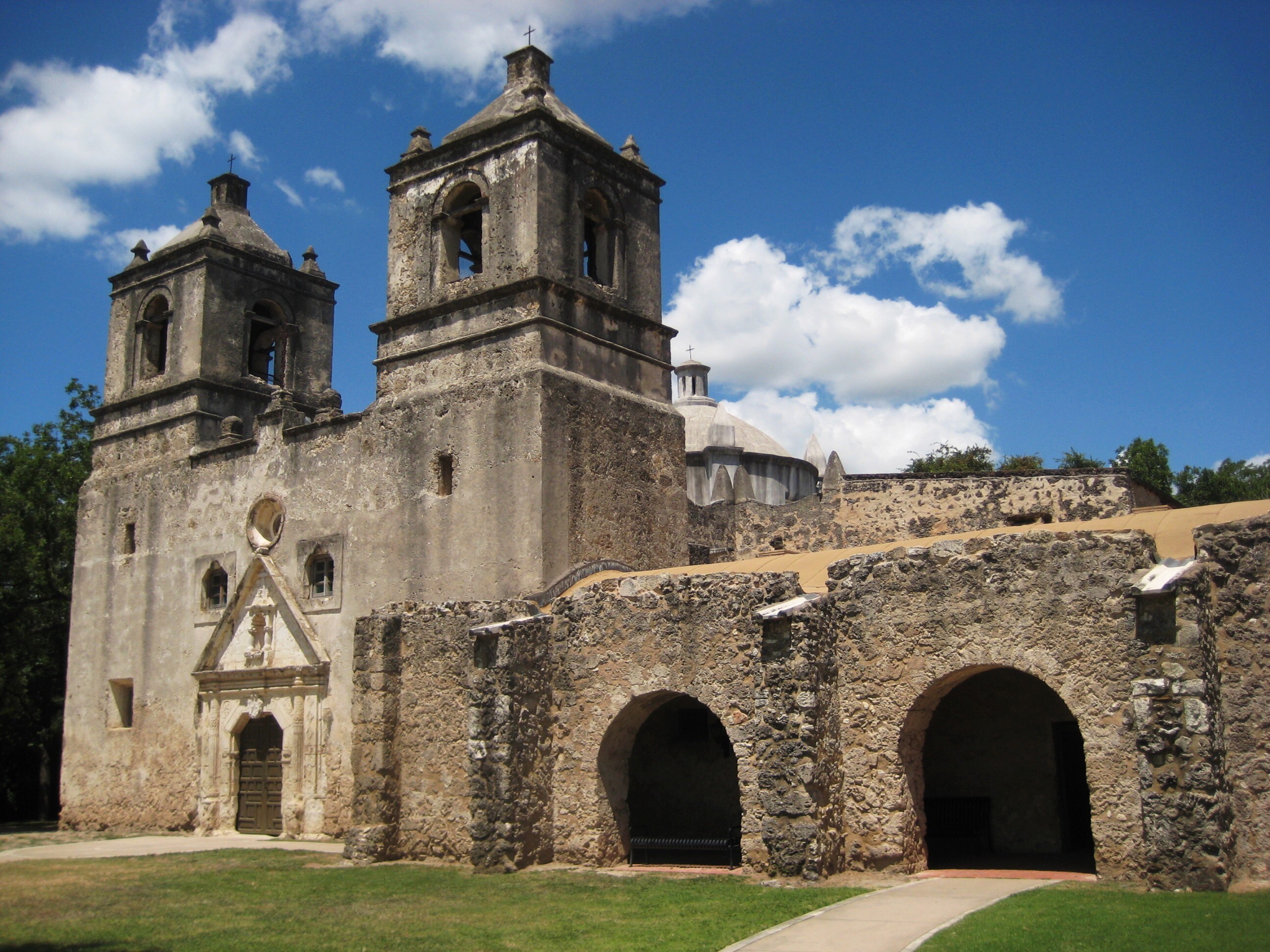 Backstory and Context
From a mission on the Rio Grande, Captain Aguirre and fourteen soldiers escorted Father Isidro de Espinosa and Father Antonio de San Beneventura Olivares. The mission's purpose was to establish a firmer Spanish presence in Mexico while continuing to spread Christianity to the Tejas Native Americans. As for the concern about French trade, the knowledge the the French were attempting to trade in Spanish territory reached the viceroy of New Spain via intelligence during the summer of 1707. This resulted in a war council being held in Mexico City. This council recommended that Native American nations in Texas be discouraged from trading with the French and from accepting French goods. The expedition left gateway settlements on April 5, 1709. Espinosa acted as chronicler of the expedition and Olivares acted as chaplain.
The expedition moved onto Colorado due to speculation that Tejas Indians had begun settling here to be closer to the Spanish. This proved untrue; however, they did learn that the Tejas chief Bernardino still harbored negative feelings towards them. On April 28, 1709, the explorers returned to the San Juan Bautista mission from which they had left. The mission was located on the Rio de Sabinas, approximately twenty-five miles north of Lampozos, Nuevo Leon, Mexico on June 24, 1699 (St. John's Day); however, it move to present-day Guerrero, Coahuila Mexico on January 1, 1700, which is thirty-five miles down along the Rio Grande from Eagle Pass and Piedras Negras. This new site granted the mission easier access to Texas.
Sources
"Approximate Site Reached By the Espinosa-Olivares-Aguirre Expedition." The Historical Marker Database. Accessed September 30, 2015. http://www.hmdb.org/marker.asp?marker=82323. "Espinosa-Olivares-Aguirre Expedition." Handbook of Texas Online. Accessed September 30, 2015. https://tshaonline.org/handbook/online/articles/upe01. "Spanish Texas." Wikipedia. Accessed September 30, 2015. http://www.wikiwand.com/en/Spanish_Texas. "Spanish Missions in Texas." Wikipedia. Accessed September 30, 2015. https://en.m.wikipedia.org/wiki/Spanish_missions_in_Texas.
Additional Information