Terrapin Point, Niagara Falls
Introduction
Terrapin Point was created by blasting away unstable rock formations and adding landfill in the 1980s to create an ideal location to view Horseshoe Falls. In the 19th century, the area had a series of footbridges that connected some of the largest rock formations to allow tourists to see the falls. For most of the 20th century, however, the area was too unsafe for tourists.
Images
The falls as seen from above.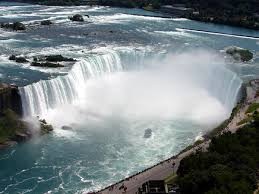 Backstory and Context
One of three waterfalls of Niagara Falls, Horseshoe Falls is on the border of Ontario and New York. Horseshoe Falls is on the Canadian side of the border while American Falls and Bridal Veil Falls are on the America side. The Niagara Gorge is located on the Niagara River, which takes the water from Lake Erie, and drains it into Lake Ontario. All three falls combined have the highest flow rate of any waterfall in the world. Geologically, the falls are located just outside of Buffalo, New York, and Toronto, Canada, both located along the US-Canada border.

The falls were created by the Wisconsin glaciation, the most recent movement of the North American Ice Sheet Complex, a giant sheet of ice that drove it's way through North America, deepening rivers into lakes, and stopping some rivers and lakes completely. The falls are often admired for their beauty and used for power generating possibilities. The falls have provided power to small things, like mills since 1759. Most recently, the fall's power has been used to power homes with the help of a water diversion tunnel put into use in March of 2013.
Sources
"Facts About Niagara Falls." Niagara Falls State Park. Accessed November 27, 2013. https://www.niagarafallsstatepark.com/niagara-falls-state-park/amazing-niagara-facts.
Additional Information