The Austin Club (Millett Opera House)
Introduction
The Austin Club, formerly the Millett Opera House, was built in 1878 by Austin local lumber seller Captain Charles F. Millet and designed by Frederick Ruffini. When it was completed, the building had the second-largest enclosed space in the state. The opera house was not used only for opera and theatre, but was also the setting for many historical events over the years. Since 1980, the building has been the location of the Austin Club and is rented out for social events. Founded in 1949, the club is the oldest in downtown Austin.
Images
The Austin Club (The Millett Opera House) in Austin, Texas. Image by Dtobias . Licensed under CC BY-SA 3.0 via Wikimedia Commons.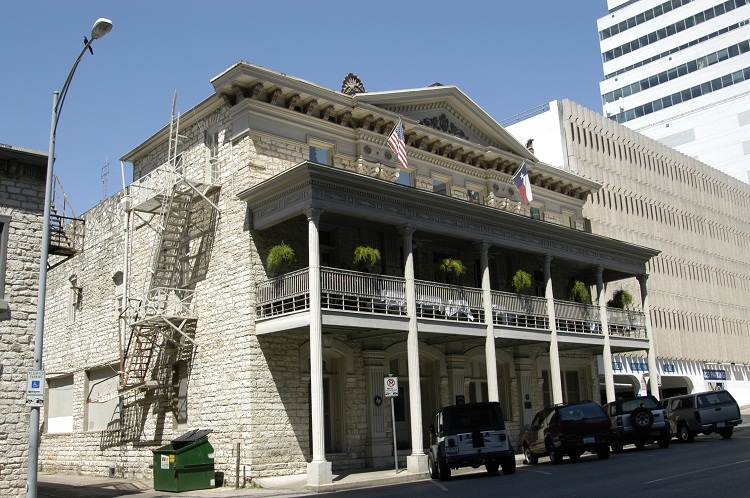 The Millett Opera House in Austin, Texas.
Backstory and Context
As the population of Austin, Texas grew during the 1870s, the need for entertainment venues developed. In 1878, lumber and construction businessman Capt. Charles Millett constructed a new opera house on the site of his lumber yard. The two-story limestone building was designed by local architect Frederick E. Ruffini, whose works included buildings all around the state. At the time of its construction, the Millett Opera House was the second-largest opera house in Texas, next to the Galveston Opera House, and boasted the largest auditorium in the entire state. It featured a balcony, private boxes, a hand painted ceiling, and 800 moveable seats, enough to house 7% of the entire population of Austin.
The Millett Opera House quickly became the biggest and most popular social center in Austin. It hosted numerous theatrical performances, concerts, political conventions, lectures, and even roller skating; it also briefly housed the Texas state legislature while the new state capitol building was under construction. Some prominent celebrities who came to the Opera House included actor Edwin Booth and politician William Jennings Bryan. In 1898, the Hancock Opera House opened, and the Millett Opera House's popularity quickly declined. The building was converted into a dancing hall and a third story was added as well.
After changing hands a couple times, the Millett Opera House was purchased by the Austin Independent School District in 1940, which leased out the building to businesses. One of the most noteworthy tenants was the Maverick-Clarke Office Supply Company, which came to the building in 1956 and worked to maintain some of its original features. In 1979, the Austin Independent School District signed a 50-year lease with the Austin Club. The private membership club was founded in 1949 with 483 original members, including many Texan businessmen and politicians. Initially the club was housed in the third floor of the Commodore Perry Building, before moving to the Millett Opera House building in 1980, where it remains to this day. The Millett Opera House was designated a Texas Historic Landmark in 1965, and added to the National Register of Historic Places in 1978.
Sources
"Club History." Austin Club. Accessed March 17, 2015. http://www.austinclub.com/history.
Additional Information