Halcyon House
Introduction
Halcyon House is a historic home located in the Georgetown area of Washington, DC. Built in 1787 by Secretary of the Navy Benjamin Stoddert, the Halcyon House sports a Federal-era-styled architecture, and in its heyday, the home was a hotspot for social events in Washington, DC. On March 31st of 1971, it was added to the National Register of Historic Places. After undergoing a restoration effort, the home is currently occupied as the headquarters of the non-profit S&R Foundation.
Images
A view of the house in 2008 ((AgnosticPreachersKid at en.wikipedia [CC BY-SA 3.0 (http://creativecommons.org/licenses/by-sa/3.0) or GFDL (http://www.gnu.org/copyleft/fdl.html)], via Wikimedia Commons))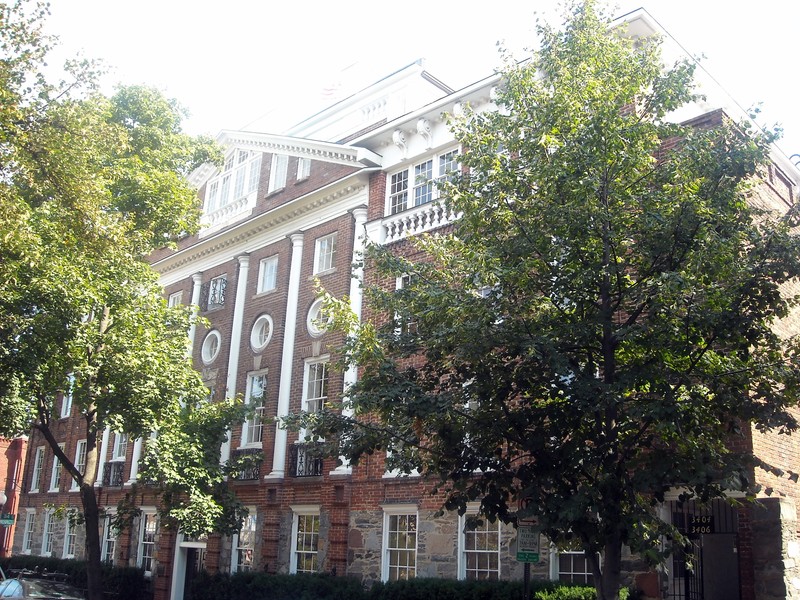 Backstory and Context
In 1787, Secretary of the Navy Benjamin Stoddert began constructing a home for himself and his wife, calling the home "Halcyon." Stoddert lived in the house with his family for a time, but when his wife died, Stoddert left the home and gave it to his daughter and her husband, Elizabeth and Thomas Ewell. The Ewells remained in the home until 1818, and the home would go on to switch hands numerous times until 1900. Records do not appear indicate the succession of owners in this eighty-year period. In 1900, one of Mark Twain's nephews, Albert Clemens, bought the home. Clemens was under the impression that if he continued to renovate the house almost constantly, he would be able to prolong his life. As a result of this, Clemens would go on to renovate the house for 38 straight years, purposefully disfiguring portions of the home. The building, unsurprisingly, was disastrous to see.
In 1938, Clemens died, and the house remained vacant for several years before beginning yet another chain of succession of owners for the house. In 1966, architect Edmund Dreyfuss bought the home and opted to turn the home into a commercial venture, but plans fell through, and nothing came of the idea. During this period of attempted reform for the building, it was added to the National Register of Historic Places on March 31st of 1971. After the failed attempts to commercialize the building, Edmund turned the building over to his son John Dreyfuss, who oversaw the maintenance of the building, beginning in 1978. A massive restoration project for the building was begun that same year, lasting all the way until 1995 in an attempt to fix some of the damage Clemens had done and to restore the building to a reflection of its former glory. In 2011, the Halcyon House was purchased by Dr. Sachiko Kuno and Dr. Ryuji Ueno, the founders of Sucampo Pharmaceuticals, who renovated the building and converted it into the headquarters of the nonprofit S&R Foundation.
Sources
"History & Rehabilitation." Halcyon House. 2016. Accessed August 12, 2016. http://halcyonhouse.org/history-and-rehabilitation
Additional Information