Cathedral Mansions South
Introduction
Built in 1922, Cathedral Mansions South is one of the three apartment buildings constructed by Harry Wardman as part of the larger Cathedral Mansions complex. Located in D.C.'s scenic Woodley Park, Cathedral Mansions South was designed by Wardman, Eugene Waggaman, and Mihran Mesrobian. It was the first building of the Cathedral Mansions complex constructed and may be the first project in which Armenian architect Mihran Mesrobian participated. Today it is known as South Cathedral Mansions and independently owned and operated.
Images
The entrance to Cathedral Mansions South incorporates subtle neoclassical elements like the columns.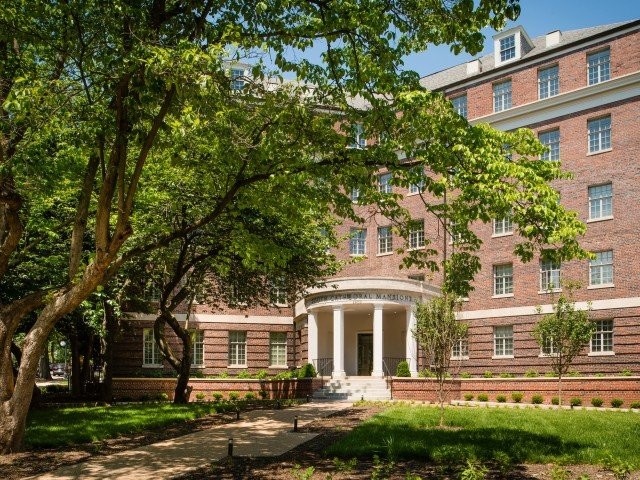 Advertisement for Cathedral Mansions from 1927. Library of Congress.
Backstory and Context
Walking toward the National Zoo from the Woodley Park Metro, locals and visitors alike are greeted by the grand South Cathedral Mansions. The building, then known as Cathedral Mansions South, was one piece of Harry Wardman's vision for luxury living in Woodley Park.
Cathedral Mansions was Wardman's first venture into construction after Washington, D.C. established its first comprehensive zoning laws in 1920. These laws created districts each with their own regulations controlling size and situation of buildings, yards, and courtyards. An ever-resourceful developer, Wardman considered the new regulations and decided to create the Cathedral Mansions Apartment Buildings in order to test his theory for how to take the new regulations and still turn a profit with housing. Cathedral Mansions South, originally called the Five Courts Mansion in planning documents, used the name "mansions" to reference English landscape architecture.
Though construction on the South building of the apartments had begun in March of 1922 with a temporary permit, Wardman gained a full, official permit in May of 1922. Excavation involved removing 125,000 tons of earth to flatten the forty-foot hill. The South building was completed around September of 1922, and the other two buildings were by 1924. Thankfully for Wardman, his experiments with the new zoning codes were a success, and the Cathedral Mansions Apartment Buildings were hugely popular, with a long waiting list for those wanting to live in them.
Along with Wardman and Eugene Waggaman, Cathedral Mansions South was designed by Mihran Mesrobian, an Armenian from Turkey. Mesrobian was trained in Beaux Arts architecture and left Turkey during a time of Armenian persecution. He may have made plans to work with Wardman before emigrating. The Cathedral Mansions project ignited Mesrobian's career, and by 1926, he worked as Wardman's chief architect. His designs are throughout the Woodley Park neighborhood, the Wardman Tower, the Sedgewick Gardens, and the Dupont Circle Building.
Cathedral Mansions South is a V-shaped structure with several projections. Built with red brick and limestone details, South Cathedral Mansions has a classical design. Its entrance at the corner of Connecticut Avenue and Cathedral Avenue has a neoclassical flair with large columnns. The towering magnolia tree that rains pink blossoms in the springtime is a fine example of the Cathedral Mansions' incorporation of organic landscaping design. The courtyard provides beautiful greenspace for its urban residents. included a separate dining room and a sunroom, with some first-floor apartments including private patios.
Despite his project's success, Wardman suffered financial problems and declared bankruptcy in 1931. Cathedral Mansions remained steadfast and changed hands over the decades. The South building was purchased by the Calomiris family. In 2014, Cathedral Mansions South was purchased by Commonwealth Cooperative. The building underwent extensive renovations to bring the apartments up to date while retain the building's historic character. The renovations reconfigured apartments, updated amenities, and added new apartments from unused attic space. The historic hardwood floors were restored. The carriage house was converted into a multipurpose community space with a dining room, kitchen, and coffee bar. Other community amenities include a concierge, media lounge, fitness center, dog grooming station, spa, and outdoor swimming pool.
Sources
Lerner, Michele. "South Cathedral Mansions in D.C.'s Woodley Park to be sold." The Washington Post. March 1, 2016. Accessed December 2017. https://www.washingtonpost.com/news/where-we-live/wp/2016/03/01/south-cathedral-mansions-apartments-in-d-c-s-woodley-park-to-be-sold/?utm_term=.607a800a577e
National Park Service. "Cathedral Mansions Apartment Buildings." National Register of Historic Places Inventory-Nomination Form. Prepared by Betty Bird. Washington, D.C.: National Park Service, Department of the Interior, 1994. Accessed December 2017. http://focus.nps.gov/GetAsset?assetID=e880cd79-9479-4905-b959-2db5da168739
"South Cathedral Mansions Story." South Cathedral Mansions. Accessed December 2017. https://southcathedralmansions.com/story/
Additional Information