Bayard–Condict Building
Introduction
The Bayard-Condict Building is an office building located in the NoHo Historic District of New York City. It is particularly known for being the only building in New York City designed by Louis Sullivan, sometimes known as the father of skyscrapers. Built in 1897, the building is a New York City landmark, a National Historic Landmark, and has been placed on the National Register of Historic Places.
Images
A view of the building post-renovation in 2006 ((Carptrash at the English language Wikipedia [GFDL (http://www.gnu.org/copyleft/fdl.html) or CC-BY-SA-3.0 (http://creativecommons.org/licenses/by-sa/3.0/)], via Wikimedia Commons))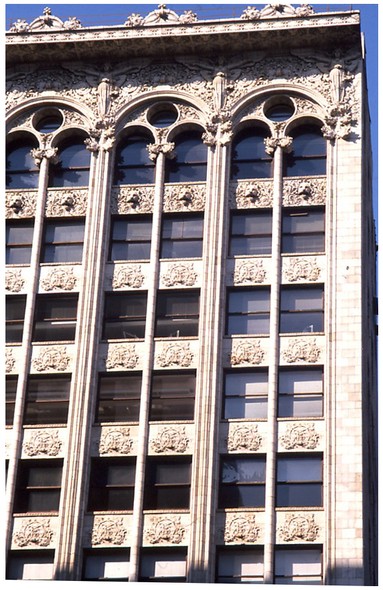 Backstory and Context
In 1897, famed architect Louis Sullivan was commissioned to build an office building on Bleeker Street in New York City. The street was lined with buildings the architecture of which was classically inspired, reflecting historical architecture, but Sullivan decided not to contribute to the collection of classically-inspired buildings. Sullivan was a Chicago architectural native, where he lead what was called the Chicago School of architecture, which supported a more modernist architectural design scheme. The building was completed in 1899, and was praised by numerous names in in architectural design at the time. The modernist design of the building was praised by many for not having any sort of pretense of being grand or showy. Instead, its simple design was praised for simply attempting to make a skyscraper, and to make a skyscraper that worked. Though it was highly praised by many in New York City, the Bayard-Condict Building did not have any major influence on the style of architecture that was popular within the city during that time.
The building remained in active use over the next century, and was highly regarded in terms of its historical place in the city. It was designated as a New York City Landmark on November 25th, 1975, and it was added to the National Register of Historic Places and designated as a National Historic Landmark on December 8th, 1976. In 2000, it was clear that the building was in need of renovations, so that year, the WASA/Studio A architectural and engineering firm oversaw the building's restoration. The restoration effort took several years, but by 2003, the Bayard-Condict Building was completely restored.
Sources
http://www.gvshp.org/_gvshp/events/awards.htm http://s-media.nyc.gov/agencies/lpc/lp/0882.pdf