The National Hotel (1827-1942)
Introduction
The National Hotel was home to John Wilkes Booth during the planning of the assassination of President Abraham Lincoln on April 14, 1865. The hotel was already famous with its "Who's Who" list of notable social and political guests. But one guest, living in room 228, secured its role in one of America's darkest tragedies when he plotted inside and promised in his diary that "something decisive and great must be done."
Images
The National Hotel in 1910. Opened by John Gadsby in the 1820s and became the preferred location for Southern visitors to the nation's capital.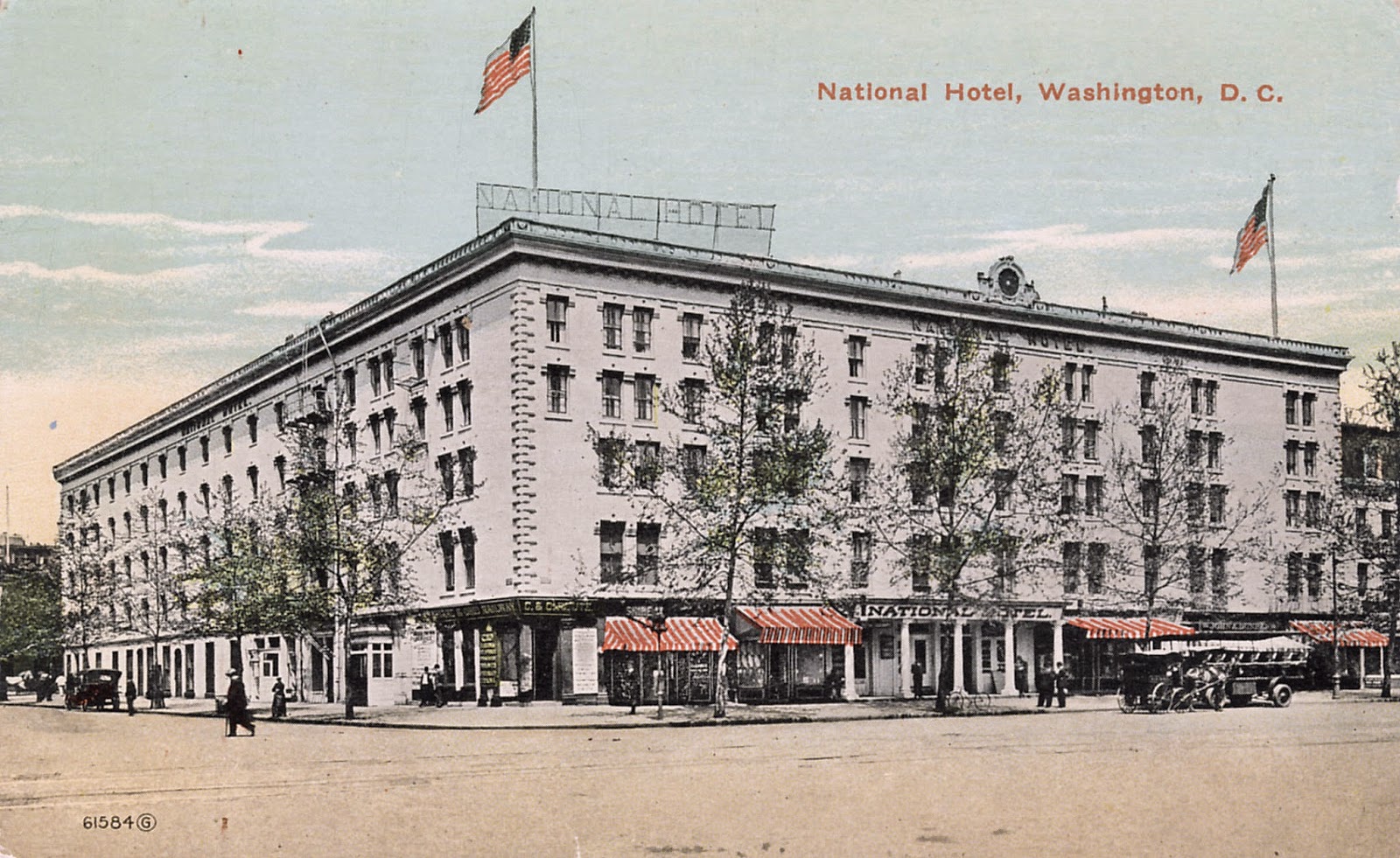 Drawing of the National Hotel from the corner of Pennsylvania Avenue and 6th Street NW. The unfinished Capitol dome in the background fixes the date around 1860. (Library of Congress)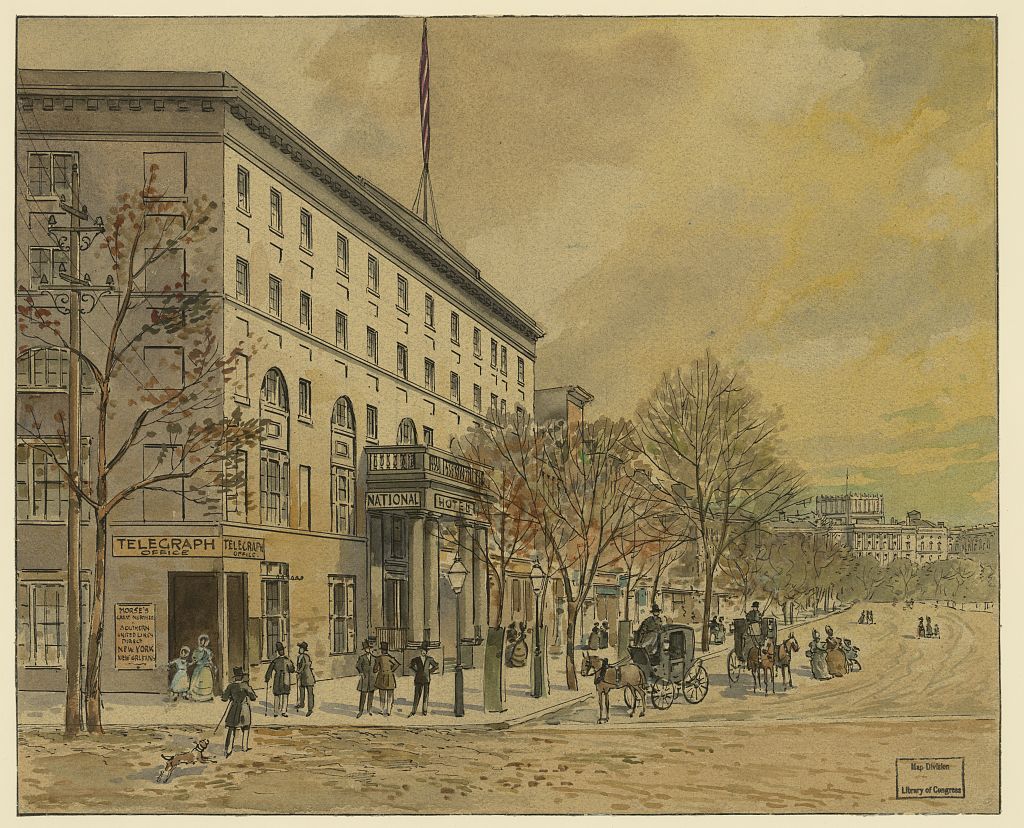 Backstory and Context
If These Walls Could Talk (1827-1865)
Every president from Andrew Jackson to Abraham Lincoln had stayed in the National Hotel at some point. Henry Clay even lived, and died, in room 116 (his room became a memorial for years afterward). Political rivals Andrew Jackson and John C. Calhoun once dined together there. What originally opened as "Gadsby's Hotel" in 1827, built from a row of federal townhouses known as "Weightman's Row," had become the choice location for politicos and celebrities. Designed by an English architect and known for its terrapin dinners and rare wines, the National Hotel expanded each decade—from accommodating 400 in 1852 to 1,100 in 1865, and still having to turn away hundreds during rush season.
The hotel was famous for other reasons as well. It became a headquarters for Southerners visiting Washington. The National Hotel was the site where Solomon Northrup, a free African American from New York, was kidnapped and sold into slavery in 1841. Northup's memoir, "12 Years a Slave," became an Academy Award winning film in 2013. And during the early months of 1857, while president-elect James Buchanan stayed prior to his inauguration, the event known as "National Hotel sickness" caused the deaths of several patrons while others become intensely ill. What was originally believed to be bad food or food poisoning was discovered to be a "temporary miasma" (sewer gas) backed up in the sewage pipes. Rampant speculation blamed dystentery and typhoid fever. Some believed it was an assassination attempt against Buchanan. The illnesses did not appear again.
A National Tragedy (1865)
John Wilkes Booth was a regular at the National Hotel. He stayed at the National whenever he visited the capital. He had stayed there off and on since November 1964 and in the weeks prior to the assassination. On the day of the shooting, Booth left the hotel around 11 am dressed as a Southern Gentleman, wearing dark clothes under a dark overcoat, a tall silk hat, kid gloves, and his cane. Booth walked to Ford's Theatre to pick up his mail where he learned that Lincoln would be attending the play, Our American Cousin, that night. That is when Booth put his plan into action. Booth's original plan had been to kidnap Lincoln until he capitulated to certain political demands. But Lincoln was going to be at Ford's Theatre, a site Booth knew intimately. So Booth altered his plan; he would kill the president instead. He scouted the theater for a time, then went to a stable on C Street to rent a "fast roan mare." Booth would returned to his room at the National Hotel several more times that day as he rushed to put his co-conspirators in place in just 8 hours. After dinner, around 8 pm, Booth changed into his traveling clothes, gathered his pistol and knife, and left the hotel for the last time. By 10:30 pm, President Lincoln was fatally wounded and Booth was riding out of town.
Outmoded and Replaced (1865-present)
The National Hotel remained a popular social and political destination for decades after the assassination, staying open for over a century. But the aging building was unable to compete with the newer hotels and could not fully recover from a fire in 1921 that killed two people. In 1929, the building was sold to the D.C. government and the hotel closed in 1931. In 1942, what was once the third most historic site in Washington, DC was razed.
In 1961, the D.C. Employment Security building was erected. AS of 1997, the property was cleared again for a new attraction, an interactive museum dedicated to free expression (and the media) called the "Newseum."
Sources
DeFerrari, John. "The National Hotel." The Streets of Washington. November 2009. Accessed August 6, 2016. http://www.streetsofwashington.com/2009/11/national-hotel.html. "Hotels and Other Public Buildings: The National Hotel." Mr. Lincoln's White House. Accessed August 6, 2016. http://www.mrlincolnswhitehouse.org/washington/hotels-and-other-public-buildings/hotels-public-buildings-national-hotel/. "Lost National Hotel on Pennsylvania Avenue." Ghosts of DC. February 14, 2014. Accessed August 6, 2016. http://ghostsofdc.org/2014/02/14/lost-national-hotel-pennsylvania-avenue/. "Assassination of Abraham Lincoln." Wikipedia: The Free Encyclopedia. July 19, 2016. Accessed August 6, 2016. https://en.wikipedia.org/wiki/Assassination_of_Abraham_Lincoln.