Nathan Simms
Introduction
Nathan Simms was the 14 year old "slave boy" who became famous for aiding both the escape and capture of John Wilkes Booth after assassinating President Abraham Lincoln in 1865. Simms's unwitting participation is ironic, but the legend may have outgrown the truth.
Images
Nathan Simms's marker placed in 1960 at the Bradford Cemetery near Marshallton, PA. Famous for being the "slave boy" who helped Booth's escape and capture. lPhoto by Keith S. Smith, 2012, from History Marker Database (see sources).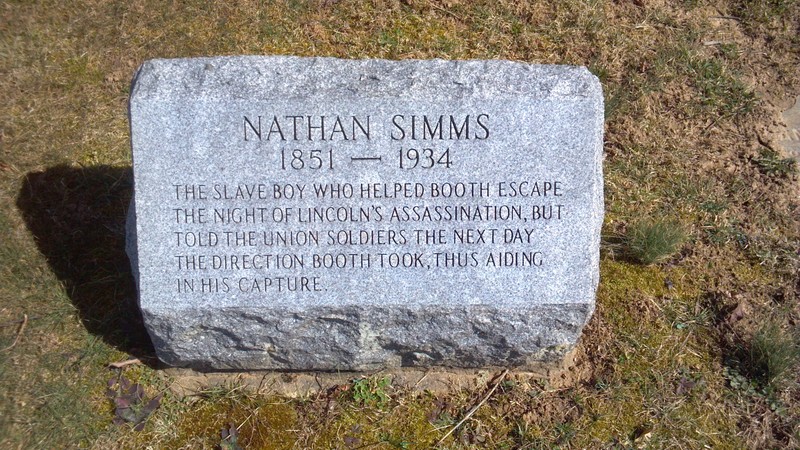 Photo of Nathan Simms, taken by Walter F. Price in 1931, submitted by Keith S. Smith to History Marker Database (2012). Photo was sent by Price to President Hoover along with details of their visit. (see source)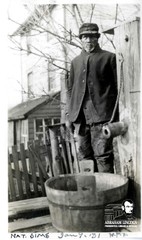 Backstory and Context
Simms and Booth
Nathan Simms (1851-1934) was a stable worker at Surratt's Tavern in Surrattsville, Maryland—owned by co-conspirator Mary Surratt--where John Wilkes Booth changed horses during his escape. Booth was a regular visitor to the Tavern and no stranger to the 14 year old boy who, years later, assessed Booth as a "helpless man" who "needed to be waited on a great deal." Booth's midnight visit on April 14 was brief. He asked for food, weapons, and a horse. After eating, Booth left the Tavern in a hurry. As Simms put it, Booth "rode down the pike as if a whirlwind was pursuing him."
Simms said he did not ask questions during Booth's visit despite Booth's obvious leg injury. He did not know of the assassination, and had no idea while helping give Booth fresh weapons that he was aiding the shooter's escape. That discovery came the next morning when Union soldiers arrived. Simms informed the soldiers of the direction of Booth's departure, thereby both aiding Booth's escape and then his capture. Simms was taken to Washington for questioning where he learned of Lincoln's death.
Aftermath
Simms was never charged with aiding the assassination or the escape. John Wilkes Booth was shot and killed 12 days later while being captured at Garrett's farm. Mary Surratt was convicted of conspiracy and became the first woman ever executed (hanged) by the U.S. government.
At age 19, Simms moved to Marshallton, Pennsylvania where he found work as a laborer. He died destitute in 1934 while at the Chester County Poor House. In 1960, local "scouts" raised money for a headstone for Simm's grave at Bradford Cemetery. The headstone reads: "The Slave Boy at the Assassination of Lincoln. The Slave boy who helped Booth escape the night of Lincoln's assassination, but told the Union soldiers the next day the direction Booth took, thus aiding in his capture."
Simms is famous for being the "slave boy" who helped a Confederate kill the abolitionist Lincoln. However intriguing this irony may be, this may not be true. Simms said in an 1885 interview that he was not a slave at all, but an indentured servant of the Surratt family.
Sources
"Assassination of Abraham Lincoln." Wikipedia: The Free Encyclopedia. July 19, 2016. Accessed August 6, 2016. https://en.wikipedia.org/wiki/Assassination_of_Abraham_Lincoln. "Nathan Simms." The Historical Marker Database. June 16, 2016. Accessed August 6, 2016. http://www.hmdb.org/marker.asp?marker=62054&Result=1. "Nathan Simms." Historical Marker Project. October 6, 2014. Accessed August 6, 2016. http://www.historicalmarkerproject.com/markers/HM165I_nathan-simms_West-Chester-PA.html. Quillman, Catherine. "Helping, Then Hindering Lincoln's Assassin." Philadelphia Enquirer. February 19, 2001. Accessed August 6, 2016. http://articles.philly.com/2001-02-19/news/25317433_1_assassination-booth-slave.
Additional Information