Charles M. Schulz Museum and Research Center
Introduction
This museum pays tribute to the life and art of famed cartoonist, Charles M. Schulz. The museum has six permanent exhibitions, various temporary exhibitions, and a research center. The collections are astronomical in quantity, with Schulz's personal belongings and original Peanuts artwork on display. It officially opened to the public on August 15, 2002, and they strive to educate the public about Schulz life and work as well as cartoon art in general.
Images
Photo by Rick Samuels, Courtesy of the Charles M. Schulz Museum and Research Center. The front of the Building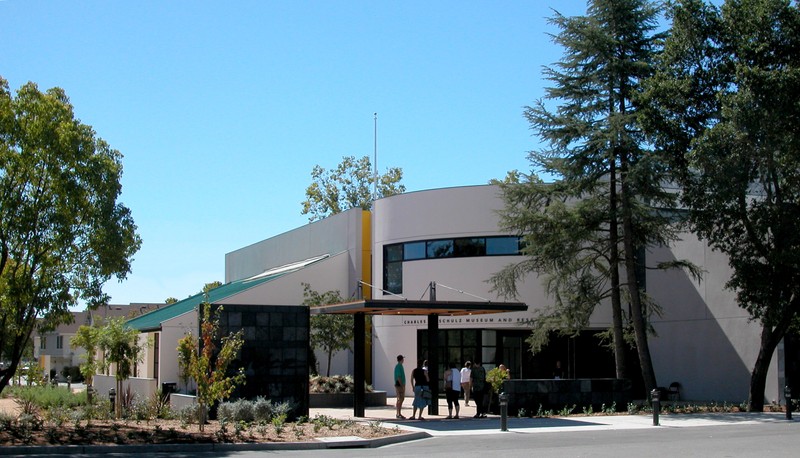 Photo by DJ Ashton, courtesy of the Charles M. Schulz Museum and Research Center Strip Rotation Gallery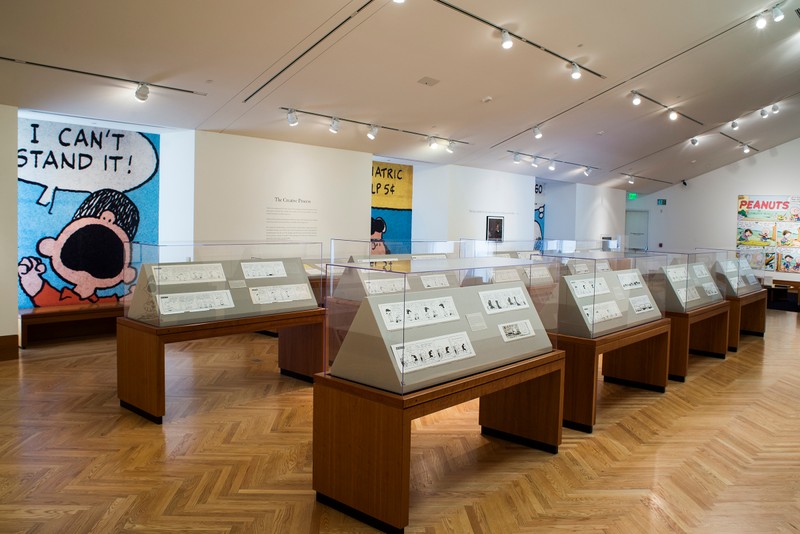 Photo by DJ Ashton, courtesy of the Charles M. Schulz Museum and Research Center. Christo Wrapped Dog House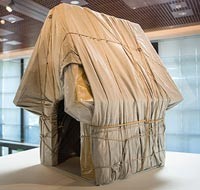 Photo by DJ Ashton, courtesy of the Charles M. Schulz Museum and Research Center Recreation of Charles M. Schulz Studio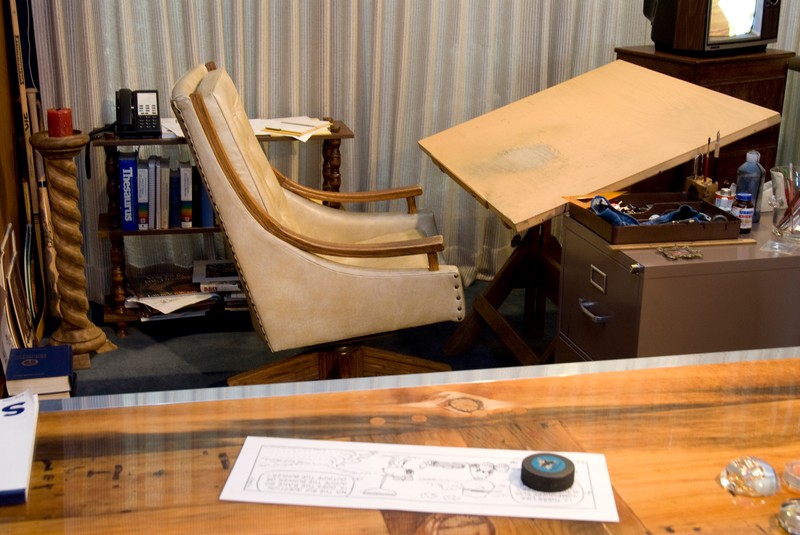 Photo by DJ Ashton, courtesy of the Charles M. Schulz Museum and Research Center Tile Mural in the Great Hall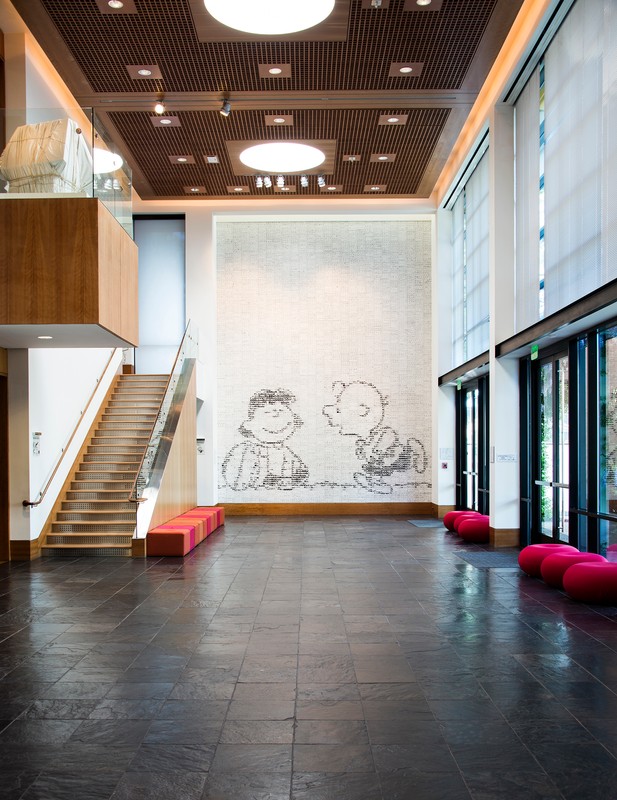 Backstory and Context
A museum like this had been in the mind of Schulz's wife, Jean, for a long time, because there were comic museums and libraries that carried a portion of Sparky's (Charles M. Schulz's nickname), but never scratched the surface on the legacy of the man and cartoonist1. Schulz was indifferent about the idea of the museum initially, but began to warm up to the idea when he visited Japan's Snoopy Town shops and examined the creative designs that Yoshitero Otani created. It was decided by Sparky and Jean that Otani would be a good creative asset for the museum to have. The building is 27, 384 square feet and sits on the Charles M. Schulz campus where his ice rink, The Redwood Empire Ice Arena or "Snoopy's Home Ice" and his close to his studio. The museum broke ground on June 29, 2000, and unfortunately1, Charles M. Schulz would pass away before he experienced this.

The Museum's collections are vast and some highlights are: the Archives and Special Collections--various pieces of correspondence and material from Schulz' partnerships with other people concerning Peanuts, as well as Peanuts specials and films; The Charles M. Schulz Personal Effects Collection--Schulz 's art tools, sporting equipment, tuxedos, drawings from friends, and Barney Google Spark Plug Plush--the origin of his nickname "Sparky!3" Another collection is the called the Library Collection which holds comic book collections of Peanuts, Schultz biographies, Peanuts cookbooks, and Schultz comics before Peanuts4. The Tribute Art Collection showcases the tribute comic strips and editorial cartoons that were featured in newspapers after Sparky's retirement to honor him5. The collections are featured in the exhibitions: permanent, temporary, and traveling.

The Permanent Exhibitions6 are a Recreated version of Sparky's Studio, (located on the second floor), Wrapped Snoopy House--gifted to Jean Schulz by artist Christo for display at the museum, 25 years after Charles M. Schulz mentioned his work in a Peanuts strip. This piece is a wooden doghouse wrapped in tarpaulin with rope. Two pieces of art by Yoshitero Otani in the Great Hall comprise another two exhibits--the Peanuts tile mural of Lucy holding a football for Charlie Brown to kick (or not), and The Morphing Snoopy Wood sculpture crafted from 43 layers of wood and hanging on the east wall, it demonstrates the various personas over the years of Snoopy. The Painted Nursery Wall Exhibit is a section of the wall from the bungalow that Schulz and his family lived in Colorado Springs. This wall was painted with Peanuts prototypes for his daughter, Meredith's room. The three temporary exhibits are held in the Upstairs Changing Gallery, the Downstairs Changing Gallery, and the Strip Rotation Gallery. These exhibits frequently focus on common themes in Schulz work or current events; for example, the upcoming "It was a Dark and Stormy Night" focuses on the theme of writing in Peanuts and the often parodied phrase that Schulz uses whenever Snoopy writes. A current exhibit until February 2017 is "Snoopy Presents: Lucky Dogs and Presidential Pets," which explores Presidential pets which goes hand-in-hand with "Mr. Schulz Goes to Washington"--an exhibit that explores impact of politics on Schulz's life, with correspondence from past U.S. Presidents and comic strips.

For Adult Schulz fans, there are various tours to choose from. A basic tour viewing the permanent and temporary exhibitions. A Museum Director Guided tour, which allows visitors to view the exhibitions with the Museum Director, but are privy to the inner workings of the Schulz Museum. A "Day in the Life Tour" will give visitors a glimpse into the routines of Charles M. Schulz life by visiting the recreations of his art and business studio, The Warm Puppy Cafe at the ice rink, and learning about Schulz day-to-day life. The Research Center (which is accessible by appointment only) allows visitors to look at the archive material and papers of Charles M. Schulz. The Research Center also holds lectures by Cartoonists-in-Residence for your enjoyment. For Little Schulz fans, there are Museum Mondays for preschoolers and/or toddlers that involves stories and crafts from 10AM-12PM. There are Girl Scout and Home School Programs for students8. The Home School program is based in a free-range learning educational curriculum program for students ages 4-14, and the Girl Scout Days are a resource for girl scouts from Daisies-Cadet to earn merit badges and experience hands-on learning. There are also various summer camps and classes held throughout the summer based in cartooning, LEGO animation, acting and ice skating to name a few8.

Admission9 to the Charles M. Schulz Museum and Research Center varies based on age and membership status. The admission for adults is $12, students/youth ages 4-18 is $5, Seniors is $8, youth under 3 and Members are free. There are group discounts if your group has 15 people or more, but these discounts are only valid from 12-4pm Monday-Friday. Groups are asked to book tours 3 weeks prior to their visit10

Sources
"About the Museum." Charles M. Schulz Building. Charles M. Schulz Museum and Research Center, n.d. Web. 5 Aug. 2016.
. "Charles M. Schulz Personal Effects Collection." Charles M. Schulz Museum Collection Items. Charles Shulz Museum and Research Center, n.d. Web. 5 Aug 2016. . "The Library Collection." Charles M. Schulz Collection Items. Charles M. Schulz Museum and Research Center, n.d. Web. 5 Aug 2016. "Tribute Art Collection." The Charles M. Schulz Museum Collection Items. Charles M. Schulz Museum and Research Center, n.d. Web. 5 Aug. 2016. "Permamnent Exhibitions" Charles M. Schulz Museum Exhibitions. Charles M. Schulz Museum and Research, n.d. Web. 5 Aug. 2016. . "Museum Mondays for Little Ones." Charles M. Schulz Museum Youth Programming. Charles M. Schulz Museum and Research Center, n.d. Web. 5 Aug. 2016. "Home School and Scout Days" Charles M. Schulz Museum Youth Programming. Charles M. Schulz Museum and Research Center, n.d. Web. 5 Aug. 2016

. "Hours and Admission" Visit Charles M. Schulz Museum. Charles M. Schulz Museum and Research Center, n.d. Web. 5 Aug 2016. "Adult Tours" Learn at Charles M. Schulz Museum. Charles M. Schulz Museum and Research Center, n.d. Web, 5 Aug 2016,
Additional Information