Mormon Refugees housed at Long Lumber Yards
Introduction
On this site of the former Long Lumber Yards in 1912, R. Walter Long's place of business was selected by El Paso's mayor, Charles Kelly, and County Judge Albert Eylar, to be a place of refuge for those LDS/Mormon members that had come to El Paso after being forced out of their homes in northern Mexico during the 1912 Mexican Revolution. The Lumber Yards was one of many locations in El Paso to house these refugees (a large tent city was set up to accommodate them). Their arrival ended up helping establish a more permanent LDS presence in the area by those Mormons who stayed; many others headed to Arizona, Utah or other areas in the West and Southwest. Note: This location is part of a self-guided tour of the Magoffin Historic District of El Paso.
Images
Mormon Refugees at Long Lumber Yard, 1912. Courtesy of UTEP and Library of Congress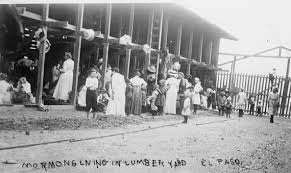 Backstory and Context
In the 1880s, the Mormon practice of polygamy was increasingly being criticized by the federal government and as a result many Mormons moved to Canada and the northern states of Mexico. Nine colonies were established in Mexico and by 1912, around 4,500-5,000 Mormons were living in them. Unfortunately, although they remained neutral, the Mormons were caught up in the Mexican Revolution (1910-1920); increased tensions and demand on the part of the anti-government forces for guns and ammunition prompted them to flee to the United States. After the revolution some returned to Mexico but most had moved to other areas in the Southwest and West. About 10% remained in El Paso.
Sources
Books: Thomas Cottam Romney, The Mormon Colonies in Mexico (1938; reprinted University of Utah Press, 2005). LaVon Brown Whetten, Colonia Juarez: Commemorating 125 Years of the Mormon Colonies in Mexico (AuthorHouse, 2010). Fred E. Woods, Finding Refuge in El Paso: The 1912 Mormon Exodus from Mexico (Cedar Fort Publishers). Articles: Laura King and Amparo Garcia, "Mormons Found Sanctuary in Mexico in 1880s," Borderlands 19 (2000-2001): 12. Michael N. Landon, "'We Navigated by Pure Understanding': Bishop George T. Sevey's Account of the 1912 Exodus from Mexico," BYU Studies 43, no. 2 (2004): 63–101. B. Carmon Hardy and Melody Seymour, "The Importation of Arms and the 1912 Mormon 'Exodus' from Mexico," New Mexico Historical Review (October 1997): 297-309. Joseph B. Romney, "''The Lord, God of Israel, Brought Us out of Mexico!' Junius Romney and the 1912 Mormon Exodus," Journal of Mormon History 36:4 (Fall 2010): 208-58.
Additional Information