This entry includes a walking tour! Take the tour.
Introduction
Built between 1906 and 1917, the Wisconsin State Capitol is the location of the state's seat of government, housing the Office of the Governor, the state Supreme Court, and both chambers of the state legislature. Designed by famed architect George Post, the Capitol is a beautiful example of Renaissance Revival architecture as interpreted through the Beaux-Arts style. The building is 284.5 feet tall, including the large statue erected on top of the dome created by celebrated artist Daniel Chester French who also created the statue of Abraham Lincoln in the Lincoln Memorial in Washington D.C. The Capitol is the third since the state was granted statehood 1848 (two served as territorial capitols). The dome is notable not only for its large size but also for the fact that is the largest granite dome in the world and the only granite capitol dome in the country. The Capitol is also significant for its association with the progressive political movement of the early 20th century, as championed by Governor Robert La Follette (1900-1906) and his sons, which profoundly impacted state and national politics. All of these factors led to the Capitol to be listed on the National Register of Historic Places in 1970 and declared a National Historic Landmark in 2001.
Images
The Wisconsin State Capitol was built in 1917 and features the largest dome made of granite in the world.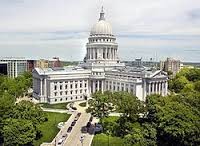 Backstory and Context
The Capitol's architecture is not only a fine example of the Beaux-Arts style, it also features Wisconsin iconography. The interior features motifs of wreaths and garlands using oak leaves. The exterior continues this theme of Wisconsin-related motifs with the statue atop the dome, called "Wisconsin," which depicts a woman wearing a helmet with a badger (the state animal) and ears of corn (an important state crop), as well as other symbols of the themes of liberty, justice, and truth. 
Sources
Anderson, D. N. "Wisconsin State Capitol." National Park Service - National Register of Historic Places Nomination Form. October 15, 1970. https://npgallery.nps.gov/GetAsset/7eaf7701-f0ae-4efa-826e-35a1ac7114a9.
Biebel, Anne E., et al. "Wisconsin State Capitol." National Park Service - National Historic Landmark Nomination Form. https://www.nps.gov/nhl/find/statelists/wi/WiscCapitol.pdf.
Rath, Jay. "Third time's the charm? Wisconsin's majestic 100-year-old Capitol has outlasted its predecessors." Isthmus. June 29, 2017. http://isthmus.com/news/cover-story/wisconsins-majestic-100-year-old-capitol-has-outlasted-its-p.
Additional Information