The Water Mural
Introduction
The murals in downtown Janesville are part of the "Heart of the City Outdoor Art Campaign" which started in 2009. There are three murals in the original campaign that represent a decade each in the founding of Janesville. One additional mural was added to represent women during these years. Each mural resembles what made the community grow economically. The murals are 22 feet by 29 feet and are printed on UV-coated vinyl and wrapped around aluminum frames.
Images
The mural, as seen from the street.
The mural showcases the power of the river, both its natural power and how humans harnessed its power for industry.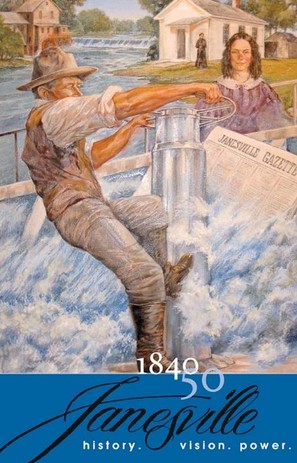 Backstory and Context
The second mural, located at 1 South Parker Dr., represents the growth of Janesville by water. Larry Schultz of Milton, WI was the artist chosen to complete this mural, and his creation evokes how generations of Janesville citizens harnessed the power of water to manufacture goods, and how the city's economic success was dependent on this natural resource. Also on display is the historic Frances Willard School house, once located along the Rock River and now residing at the Rock County Historical Society Campus.
Sources
http://www.gazettextra.com/news/2009/oct/22/first-mural-unveiled-janesville/