General Richard Butler Plaque
Introduction
This plaque was dedicated in 1917 to the memory of Richard Butler who rose from the rank of Captain in the American Revolution to Major General in the early days of the republic. General Butler was killed while leading an expedition against Native American tribes in 1791. Butler County and the city of Butler are named in his honor.
Images
This plaque is located on the grounds of the Butler County Courthouse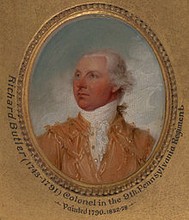 Backstory and Context
Butler was born in Ireland to an officer of the British army. After migrating with his family to Pensylvania in 1748, Butler became a skilled gunsmith. This profession proved lucrative during the seven years of war known today as the French and Indian War, and Butler and his family became leading merchants selling arms and other supplies throughout the Pennsylvania frontier. This role placed Butler in frequent communication with colonial military leaders and Native Americans that were allied with the British.

As a result of these contacts and skills, Butler was appointed a commissioner to negotiate treaties with Native tribes shortly before the start of the American Revolution. A supporters of the colonial rebels, Butler served as a captain and later a major in the Continental Army. Butler was Danial Morgan's second-in-command where he saw action at the Battle of Saratoga. He later commanded his own detachment of troops. Butler's reputation as a fine soldier was shared by his four other brothers. As a result, the five men were often referred to collectively as "the fighting Butlers."

Local mythology suggests that George Washington recognized Butler's contributions during the Revolution by offering him the honor of receiving defeated British General Lord Cornwallis' sword at the surrender ceremony. However, Cornwallis refused to perform this ceremonial surrender and the actual ceremony of surrender was between British General Charles O'Hara and American General Benjamin Lincoln.


Sources
Surrender of the British General Cornwallis to the Americans, October 19, 1781. Gilder Lehrman Institute, accessed 7/22/2016. http://www.gilderlehrman.org/history-by-era/war-for-independence/resources/surrender-british-general-cornwallis-americans-october Jim Blount, The Butler we're named for: Richard Butler, Journal-News, Sunday, March 12, 1989. https://sites.google.com/a/lanepl.org/jbcols/1989/march
Additional Information