Frank H. Woods Telephone Museum - CLOSED
Introduction
The Frank H. Woods Telephone Museum closed for good in July 2018. The free museum opened in 1996 and was named for the man who founded the Lincoln Telephone Company in 1903. The museum used to chronicle the history of the telephone from the first idea to the cell phone, and included more than 500 telephones and related items. Some of the highlights were crank style wall phones, M & M phones, and telephone booths. New owners of the property have plans to redevelop the site. The museum's board couldn't find another space in Lincoln for the collection, so the items went up for sale. The collection was purchased by the property's developers, who plan to display some of the items at various locations in the new construction.
Images
Some of the collection of antique telephones on display in the former Frank H. Woods Telephone Museum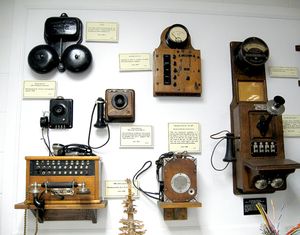 Backstory and Context
The Frank H. Woods Telephone Museum closed for good in July 2018. The free museum opened in 1996 and used to be opens on Sunday afternoons, staffed by volunteers. One claim to fame is that the museum was visited by Jim Carrey's character and his girlfriend in the movie Yes Man. The museum featured a timeline of telephone history and a number of mannequins playing the part of early telephone operators at the original switchboards. The Lincoln Telephone and Telegraph Company was open 24 hours a day, so the company had a cafeteria; dishes from the cafeteria were displayed in a case.
Originally, the museum intended to move to another Lincoln location, but it was not economically feasible. Plans for the new location were drafted by UNL architecture students in 2016. In January 2019, it was announced that the collection from the museum was purchased by a local group: Nelnet, Speedway Properties, Thomas C. Woods IV and the Woods Charitable Fund. The group pledged to display the collection in parts of the Telegraph District as it is developed. The Telegraph District property encompasses about twenty acres. Speedway also is creating a permanent display of some of the items at their Speedway Museum in Lincoln.
Although this museum is closed, two historic buildings in downtown Lincoln, side by side on S. 13th St. south of O St., still stand: the Nebraska Telephone Company Building and the Woods Brothers Building (each has its own Clio listing and is listed in the NRHP).
Sources
Reist, Margaret. "Telephone museum sold to Lincoln's Telegraph District developers." Lincoln Journal Star (Lincoln, NE) January 7th 2019. online ed.
Wagner, Lauren. "History lost with permanent closing of Lincoln's Frank H. Woods Telephone Pioneer Museum." Lincoln Journal Star (Lincoln, NE) July 30th 2018. online ed.
Additional Information