Gold Country Medical Museum
Introduction
One of four museums of its kind in California, the Gold Country Medical Museum provides visitors with a glimpse as to what medical practice was like in the 19th and early 20th centuries in Placer County. The building itself was actually a hospital established in 1855 and the museum is the only one of the four located in a historic setting. The museum features four recreated medical settings: a doctor's office, a pharmacy, an operating room, and a wardroom. The museum is relatively new and as such it is still collecting and curating artifacts and other items, as well as developing new exhibits. Nevertheless, it contains many items on display including medical equipment, medical artifacts, furnishings, and pharmaceuticals and bottles. Other items that are now considered unscientific (but at the time believed to be helpful to medicine) include potions and gadgets.
Images
The Gold Country Medical Museum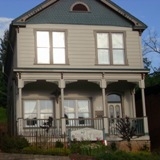 Backstory and Context
The hospital was established to help care for injured miners. The museum is located in Old Town Auburn which is a California Historic District. Many other historic structures are located in this area.
Sources
"Things To Do: Gold Country Medical Museum." Old Town Auburn. Accessed July 20, 2016. http://www.oldtownauburnca.com/list.php?cat=5&sub=5.
Additional Information