Henry Whitfield House and Museum
Introduction
The Henry Whitfield House is a historic house and museum not far from the town's green. It is the oldest house in Connecticut and the oldest stone house in New England. The house, with its massive stone walls, also served as a fort to protect the community. This unusual stone building was constructed in 1639 for Henry Whitfield, religious leader of the founders of Guilford. The museum's Visitor Center has changing exhibits and gift shop.
Images
The stone house built by Reverend Henry Whitfield in 1639.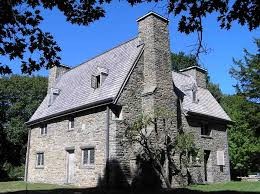 Backstory and Context
The Whitfield House was built in 1639 as the home of Guilford's first minister, Henry Whitfield, and as a fort for the new settlement. Today, it is Connecticut's oldest house, New England's oldest stone house, and a museum open to visitors.
Henry Louis Whitfield was born in Surrey, England. He was prepared to become a lawyer (like his father) but decided to enter the seminary instead. In 1639, he led a journey of twenty-five families, including his own wife, Dorothy, and children aboard the St. John towards the new world. They arrived in Guilford, Connecticut, where Whitfield established the first church. This group of English Puritans arrived in the new world nineteen years after an earlier faction landed in Plymouth, Massachusetts. Their goal was the same – to establish a new community where they were permitted to practice their religion free from the threat of persecution.
Henry Whitfield built the stone structure as his family's home as well as a fort for the community. The house has enormous stone walls and tall chimneys. The architecture of the home looks more like post-medieval England than any other kind of design found in colonial America. Since its initial construction, it has passed through several families and undergone many renovations. In 1899, the Henry Whitfield House was passed on to the State of Connecticut. The home was restored and soon opened to the public as a historic house museum. The work was completed by noted architects Norman Isham and J. Frederick Kelly. Since it was opened as a museum, many families have had the pleasure of learning about the history of the home as well as the early English settlement of Connecticut and the merging of European and Native American cultures that took place during the colonial era.
There are three buildings on the property for visitors to see. First, visitors can take a self-guided tour of the historic home filled with three floors of furnishings spanning the 17th to 19th centuries. There is an introductory exhibit which tells the tale of the house's history. Then, there is a visitor's center with a gift shop, two galleries with varying exhibits and a research library. The library is open by appointment only. Finally, there is an Education Building which offers hand-on activities and more exhibits. Outside the buildings, visitors can take a walk throughout the landscaped grounds where they will come upon several historical features, including a bronze statue of Henry Whitfield and a ship's cannon from the War of 1812.
In addition to the regular exhibits, there are various programs and special events held throughout the year. There is an annual Open House in June and a program dedicated to Harvesting History held during the Thanksgiving Weekend. Special programs are hosted for schools, camps, scouts, senior centers, and community groups throughout the year. These programs can be tailored to meet the interests and curriculums of each distinct group.
Sources
Henry Whitfield State Museum. Connecticut Department of Economic and Community Development, Offices of Culture and Tourism. Accessed September 08, 2017. http://www.cultureandtourism.org/cct/cwp/view.asp?a=2127&q=302248.
Henry Whitfield State Museum. Facebook: Home. Accessed September 8, 2017. https://www.facebook.com/pg/HenryWhitfieldStateMuseum/about/?ref=page_internal
Henry Whitfield State Museum (1639). Visit New Haven. Accessed September 8, 2017. https://www.visitnewhaven.com/things-to-do/history/historic-sites-or-museums/2097-henry-whitfield-state-museum-1639
Upham, Richard. Rev. Henry Whitfield. Miner Descent. November 10, 2011. Accessed September 09, 2017. https://minerdescent.com/2011/11/10/rev-henry-whitfield/.
Additional Information