East High School
Introduction
East High School, part of Denver Public Schools, stands out both for its dramatic architecture and for its long and diverse roll of distinguished former students. Built in 1924 to replace the former East High School on Strout, this building was declared a Denver Historic Landmark in 1991.The school's design reflect the strong influence in Denver of the City Beautiful movement that influenced the construction of civic buildings in the early 1900s.
Images
The red brick Jacobean-style building is located at 1600 City Park Esplanade, between Colfax Avenue and the southwestern corner of City Park.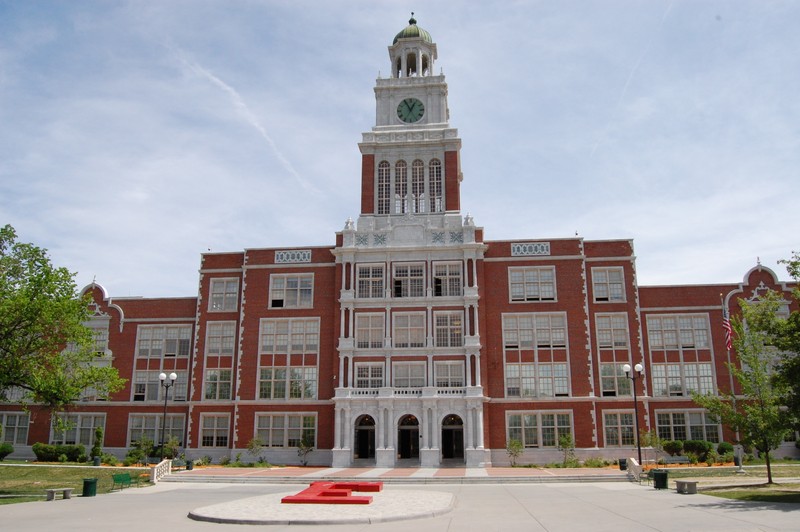 Denver's first "East High" replaced this school, which was built in 1873, Known as the "Arapahoe School, it was located at 17th and Arapahoe Street and was used as a school until the building was sold in 1882.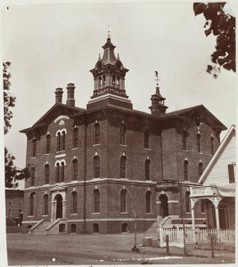 "Old" East High School served the city from 1889 to 1925 when it was demolished following the completion of the present East High.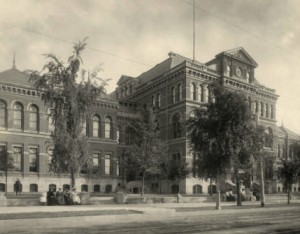 This photo of the school's library was taken when "new" East High opened in 1925.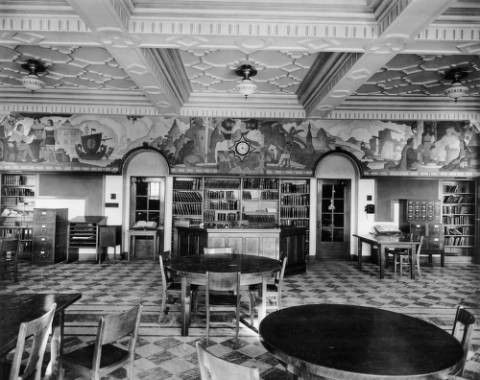 Figures representing Agriculture atop the western side of the Sullivan Gateway. Photo by Ken Lund. Licensed under Creative Commons.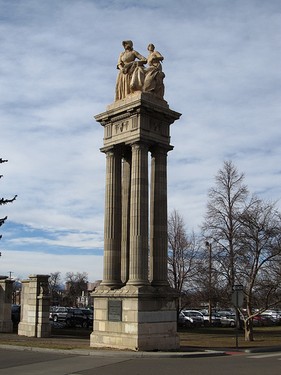 East High's clock tower. Photo by bookchen.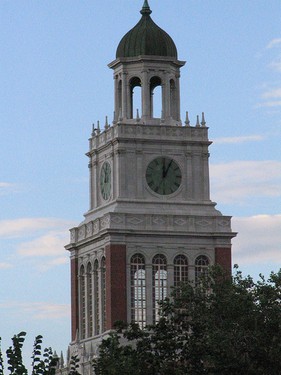 The halls of East High School as they appear today. Photo by NegesoMuso. Licensed under Creative Commons.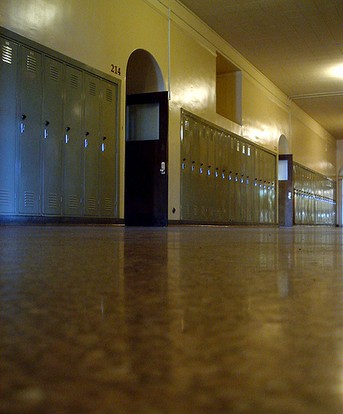 Figures representing Mining atop the eastern side of the Sullivan Gateway in front of East High. Photo by Ken Lund. Licensed under Creative Commons.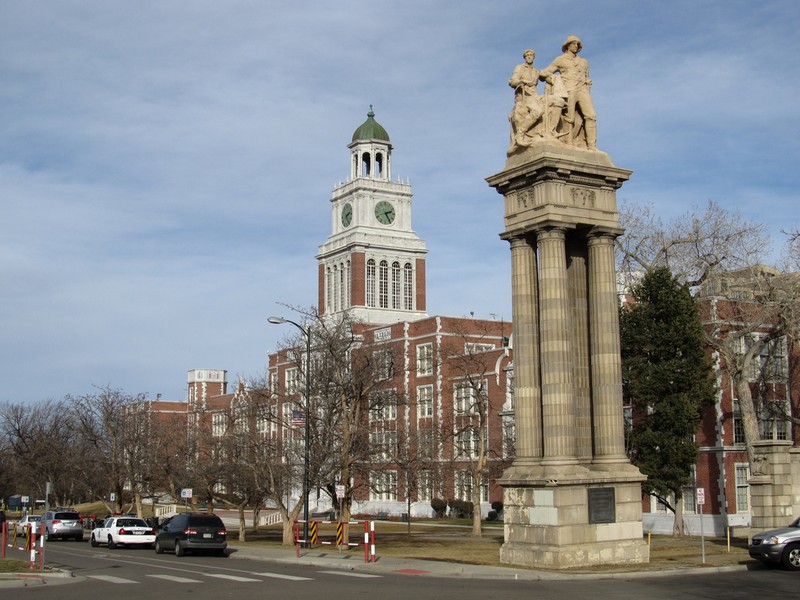 Backstory and Context
East High School traces its origins to Denver's first public school, founded in 1859. Its school colors, white and red, were selected in 1877 by students of the what was then the High School section of the Arapahoe School. The high school was first moved to a separate building (on Stout Street, now demolished) in 1889. The new East High, built in 1924 and opened in 1925, was designed by Denver architect George Hebard Williamson, an 1893 graduate of "old East". Like many of Denver's civic structures from that period, it shows the influence in Denver of the City Beautiful movement, which encouraged the beautification of cities through the creation of parks, boulevards, and well-designed public buildings.
Like other Denver high schools of the City Beautiful era, East High School was built in a prominent location adjoining a park, in this case City Park. The short parkway on which the school stands, the City Park Esplanade, is itself another example of City Beautiful planning, created in 1906. The Colfax entrance to the Esplanade is fronted by the Sullivan Gateway, two long terra cotta walls ending in 40-foot Greek columnns of terra cotta supporting sculptures representing Mining and Agriculture, early Colorado's most important enterprises. Mining is represented by two men, Agriculture by two women all the figures are the work of New York artist Leo Lintelli. The Sullivan Gateway also features a central fountain and two smaller flanking fountains decorated with lions' heads. Terra cotta is vulnerable to Denver's extreme swings in temperature, and the Gateway is in noticeably poorer condition than the school.
East High School is considered an example of the Jacobean revival style, recalling the architecture of seventeenth-century England. It also evokes the buildings of the American colonies; the design of the school recalls Independence Hall in Philadelphia, especially its 162-foot-high clock tower. Despite its historically inspired details, East High was designed as an up-to-date educational facility serving a diverse urban population. The current enrollment is over 2400, with approximately half the student body consisting of racial or ethnic minorities.
Well-known East High alumni include Hattie McDaniel, the first African-American to win an Oscar, as well as actors Don Cheadle, Pam Grier, Ward Bond, and Antoinette "Tony" Perry, namesake of the Tony Awards. The list also includes First Lady Mamie Doud Eisenhower, astronaut Jack Swigert, and writer Sidney Sheldon. Beat writer Neal Cassady failed to graduate but was granted a posthumous diploma in 2012. Silent film stars Douglas Fairbanks, Sr. and Harold Lloyd both briefly attended "old East". Singer Judy Collins graduated from East, as did three members of Earth, Wind, and Fire. Numerous other alumni have distinguished themselves in fields ranging from law and politics to professional sports.
The school maintains a Heritage Hall of Fame commemorating its most notable alumni. Candidates are inducted into the Heritage Hall by the East Angel Friends and Alumni Foundation. The Heritage Hall is located on the building's third floor.
Sources
"Dennis Sullivan Gateway: Mining & Agriculture". Denver Arts & Venues: Public Art. http://artsandvenuesdenver.com/public-art/denver-public-art-collection/dennis-sullivan-gateway-agriculture-mining. Accessed July 10, 2016. "Denver East High Trio Anchors EW&F".PopBopRocktiluDrop. Accessed June 20, 2016.https://kimsloans.wordpress.com/colorado-local/colorado-1960s/colo-musicians-carp-eddy/earth-wind-fire/. "East High School". Public School Review. Accessed June 20, 2016. http://www.publicschoolreview.com/east-high-school-profile/80206 "East High School". University of Colorado Electronic Library of Colorado Architecture, Landscape, and Planning. Accessed June 20, 2016.http://joan.colorado.edu/index.php?mode=ImageDetail&v0=ByDate&IMAGEID=139503&OBJECTID=1011936&FILENAME=197969.jpg Frei, Terry. "Denver's Tradition-Rich East High School a Grand Ol' Angel." The Denver Post, February 9, 2013. http://www.denverpost.com/2013/02/09/denvers-tradition-rich-east-high-school-a-grand-ol-angel/. "Heritage Hall Inductees". East Angel Friends and Alumni Foundation. Accessed June 20, 2016. http://eastangelfriends.org/index.php?page=heritage-hall-inductees. "Heritage Hall of Fame". East Angels Friends and Alumni Foundation. . http://eastangelfriends.org/index.php?page=Heritage-hall-of-fame. Accessed July 10, 2016. "History: East High, A Descendant of Denver's First School." East High School website. Accessed June 20, 2016. http://east.dpsk12.org/about-2/history/ Noel, Thomas J. Denver Landmarks and Historic Districts, Boulder: University Press of Colorado, 2016. Accessed via Google Books, July 10, 2016. Porter, William. "Neal Cassady, Finally, Gets His Denver East Diploma." February 1, 2012.http://www.denverpost.com/2012/02/01/neal-cassady-finally-gets-his-denver-east-diploma/ "Sullivan Gateway". Colorado Preservation, Inc. http://coloradopreservation.org/programs/endangered-places/sullivan-gateway/. Accessed July 10, 2016.
Additional Information