Martin Luther King, Jr. Memorial (Houston)
Introduction
This memorial honors, recognizes and celebrates the legacy of the martyred civil rights leader, Dr. Martin Luther King, Jr. The monument is located near a live oak tree planted in 1983 by the Black Heritage Society (BHS), in honor of Dr. King. The 8 foot-tall statue is the result of a decade-long project by the Black Heritage Society to create a permanent monument to the slain civil rights leaders. In the Houston monument to Dr. King, the civil rights leader is wearing a flowing clerical robe and holding a Bible while gazing toward the corner of Old Spanish Trail and MLK Boulevard. The base of the granite statue features quotes from Dr. King's Letter from a Birmingham City Jail. Around the statue there are stone benches for resting. The official unveiling of the statue took place in April 2014.
Images
The 8 foot-tall bronze statue of Dr. Martin Luther King, Jr., Houston, TX.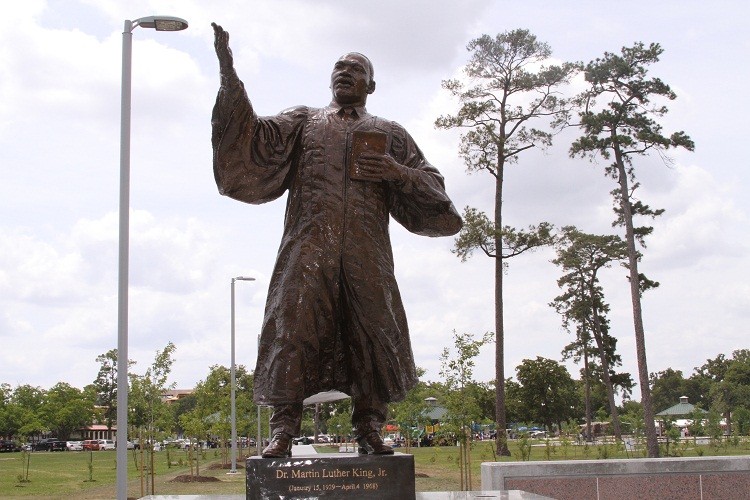 Backstory and Context
In 1983, BHS, under the leadership of Ovide Duncantell, a founder and executive director, started the first initiative for a memorial which would celebrate and honor the pillar in the fight for civil rights. An Oak tree was planted on the site in honor of Dr. King, and the construction of MLK statue and memorial plaza were proposed.
However, the plaza did move forward because it could not be guaranteed that the statue would not be an abstract representation. As a result, nothing happened for over the next three decades. Then in 2009, negotiations about the memorial location began began again between the City of Houston, METRO, and the Black Heritage Society. In 2012 the three parties agreed that MacGregor Park would be the a site for the construction of the plaza. Finally in May 2014, after decades of hard work, the Black Heritage Society (BHS) opened the memorial for the public.
Sources
"About Us." Black Heritage Society Houston Martin Luther King, Jr. Memorial. Accessed March 31, 2015. http://houstonmlkjrmemorial.org/about-us.

Jones, Valerie. "At Last: Dr. Martin Luther King, Jr.'S Spirit Comes To Houston." Dmars.com. Accessed March 21, 2015. http://www.d-mars.com/articles/last-dr-martin-luther-king-jr-s-spirit-comes-houston.
Additional Information