Birch Aquarium at Scripps Institution of Oceanography
Introduction
The Birch Aquarium at the Scripps Scripps Institution of Oceanography in La Jolla, California, is the institution's public exploration center. It receives over 400,000 visitors per year and 6 million since it's opening in 1992. It's mission centers on ocean science education, showcasing the research conducted at the institution, and promoting ocean conservation. The aquarium contains 60 habitats and the museum displays exhibits featuring Scripp's research on the climate, earth, and ocean science.
Images
The Birch Aquarium opened in 1992.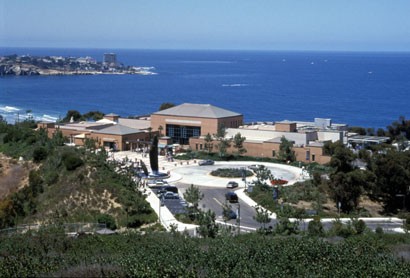 Visitors are able to see 60 ocean habitats and participate in a variety of hands-on activities related to ocean science.
Backstory and Context
Scripps was founded in 1903 as the Marine Biological Association. It was located in Hotel Coronado Boat House. Two years later, Scripps opened the aquarium, which was housed in a small building at La Jolla Cove. In 1915 a new building, currently the George H. Memorial Marine Biology Lab, was constructed (this building is listed on the National Register of Historic Places, is a National Historic Landmark and a San Diego Historic Landmark).

It featured 19 tanks varying in size from 96 to 228 gallons. It served as the aquarium until a new aquarium-museum was built in 1951. This aquarium had 18 tanks of much larger sizes (the largest was 2,000 gallons). Visitors from 48 states came to the aquarium in the first month.
Sources
"History." Birch Aquarium at Scripps. Accessed May 28, 2015. http://aquarium.ucsd.edu/About_Us/History.
Additional Information