Mason Street School
Introduction
Built in 1865, the Mason Street School was the first public school in San Diego. Its teacher, Mary Chase Walker, was also the city's first teacher. The schoolhouse is located in the Old Town San Diego State Historic Park and is one of several other historic buildings there. Visitors can sit at the old desks, view books about California, and attend classes about the state's history.
Images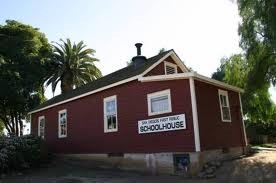 Backstory and Context
Born in 1828 in Massachusetts, Mary Chase Walker moved to California in the early 1860s because she had difficulty finding work during the Civil War. Her first stop was in San Francisco where she again could not find employment. She heard about an open teaching position in San Diego and moved there in 1865. She married the president of the school board Ephraim Morse eleven months after she arrived.

Mary came to be known as a very strict teacher who was not afraid of handing down the harsh punishment of lashes. Stealing, fighting, lying, having dirty fingernails, and interacting with girls were some of the offenses that could warrant lashes. Mary also became known for another reason. She met a woman in a general store whose grandparents were African-American and later they both went to a hotel to have a meal together. This offended some of the guests; some of them got up and left in protest. This caused a small scandal in the community, with those opposing and supporting Mary. Those opposing wanted her to lose her job as a teacher. In the end she did, marrying a supporter of hers, Ephraim Morse in 1866.
Sources
Donald H. Harrison. "San Diego's Historic Places: Mason Street School," SDJewishHistoryWorld. 5-5-10. https://sdjewishworld.wordpress.com/2010/05/05/san-diegos-historic-places-mason-street-school. Retrieved 5-29-15.
Additional Information