Sherman-Gilbert House
Introduction
John Sherman, who was the cousin of General William Tecumseh Sherman, hired architects Nelson Comstock and Carl Trotsche to build this home in 1887. Many internationally famous entertainers were guests in this house. Anna Pavlova danced in the music room and Arthur Rubinstein played piano here.
Images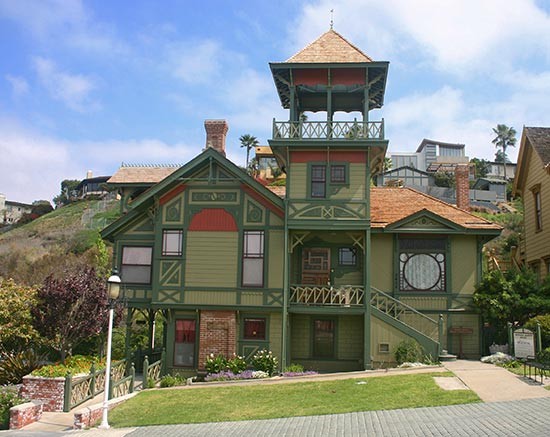 The Sherman-Gilbert House circa 1969 after it was moved to its new location after being saved from demolition. Notice it is still on lifts while waiting for new foundation to be built. Photo courtesy of the Library of Congress.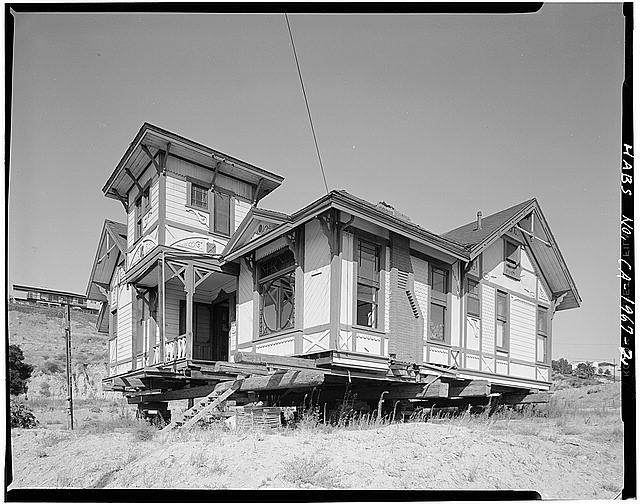 Backstory and Context
While the Gilberts were not the original owners of this impressive San Diego home, once Mrs. Gilbert purchased the property in 1897 it remained in the Gilbert family for nearly seven decades. From 1892 until 1965, sisters Bess and Gertrude Gilbert, who were important patrons in the city's art and music scene, owned the house. They knew many artists, including Pavlona and Rubinstein, and invited them to perform in the house. Only with the death of Bessie was the architectural gem sold and briefly turned into a rental property by its new owner, Louie Pauletto, who bought the house in 1965.

It became quickly apparent, however, that the Sherman-Gilbert house was in danger far greater than its transition to rental property; it's lucrative location meant it was slated for demolition to make room for a paring lot for a neighboring hospital. The imminent razing of this unique and beautifully preserved example of Victorian stick style architecture--a late nineteenth century American trend and most lavish of Victorian styles--galvanized concerned citizens together to prevent its destruction. Without any formal preservation organization at their disposal, these citizens successfully raised the funds to purchase and relocate the historic home in 1969.

The successful rescue of the Sherman-Gilbert House would become the first of many efforts made by this newly-organized citizens group. Soon, they would formally organize into what is known today as the Save Our Heritage Organization (SOHO). Today, the Sherman-Gilbert House is just one of many examples of historic architecture in San Diego that fill Heritage Park, an area specifically set aside for the preservation of these architectural marvels.


Sources
Coons, Alana. "The Sherman-Gilbert House." Save Our Heritage Organization. Accessed August 22, 2014. http://www.sohosandiego.org/reflections/2007-1/shermangilbert.htm.

Flanigan, Kathleen. "Twenty Years of Preservation Efforts in San Diego." Save Our Heritage Organization. Accessed March 19, 2017. http://www.sohosandiego.org/main/twenty.htm

"Sherman-Gilbert House," Historic American Buildings Survey, National Park Service, accessed March 19, 2017, http://cdn.loc.gov/master/pnp/habshaer/ca/ca0600/ca0610/data/ca0610data.pdf
Additional Information